Where should old PCs go to die?
The jury is out on whether new European rules on disposal and re-use of redundant IT kit will boost recycling, and on how much it...

Download this free guide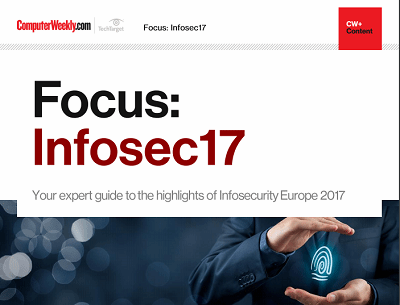 From forensic cyber to encryption: InfoSec17
Security technologist Bruce Schneier's insights and warnings around the regulation of IoT security and forensic cyber psychologist Mary Aiken's comments around the tensions between encryption and state security were the top highlights of the keynote presentations at Infosecurity Europe 2017 in London.

By submitting your personal information, you agree that TechTarget and its partners may contact you regarding relevant content, products and special offers.

You also agree that your personal information may be transferred and processed in the United States, and that you have read and agree to the Terms of Use and the Privacy Policy.

The jury is out on whether new European rules on disposal and re-use of redundant IT kit will boost recycling, and on how much it will cost. Roisin Woolnough considers the issues facing users and suppliers as pressure grows to end dumping of IT hardware in landfill sites



More than 50% of UK IT managers were blissfully unaware of the Waste Electronic and Electrical Equipment Directive last year, according to research by IT recycling specialist Selway Moore. Yet, if everything goes according to plan, the EU directive will be finalised by the end of this year - and become UK law in 2004.

As the name suggests, the directive concerns the disposal of waste - the recycling, refurbishment and disposal of electronic and electrical equipment. When it comes into effect, it will have strict targets for how much companies should recycle of their IT equipment and how components can be re-used. Exactly what those targets will be is yet to be decided, as the European Parliament and the European Commission are still thrashing out the finer details.

"The directive is not finalised yet, but most of the framework is there," says Claire Snow, director at the Industry Council for Electronic Equipment Recycling (Icer). "It looks likely that between 65% and 75% of equipment will have to be recycled or recovered, although the [European] Parliament is trying to push that up."

Research carried out by the European Commission shows that electrical and electronic goods account for 4% of European municipal waste, increasing by 16%-28% every five years - three times faster than any other waste category. According to Icer one million tonnes of electrical and electronic goods are discarded by UK businesses and households every year, with 39% of that waste being IT equipment.

Less than 20% of redundant computers are recycled in the UK, yet the market for re-used IT equipment has grown dramatically in the past few years. According to the Department of Trade & Industry's (DTI) Unwanted Computer Equipment: a Guide for Re-use, the market for refurbished computers has increased 500% since 1999.

Under the terms of the proposed waste directive the onus for collection, treatment and recovery of IT equipment will almost certainly fall on the producers. Mike Childs, senior campaigner at Friends of the Earth, says this will force IT manufacturers to improve their product design.

"It is a financial incentive for better design and to make computers more easily recyclable," he says. "This is where European policy is going - making manufacturers take responsibility for the end of life of their products. The same has happened for packagers and for car manufacturers."

There are concerns in the IT industry that the waste directive will prompt a similar scenario to the recent debacle over refrigerators. Since the EU law concerning the treatment and disposal of disused fridges came into effect in January there has been a massive stockpiling of old appliances because the UK has only one-tenth of the specialist recycling capacity needed to deal with them properly.

However, Snow thinks we will not see a repeat of this situation. "The dismantling operation is much easier than with fridges," she says. "And it's not like investing in a £3m shredder. With fridges, you need plants that cost a lot."

To comply with the directive effectively, IT departments will need to be systematic in how they audit their equipment. What do you do when a piece of equipment becomes redundant or a large-scale upgrade is underway? IT managers need to think about how they can re-use equipment internally and whether or not to refurbish, either for internal use or for sale.

If refurbishment is not an option, then what spare parts can be put to use, what components can be recycled and what will just be ditched? These options need to be talked through with internal recycling teams or external recycling bodies.

As well as the waste directive, the EU has issued the Directive on the Restriction of the Use of Certain Hazardous Substances in Electrical and Electronic Equipment. Many IT components are highly toxic, releasing arsenic, bromine, cadmium, lead, mercury and other chemicals into the environment if not treated properly before being dumped in landfill sites.

Currently, more than 90% of electrical and electronic waste is being deposited in landfill sites, incinerated or recovered without being treated to pre-empt the release of these toxins.
Business has been protesting that it is not possible to recycle all of the components safely and cost-effectively to meet EU targets at present, but Snow hopes that by the time the directive comes into force in the UK there will be new and more extensive ways of recycling.

Icer is currently running a DTI-funded pilot scheme to discover ways to extract the lead from glass and recycle cathode-ray tubes. "Everything can be recycled, but it's a question of how much it costs," says Snow.

If the costs of recycling are high, the concern is that equipment prices will rise as producers recoup the money from purchasers. Gerry Hackett, managing director of recycler RDC, a division of Computacenter, believes the cost of goods could rise by 10%.

However, Zoe McHahon, European environmental strategies and sustainability manager at Hewlett-Packard, hopes that will not happen. "We don't want to increase prices," she says. To maintain current price levels, McHahon says design, refurbishing and recycling programmes need to be as efficient as possible to keep senior management happy.

"You can reduce the costs of the system and show that to the board to keep prices down," she says. "You need to design products for the lowest recycling cost and lowest [waste directive] compliance cost."

Even if the recycling costs do rise significantly, companies do not actually have any choice about how much they recycle. "Once [the directive] comes in, compliance is not an option," McHahon says.

Organisations that fail to comply with the directive will be fined, although the penalty figures are also yet to be decided. That decision will most likely rest with the member states.

"With the [waste] directive, the fines will probably be similar to the fines for packaging regulations," says Elizabeth Oldroyd, solicitor at technology-focused law firm, Osborne Clarke.

"There are three offences with the packaging directive and there is a £5,000 maximum fine for each offence. However, although the general trend for environmental fines is going up, it's still normally cheaper to not comply and be fined."

All eyes are on the section of the directive concerning collection costs. It may be that producers have to finance the collection of equipment as well as the recycling costs, or it may be that end-users pay all or part of the costs.

Producers have been lobbying hard to persuade the EU that those costs should be shared. That time has now passed, but the waste directive leaves a lot of leeway for member states to decide on the logistics of how to implement it.

"There is a second chance for lobbying and the DTI will have to take comment from business," says James Mullock, a partner at Osborne Clarke.

Many charities will collect IT equipment for free. "Anyone who can supply 20 or more Pentium machines, we will take them away for free," says Jan Tallis, chief executive at the charity Tools 4 Schools.

"For other machines, if we can't use them, there may be a disposal charge. People can phone us up, tell us what they've got and it will be collected within three days. Since we started three years ago, we have refurbished about 13,000 computers and we expect to do between 800 and 1,000 this year."

Many companies are wary of handing over redundant equipment to any other external bodies for fear of corporate data remaining on the machines. "People often don't want things to be refurbished because they are concerned about sensitive data on the hard drive," says Joy Boyce, head of corporate environmental affairs at Fujitsu.

However, Tallis says they wipe all data to Ministry of Defence standards. Any recycler worth its salt will do this.

Some recyclers will manage the whole process, from collection to refurbishment, wiping data, resale and disposal. It seems likely that most companies will outsource the recycling of their IT equipment, particularly smaller companies which do not have the infrastructure to manage it in-house.

For McHahon, the big flaw with the waste directive proposals is the heavy emphasis on recycling. "With [the waste directive] if you re-use a product it doesn't count towards your legal obligation but if you recycle it does. That means there is no motivation for us to support refurbishing."

However, Snow says that is not strictly true - the directive stipulates that member states must encourage business to re-use. Furthermore, she says, it is only a matter of time before a new set of targets are introduced to encourage re-use. Then there will be a whole new raft of legislation to get to grips with.

IT equipment waste is building up

One million tonnes of electrical and electronic goods are discarded every year by UK business and households - 43% is large household appliances and 39% IT equipment. (Source: Icer (2000) UK status report on waste from electrical and electronic equipment)


Electrical and electronic goods account for an average 4% of European municipal waste, a share which is growing three times faster than any other waste category. (Source: European Commission (2000) research)


By the year 2005, Carnegie Mellon University estimates that 5 million PCs in the UK and 55 million in the US will end up in landfill sites.


Since 1999, the market for refurbished computers has increased 500%. (Source: DTI (2000) Unwanted Computer Equipment: a Guide for Re-use).

Useful contacts
Computer Aid International 020-7281 0091; www.computer-aid.org
Environmental Technology Best Practice Programme 0800-585794
Friends of the Earth 020-7490 1555; www.foe.co.uk
Greenpeace 020-7865 8100; www.greenpeace.org.uk
Industry Council for Electronic Equipment Recycling 020-7729 4766; www.icer.org.uk
Recycle IT 01582-492 436; www.recycle-it.ltd.uk
Takes computer hardware, printers, monitors, cables, CDs and cartridges for recycling
Tools 4 Schools 020-7689 1990; www.tfs.org.uk
Waste Watch 0870-243 0136; www.wastewatch.org.uk
Read more on IT risk management