Top midrange arrays, page 3
Sun's Flexline won out on reliability; EqualLogic users overwhelmingly said they'd buy again.
Continued from page 2.
Product reliability
"It's astounding to me, but I have not had one single disk failure yet," said Weismann, referring to Velocity Express' Sun FlexLine array after nearly two years of use. That level of reliability might be a stretch for most storage managers, but it underscores the faith we place in the reliable operation of installed hardware.
In contrast to the initial product quality category, which had the widest scoring spread, product reliability had the narrowest. In fact, less than one point separated EqualLogic's top finish (5.92) from EMC's 4.98 (see "Product reliability," p. 40). All other vendors finished above 5.00. EqualLogic recorded its highest ratings (6.20) in this category for two statements: "This product meets my service-level requirements" and "This product requires very few unplanned patches."
In all of our prior surveys, products that did well on the statement "Patches can be applied nondisruptively" also did well overall. This proved true once again. EqualLogic's lowest score in this section was for this statement (5.20), which might indicate a low overall score. However, the good news for EqualLogic was that the other vendors were rated even lower in this area (below 5.0), with the exception of Sun FlexLine, which had a 5.40. HP's EVA and EMC's Clariion recorded scores of 4.46 and 4.44, respectively. Patches and firmware upgrades continue to be a thorn in the side of midrange array administrators. "For the money you're paying—you're well into six figures, if not more—you shouldn't have to take these things down or quiet all the hosts on the SAN just so that you can do a firmware upgrade," said David Salbego, Unix and operations manager at Argonne National Laboratory in Illinois, which has two HP EVAs installed. "That's an industry-wide issue, not just HP EVA."
Would you buy the same system again?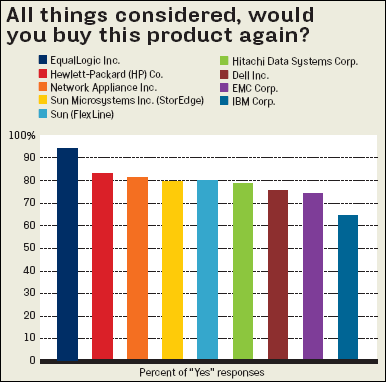 When we ask respondents to tell us if they'd make the same purchase decision again, we rarely find a correlation between a positive response and the order of finish. Buying decisions are often influenced by many factors beyond the technical attributes of a product. However, this survey yielded a reasonably close correlation. Ninety-three percent of EqualLogic's customers said they'd make the same purchase decision again (see "All things considered, would you buy this product again?" p. 42).
Most of our other vendors had positive responses that ranged between approximately 75% and 82%. Sun's FlexLine and 6000 series both received an 80% positive response rate, despite very different placements in the overall standings. IBM trailed the field significantly, with just 62.5% of its midrange users indicating a willingness to repurchase. This represents a 17.5% drop for IBM from 2005.
In cases where respondents have two or more midrange systems, we asked them to evaluate each one. In these cases, we compare the scores to determine which system is preferred in a head-to-head match-up. EqualLogic again came out on top, winning four out of seven such comparisons (57.1%). FlexLine was preferred in 52.4% of cases (11 out of 21), while EMC Clariion was preferred 41.3% of the time (26 out of 63). Dell CX was preferred just 22% of the time (six out of 27). These results don't relate to future buying intentions, but rather offer the perfect vision of 20/20 hindsight.
Tech support and sales force competence, page 4.