The next directory
Awareness of the value proposition derived from directory services (DS) technology has been growing steadily over the last six...
Awareness of the value proposition derived from directory services (DS) technology has been growing steadily over the last six years, but it has taken the rise of e-business to put DS into the limelight.



The directory enables organisations to manage users connected to various networks, in particular dealing with the fast changing trust relationships engendered by e-business. In fact, operating efficient, cost-effective and secure business-to-business operations will be difficult to do without employing such techniques. And the latest DS products can also help manage all the assets users connect to, as well as providing the option to programme the directory into e-business applications.

This year also sees the directory vendor community systems changing shape considerably, as DS becomes embedded within a broader business context. In recent months a number of acquisitions and alliances have taken place, with the end result of redefining ways in which the directory can be used. In essence, the enterprise class directory is a central repository for user details, in addition to all the online databases and other networked resources that are handled as objects within the repository. Such an implementation can provide significant management and security benefits, and a lower cost of IT ownership factor.

Download this free guide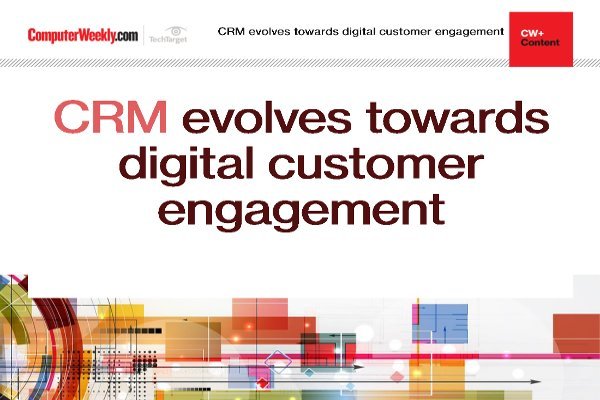 Enhancing digital customer engagement with CRM
Learn about customer relationship management has evolved towards engaging with customers through every channel, with digital at the forefront.
By submitting your personal information, you agree that TechTarget and its partners may contact you regarding relevant content, products and special offers.
You also agree that your personal information may be transferred and processed in the United States, and that you have read and agree to the Terms of Use and the Privacy Policy.
Novell has been a major force in establishing the directory market since the release of its Novell Directory Service (NDS) software in 1994. Since then two key standards have been widely adopted for directories to allow interoperability between different implementations, namely the X.500 and the Lightweight Directory Access Protocol, or LDAP. Yet patterns of development and usage of DS remains highly disparate, with the Gartner Group reckoning that a typical large corporation has 181 separate directories in use. Many of these are home-grown and small-scale solutions, leading eventually to the need for an overriding management engine known as a meta-directory.
So while Novell has leadership position here, a wide range of other vendors provide alternative solutions, most notably Microsoft. With the launch of Windows 2000 and its Active Directory (ADS), Microsoft claims to have solved some of issues with its earlier offering. Where Novell and other suppliers have favoured the X.500 tree system to configure the directory, Microsoft prefers the domain approach, where each domain refers only to one server, and need to be combined to create a more inclusive environment. Microsoft now reckons that it is easier with ADS to aggregate the domains, which had proved to be a problematic issue before with Windows NT.
In February Novell and IBM made a major joint announcement that truly puts the directory centre stage when it comes to developing for e-business. The two companies have deepened a long-term strategic relationship through IBM adopting the eDirectory Web based version of NDS for inclusion with the WebSphere application server, while the IBM platform will also come bundled with every shipment of Novell's NetWare 5.1 network operating system. As part of the agreement, which curiously applies only to Europe in the first instance, IBM is training up an elite corps of professionals in its Global Services operation to the level of NCDE, which stands for Novell Certified Directory Engineer. Equally, Novell is busy tooling up its channel and business partners in the arts of WebSphere.
Novell has been working with IBM for a couple of years on technology integration issues, and the eDirectory and WebSphere deal is one of the fruits from this effort, according to Eric Schmidt, president and ceo of Novell. Around one year ago the partners developed an application architecture on WebSphere, and this has now been transposed to the core Novell platform. During this process, however, it became rapidly clear that eDirectory could solve some serious problems on the IBM user front. Schmidt observes that this has all led to a significant partnership with a powerful combined technology solution, and the consulting strength of IBM thrown in.
Mike Lawrie, general manager for IBM in the EMEA region, explains that the choice of Europe for the first roll out of this agreement was due to the large number of mutual customers IBM and Novell share on this continent in networking and e-business. Yet the plan is to extend the arrangement to other parts of the global market over time. In addition, IBM and Novell are also integrating their caching systems as part of the deal, with the aim of optimising the speed of content supply to e-business end-users.
While Novell has a version of NDS ready for Windows 2000, and has made good headway selling its directory products to NT sites, Microsoft will have a big say in this respect due to its installed base. ADS comes as a module within Windows 2000 that has to be activated by the end-user. At present ADS only works on Windows 2000 and despite Microsoft's seeming best efforts to provide choice, the EU is now following the US government lead and examining anti-trust issues regarding the new operating system - with ADS a key element for scrutiny.
Stuart Okin, managing consultant within Microsoft Consulting Services, asserts that it is now much easier to consolidate ADS domains into one or two larger repositories to cover a wider geographic organisational spread. Okin claims that the Microsoft domain approach is better than Novell's partitions, and he reckons that users will be less inclined to deal with the multiple partitions generated. In turn, Novell would counter that it provides a more global view of all networked users and assets through easier access to and aggregation of directory segments. Okin says that ADS features a global catalogue within the domain to simplify viewing the directory. Microsoft is also making ADS easier to programme with its Visual Studio suite of application development tools, according to Okin.
In fact, as directory technology continues to be developed, both Novell and Microsoft have entered into a kind of beauty contest, with argument and counter argument about which vendor has the highest level of scaleability. Each side claims to handle tens and even hundreds of millions of user and asset objects. Okin says the ADS potential is 140 million of such objects.
Despite this fairly typical jousting, both Novell and Microsoft seem realistic about the prospect that the directory market will remain a very mixed affair for some considerable time. Co-existence is seemingly the order of the day, although each side will obviously want to gain any edge it can. If anything, this situation has been forced onto the vendors by the almost religious dedication many organisations have to a particular directory brand, or set out to deploy self-created environments often with the help of third party integrators and consultants.
'Novell and Microsoft would love to have a single directory at the heart of everything, but for political reasons different directories will be used. There can be no forcing of directory services, although you still must have multiple ways to hook in - which is where the meta-directory becomes important,' Okin says.
The need to have a meta-directory option clearly became so pressing for Microsoft that it stepped out and acquired a company called ZoomIT, one of the two leading vendors in this category along with Isocor. Now Isocor has itself been snapped up by Critical Path, an emerging force in the integrated internet messaging and other areas.
In turn, Novell is positioning NDS as a meta-directory option for covering multiple ADS domains, with its DirXML version of NDS, based on the extensible mark-up language (XML) to provide open information access between different systems. Microsoft's alternative is the ADS connector technology that links the directory into environments like Lotus Domino and different versions of Windows NT, as well as bi-directional links with NDS. Directory synchronisation is also delivered via the LDAP version 3 functionality and X.500 schemas contained within ADS. Like Novell, Microsoft reckons its directory service is secure enough to handle the transmission of X.509 digital certificates.
Microsoft also has a strategic alliance with Banyan Systems, seen by analyst firms as an erstwhile rival to Novell in the early days of the directory market. At that time, Banyan had an acclaimed lead of several years over Novell in directories with its StreetTalk software. It is fair to say that Banyan failed to compete in terms of market share and awareness in Europe and the company has now transformed itself into a services organisation, installing and developing directory services for organisations regardless of the brand involved. While the Microsoft/Banyan deal has yet to lead to a productive outcome - with Microsoft primarily interested in the release of ADS - there is clearly plenty of room for the two companies to collaborate.
After years of being touted as a key technology about to go mainstream, the directory has incrementally grown in importance to business users. Now e-business has provided the directory with a perfect problem to resolve, namely ensuring that B2B extranets, and similar networks, are managed in terms of user access rights, based on appropriate delivery of information and exposure to IT resources. Almost quietly, the day of the directory has arrived.
Read more on Business applications