The Dotcom Dilemma
Dotcoms may belong to a new business age but most still fall well behind established companies when it comes to green issues,...

Download this free guide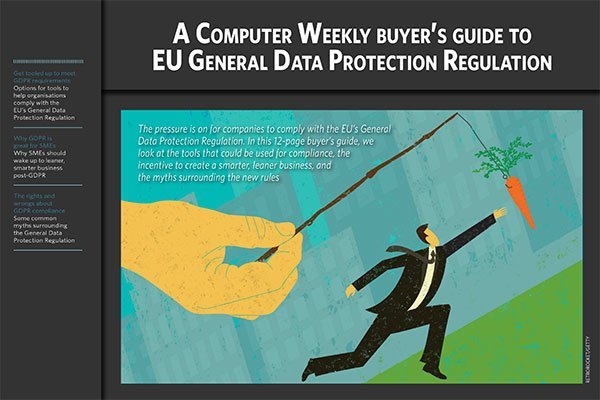 Computer Weekly's Buyer's Guide to GDPR Part 2
In this 12-page buyer's guide, we look at the tools that could be used for compliance, the incentive to create a smarter, leaner business, and the myths surrounding the new rules.

By submitting your personal information, you agree that TechTarget and its partners may contact you regarding relevant content, products and special offers.

You also agree that your personal information may be transferred and processed in the United States, and that you have read and agree to the Terms of Use and the Privacy Policy.

Dotcoms may belong to a new business age but most still fall well behind established companies when it comes to green issues, says Vicki August



Take a look at most dot-com entrepreneurs and you will probably find someone highly educated, creative and youthful, who has grown up with green issues and is concerned about environmental and social matters. So why is it that recent research shows that so many of them are failing to incorporate ethical and environmental policies into their Internet businesses?

Research from Forum for the Future, an environmental campaign group, has discovered that many dotcoms are unaware how their cost cutting, high-speed businesses affect the community in which they operate.

Its survey of the attitudes of 150 on-line businesses towards social and environmental issues found that while 65% claim these issues are important to their company, 79% do nothing to measure or manage their impact on them. A further 82% fail to monitor or improve their transport impacts, while 83% offer no staff training on environmental or social issues.

James Wilsdon, author of the report, Dot-com ethics: e-business and sustainability, says the dotcoms surveyed claim they lack the expertise and resources needed. They also believe they are 'virtual', immature businesses operating at high speed and should not be as accountable as bricks-and-mortar companies. "But in reality they face the same dilemmas over ethics, supply chains, energy use, transport and waste as their bricks-and-mortar counterparts," he explains.

According to Forrester Research the digital economy is growing and consumer spending will reach $108bn by 2003. In the same period, business-to-business transactions will reach $1 trillion by 2003. Experts fear the consequences of such dotcom 'short-termism' could see our worst nightmares realised: roads gridlocked with hundreds of polluting delivery lorries, cheap labour, under investment in sustainable resources and long-term problems for the digital economy.

"To develop technologies, products and services that will meet the needs of the next generation, an e-business must think beyond economic sustainability and incorporate environmental and social sustainability," says Wilsdon.

Tim Jackson, founder of QXL, agrees that many dotcoms are simply too busy innovating to do anything about ethical policy.

"When you are trying to pioneer ways of serving customers, it is tempting to leave experiments in co-operative ownership and hot-desking to companies that have the luxury of profits," he argued recently.

Although Jackson established a £70m charitable trust last year, Stephen Knight, managing director for Ethical-Junction, a business-to-consumer portal for organic and fair-trade products, says this is the exception, not the rule.

He argues that most dotcoms do not know how to develop an ethical policy and are therefore missing out on the efficiency gains and opportunities it can offer.

"They know their supply chain and logistics could be having a negative effect on the environment, but they need guidance and advice on how to measure and manage it," he explains.

Knight says that portals such as Ethical-Junction enable businesses to gather information on ethical practice and develop standards.

Not all dotcoms have failed to develop ethical policies. Mehmet Gohlan is CEO of Dr Parsley.com, a holding company that develops knowledge management systems that enable businesses to address social and environmental issues. He is also establishing an investment fund for ethical dotcoms.

"We monitor our business's impact on the environment and society because we know it will sustain growth, keep customers happy and generate income," says Gohlan.

He argues, however, that many dotcoms will only take action when there is significant public, investor and legal pressure on them to do so.

According to the Social Investment Forum pressure is already mounting. Socially responsible investing is also one of the fastest growing areas in fund management - worth £2 trillion globally.

Although there are currently few venture capitalists and private equity investments demanding ethical action, Dr Parsley's Gohlan believes the situation will change over the next few years. "Investors want businesses that are focusing on more than today and tomorrow," he says. "They want long-term returns and, with an ethical policy, businesses can begin to show how they could sustain that."

But not everyone is convinced that dotcoms are prepared to take time out of their busy schedule and develop an ethical policy.

Bob Head, CEO of Smile, the Co-Operative Group's on-line bank, knows that businesses will not see an immediate return on their investment in ethical policy.

"We have had a committed ethical policy for years," explains Head. "We came third in the United Nations Ethical Awards; even our credit cards are biodegradable. But it involves work and investment which does not always increase the bottom line." Head says the fact is that most customers chose an ethical business only if all other things are equal. "It does not differentiate as it should," he says.

Forum for the Future's Wilsdon agrees but concludes that, ultimately, it will not be consumer and investor pressure that will force businesses to become ethical - ethical business is an inevitable consequence of globalisation.

"As the power of business increases and that of the government recedes, companies will realise that to sustain the market they must take responsibility for all the elements that enable it to operate - economical, environmental and social," he says. "That is the reality."

Survival tactics: Ethical Policy for Dotcoms
Our economy and businesses require five types of capital to function effectively:


Natural capital
Human capital
Social capital
Manufactured capital
Financial capital


Dotcoms are primarily concerned with financial capital. But to ensure sustainability they must measure and manage their impact on the other four. Businesses should take five steps towards sustainable e-business:


Assess the environmental/social impact and opportunities your business creates
Develop an environmental/social policy with achievable targets
Assign targets at board and operational level.
Report progress on your website
Talk to and learn from other companies, NGOs and government.


Source: Dot-com ethics: e-business and sustainability


Case Study: West Country Organics

Sally and Bruce Burton own a 50-acre farm in Devon and describe themselves as a successful ethical business. Through their company, West Country Organics, they sell their goods online and deliver nationwide to hundreds of customers. "The key to being ethical is knowing your limitations, understanding your business environment and going the extra mile to make the difference," explains Sally.
"We use organic farming methods and co-operate with local producers to provide a range of products, rather than trying to compete and provide it all ourselves."
"We deliver goods to a region and couriers drop them off to the customer's door, which is more cost-effective than flying organic goods in from abroad as the big supermarkets do," says Sally.
WCO even recommends local farmers to long-distance customers. "Why send a polluting van up to Scotland when a local farmer can deliver," says Sally.
Read more on E-commerce technology