Supply chain e-revolution slow to catch on
Only 4 per cent of firms have an e-supply chain, and 62 per cent do not see the acquisition of e-business technology by their...
Only 4 per cent of firms have an e-supply chain, and 62 per cent do not see the acquisition of e-business technology by their competitors as a threat, says a new survey



Earlier this year the Softworld Supply Chain showcase organisation and InterBiz, Computer Associates' e-business applications division, conduced a survey into web-enablement of supply chains.

Results were startling. While 64 per cent of companies profess to have an e-business strategy, and 35 per cent claim to operate a web-enabled supply chain, only 4 per cent actually have an e-supply chain. A surprising 62 per cent did not see the acquisition of e-business technology by their competitors as a threat.

Download this free guide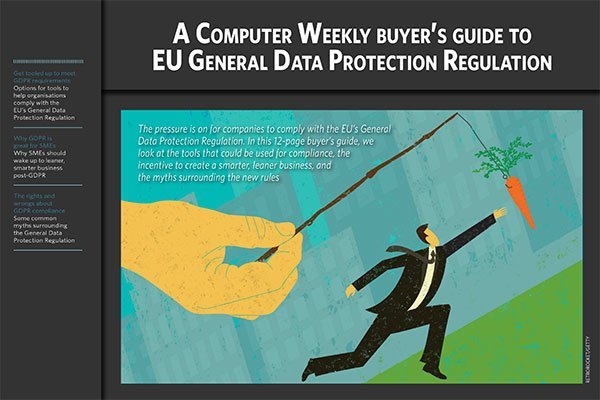 Computer Weekly's Buyer's Guide to GDPR Part 2
In this 12-page buyer's guide, we look at the tools that could be used for compliance, the incentive to create a smarter, leaner business, and the myths surrounding the new rules.
By submitting your personal information, you agree that TechTarget and its partners may contact you regarding relevant content, products and special offers.
You also agree that your personal information may be transferred and processed in the United States, and that you have read and agree to the Terms of Use and the Privacy Policy.
The greatest restriction to optimising e-business operations was lack of understanding, but nearly half the respondents are assigning strategic e-business development and implementation responsibilities to the IT department. Only 17 per cent of those responsible for adopting e-business were board level executives. That has to change.
Speaking at the Softworld event, Alan Waller, senior logistics partner at PricewaterhouseCoopers, and visiting professor at Cranfield Centre for Logistics and Transportation, says: 'The most significant change driving the supply chain will continue to be increasing pressures from the customer. Add complexities of increasingly global supply chains, and the disruptive nature of IT on traditional business models, and we begin to appreciate the challenge of supply chain management from now on.'
Waller argues virtual supply chains will replace linear supply chains and new skills, including making better use of systems and internet technology, will be critical to business success. Getting the manufacturing discipline connected is a key part of that. Business velocity and customer pressure carry on increasing. Real-time information delivers value to users everywhere in the supply chain, and integrated systems maximise returns. In sum, integrated supply chains deliver.
Richard Waller, InterBiz marketing manager, says: 'There's much talking and thinking, but little doing. The goal is the connected enterprise with everything connected together and an ability to transact in real-time. There needs to be an understanding of the industry, with no stock holding, and full knowledge of delivery schedules. Companies need to plan collaboratively, and there should be sharing up and down the supply chain for planning purposes.'
It used to be that everyone was spouting 'knowledge is power'. That's now old hat. Today's mantra is 'shared knowledge is power'. The current king in this emerging sector of the internet based supply chain is Cisco Systems.
Dick Gillespie, Cisco's vp enterprise UK, says: 'The secret to our success in the supply chain world is to turn the organisation inside out and share information. Electronic data interchange, EDI, automated paper processes, and there was an order-invoice situation. With us now, suppliers look into our system and make decisions on what they see. Sometimes there is no invoice or order. That calls for a leap of faith for most organisations. It certainly makes us agile.'
Philip Padfield, Ironside Technologies EMEA vp, says: 'We have a telephone test we like to apply. If the e-commerce option is not quicker than the telephone, don't touch it. Note the average in-bound sales telephone call takes between three and five minutes, after which the customer has all the information he/she needs. The e-commerce system must equal or better that. E-commerce solutions should incorporate ease of use, speed, security, scaleability, and flexibility as essentials.'
Padfield lists the features companies should look for when investing in an e-commerce system: it must be easy, fast, secure, interface directly into the order management system, be scaleable and flexible, change and customise in-house as the company grows - and it must provide more information than a phone call.
IDC highlighted Ironside as a 'supplier worth watching' in the internet commerce sell-side procurement applications space. Certainly, from the time IDC prepared the report to earlier this year, Ironside's customer base had jumped nearly 50 per cent (to 125).
Colin Tankard, Aventail's md, says: 'Many companies who want to set up online supply chain management and create better integration with legacy applications lack in-house resources. That's why we've set up as an ESP - extranet service provider - to jump start business-to-business deployment with a minimum of resources and risk.'
Raking the market ground, it's possible to collect a few examples of what's happening out there (Cisco, note, has to be the leader - after all it's selling a lot of the kit the internet is based on):
Ford's global suppliers can have immediate online access to the company's legacy based purchasing systems to receive orders via the web. Ford is utilising OpenConnect's i-WARE solution to improve its supply chain communication. The i-WARE three-phase strategy includes browser based access to host applications, rejuvenation/extension of these applications to trusted business partners, and integration of multiple applications for new e-commerce projects.
Another OpenConnect customer is office automation company Pitney Bowes, which uses an extranet built by Integra to not only solve supply chain requirements, but also to add investment in customer services.
E-business solution provider i2 has acquired IBM's software for planning, retail merchandising and replenishment, including Inforem and Makoro for merchandise planning. It marks a key stage in the i2, IBM and Ariba alliance for delivering end-to-end business-to-business e-commerce and collaboration. Meanwhile i2 and Siemens IT Service have an alliance to develop procurement management services.
Aventail's Tankard points to a user wanting to connect 800 supplier organisations and give varying levels of access to web, groupware, cad, and mainframe applications, as well as to FTP and database servers. It also wanted to utilise its Baan management software. Aventail's extranet product included support for SecurID authenitcation, tiered access control, traversing of any firewall, and proxied traffic so there were no direct connections to application servers.
Paul Vogt, European product marketing manager, Zebra, points to work done with courier specialist UPS in a system which tracks all goods online, identifying packages that enter and leave an organisation.
Biomni (50/50 Computacentre/Computasoft joint venture) manages Europe's largest e-trading community - supporting over 1,500 buyers in the public and private sectors and 350-plus suppliers. l

Business of the future

'Convergence of globalisation and e-nabling technology will lead to the emergence of new business models and networks,' says John Boardman, chairman of Global Informatics 2000, an international three-day conference set for Edinburgh this December. 'We'll bring together those who'll exploit that technology and those who can deliver it.'

Day one will concentrate on 'enabling the extended enterprise', day two on 'managing multi-media', and day three on 'facing the global future' - where there'll be sessions on 'web-enabled supply chains', 'change management', and 'consequences on the mobile web'.

The conference will seek to answer the question, 'what will the typical business of 2010 look like?' Will there be a typical business? Forget not the predictions of internet guru Henry Blodget who proclaimed '75 per cent of cyberspace companies will be bankrupt within five years - and 75 per cent will never make enough to sell themselves'. Sobering stuff.

Dr James Bellini, first British member of US futurology think-tank the Hudson Institute, speaking at a Software AG-sponsored e-business forum last autumn, says: 'The successful company of 2025 will have no headquarters, no chief executive officer, own no IT, and have one-tenth the fixed assets it has today.'

The winning business formula will comprise information as a key strategic resource, a global data infrastructure, an integrated knowledge chain to customers (who will design products), a drive towards zero costs (inventory and supply chain costs reduced through efficient data management) and intelligent service (one-to-one marketing).

Dr Erwin Konigs, Software AG chairman and ceo, says: 'There's a need to build totally-automated supply chains, with all-hours availability, customers telling companies what they want, and days and weeks hitherto consumed in trading wrenched down to minutes.'
Read more on E-commerce technology