Storage Decisions Session Downloads
Storage Decisions stepped foot for the first time in Toronto in June of 2007. Here are slide presentations that made their debut at the conference
STORAGE DECISIONS TORONTO
Storage Decisions stepped foot for the first time in Toronto in June of 2007. Here are slide presentations that made their debut at the conference .
Downloads: (click title to download slides)

Storage Challenges Created by a Virtualised Server Infrastructure
Speaker: Steve Norall, Analyst, Taneja Group
Description: Virtualisation has become a tried and true approach for enabling a new level of cost savings and operational efficiency in the datacentre. Unfortunately, server virtualisation with shared storage exacerbates pre-existing storage management issues, and in many cases creates new challenges not present in a purely physical world. As a result, server virtualisation planning and deployment are increasingly intertwined with the planning and scaling of a storage infrastructure that can support the high levels of consolidation that many businesses demand today. In this session, Steve discusses the key end user storage challenges and how new technologies are evolving to address these problems.
For more information: File Virtualisation FAQ

Download this free guide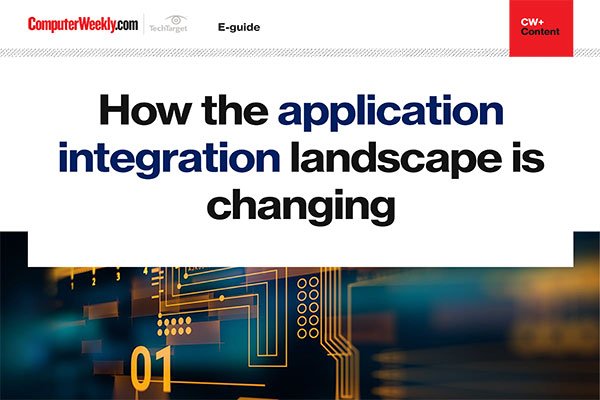 8 ways in which the application integration lanscape is evolving
We take a look at how technologies like Distributed Computing and the Common Object Model have been refined into web services, service-oriented architecture and composable applications and microservices.
By submitting your personal information, you agree that TechTarget and its partners may contact you regarding relevant content, products and special offers.
You also agree that your personal information may be transferred and processed in the United States, and that you have read and agree to the Terms of Use and the Privacy Policy.
The Evolution of SRM
Speaker: Bob Laliberte, Analyst, Enterprise Strategy Group
Description: As vendors continue to aggregate value into a single software package or suite, SRM has become the default category for a multitude of offerings that expand beyond the traditional storage domain. With greater focus on delivering value to the business and requiring tighter alignment with the applications, software is now stretching from applications to backup. Given the wider coverage areas, SRM software might be more aptly named infrastructure resource management (IRM) software. ESG analyst Bob Laliberte discusses the general direction storage management software and highlights the truly innovative -- to the truly lackluster areas of SRM.
For more information: SRM Buying Guide
The Three Fold ITIL Process Path to DR and Continuity of Storage Operations (COOP) Nirvana
Speaker: Dr. D. Akira Robinson, Consulting Computer Scientist, SPAWAR, NMCI, US Dept of Navy
Description: A disaster recovery plan can only work if the right processes and procedures are in place to deal with an adverse event. As such, the Information Technology Infrastructure Library (ITIL) provides a compilation of best practices regarding IT management and administration. And, as Dr. D. Akira Robinson explains, ITIL can extend to disaster recovery planning.
For more information: SearchStorage.com video Tech Talk: Building a DR plan
Storage Timeline -- Architecting for the Future
Speaker: Brad O'Neill, Senior Analyst, Taneja Group
Description: The future of storage is upon us. According to Brad O'Neill the storage industry may be completely unrecognisable in as little as six years. This keynote address, based on Brad's extensive research of macro technology trends, will follow three potential paths for the data storage industry. Brad looks at how the purchase choices of storage managers will ultimately lead to the storage end game.
For more information: Storage Goes Green
Read more on Integration software and middleware