Storage Area Network School: Lesson 8
How to extend the San, connectivity between Sans and SNislands, IP storage, virtualization (in-band, out-of-band) and SW/HW pooling.
San School: Lesson 8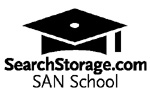 ---
"Tying Sans together"

Join Christopher Poelker, co-author, Storage Area Networks for Dummies for a webcast on how to create a full scale network by tying storage area networks (Sans) together. This lesson looks at how to extend the San, connectivity between Sans and San islands, IP storage, virtualisation (in-band, out-of-band) and SW/HW pooling.
View this lesson at anytime here.
More about "Lesson 8: Tying Sans together"
To form a more powerful network and utilise Sans most effectivly you have to begin to create a connected environment that allows you to share and protect data seamlessly. In Lesson 8 of SearchStorage.com's "San School" Christopher Poelker extols the virtues of a centralised San environment. An environment that is easier to manage and ties your applications together. Aside from ease of management this also includes the ability to replicate data between company locations enables disaster recovery and data sharing.
What you'll walk away with:
** Understanding the new iSCSI protocol
** Choosing and using San extenders
** Choosing the correct link for the job
** Industry-wide tips and best practices
** The ability to ask Chris your specific San questions

Please join Christoper Poelker for this webcast right now. Also, follow along with class with this worksheet.
Now that you've listened to San School lessons 1-4, take the first San School quiz.
About Christopher Poelker: Aside from being an author and a SearchStorage.com San expert Christopher Poelker is a storage architect at Hitachi Data Systems. Prior to Hitachi, Chris was a lead storage architect/senior systems architect for Compaq Computer, Inc., in New York. While at Compaq, Chris built the sales/service engagement model for Compaq StorageWorks, and trained most of the company's VAR's, Channel's and Compaq ES/PS contacts on StorageWorks. Chris' certifications include: MCSE, MCT (Microsoft Trainer), MASE (Compaq Master ASE Storage Architect), and A+ certified (PC Technician).
Don't miss this event. Make sure to view it today.
Back to the San School table of contents.