Mobile IM keeps users connected
Sybase iAnywhere added mobile IM to its suite of tools, creating a real-time mobile alternative to email and SMS.
Mobile email was the killer app for a while. And though it's convenient -- some would say critical -- to keep up with messages on the go, it isn't real-time.

Mobile instant messaging (IM), on the other hand, adds a level of real-time communication to and from mobile devices. Today, mobile management vendor Sybase iAnywhere released a mobile IM and presence component to its Information Anywhere suite, an enterprise-class tool that Sybase said brings mobile IM and presence to mobile devices.

Download this free guide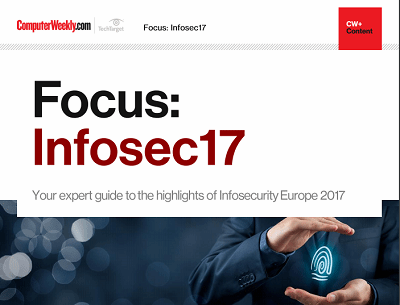 From forensic cyber to encryption: InfoSec17
Security technologist Bruce Schneier's insights and warnings around the regulation of IoT security and forensic cyber psychologist Mary Aiken's comments around the tensions between encryption and state security were the top highlights of the keynote presentations at Infosecurity Europe 2017 in London.

By submitting your personal information, you agree that TechTarget and its partners may contact you regarding relevant content, products and special offers.

You also agree that your personal information may be transferred and processed in the United States, and that you have read and agree to the Terms of Use and the Privacy Policy.

The Information Anywhere suite is a platform that helps corporations leverage mobile email, collaboration, security, device management and enterprise applications. The new IM client also provides logging and routing capabilities to ensure compliance with auditing policies.

Recent research from Gartner Inc. indicates that by 2010, 90% of users with business email accounts will have IT-controlled IM accounts. Although it's unclear how many of those accounts will be mobile, Gartner said that "as IM traffic becomes increasingly higher in volume and potentially higher in value, organizations will need to adopt enterprise-class IM technologies, as well as IM hygiene services, to ensure efficient, integrated, reliable and secure use of IM technologies."

Senthil Krishnapillai, product manager for Sybase iAnywhere, said the increased growth of IM -- roughly 65 million accounts worldwide -- will ease the transition to mobile device IM and make it a more acceptable practice in the enterprise. That, coupled with the ability to see a colleague's presence, will better enable real-time mobile communication.

According to Bryan Whitmarsh, product manager for Sybase iAnywhere, the new IM component offers a platform that can integrate with IBM Lotus Sametime IM, Microsoft Live Communication Server, Jabber Wildfire and XCP, Reuters Messaging, and various public IM clients to bring IM capabilities to mobile devices.

The IM client, Whitmarsh said, can run on most mobile platforms and operating systems, including Palm, Pocket PC, Symbian, BlackBerry and Java. It consists of one application that can access any leading enterprise and public IM solutions.

It's a single client that gives access to multiple IM systems and can transmit and receive presence information. Users can manage contacts and notifications and can display message histories and timestamps.

On the administrative side, the IM component can be deployed with wizards through a user interface and is compatible with IM hygiene, security and management tools from Akonix, FaceTime and IMLogic. It can also be deployed over the air, and data is encrypted end-to-end through 168-bit 3DES.

Jack Gold, president and founder of J.Gold Associates, a Northborough, Mass.-based research and advisory firm, said mobile IM is a technology that is building steam and will be increasingly relevant to enterprise device users going forward.

"This is a moderately big issue, since many companies are getting to the point where IM is becoming mission critical, just like email," he said. "It's not quite there yet but will be in the next one to two years."

Vendors such as BlackBerry maker Research In Motion Ltd. now include IM on the device. Gold said, however, that most mobile IM solutions haven't connected to Lotus Sametime or Microsoft Live Communication Server. Instead, he said, most mobile IM clients are consumer oriented, like AIM, Yahoo and MSN.

"Having IM in conjunction with email on a mobile device makes a lot of sense," Gold said. "Add presence capability and you have the ability to enhance communications to a mobile workforce beyond just push email."

But with mobile email and short-message service (SMS), aka text messaging, already quite prevalent in the enterprise, mobile IM will have to carve out its own niche among users.

"I certainly believe that both IM and SMS serve a different user than mobile email, [for example] for terse info and instructions in near real time," said Current Analysis analyst Kathryn Weldon. "I think there is actually a place for all three, and IM is rapidly gaining favor as a corporate tool. As far as SMS is concerned, it's already technically the killer app -- it generates more traffic and revenues than corporate email. Both SMS and IM are especially good for field communications, often replacing the old pager paradigm."

Anthony Arroyo, MetLife's senior distributed technology engineer, who manages mobile devices, said his company uses IM -- namely, IBM Sametime -- company-wide on workstations. As yet, it hasn't deployed IM to the company's mobile environment because of an incompatibility issue between BlackBerry and the security archival solution MetLife uses. Since the archival solution is required, the company can't deploy mobile IM until it finds a way to work it out. Arroyo noted, however, that demand for mobile IM is high.

Arroyo said he looked at Sybase iAnywhere's mobile IM tool. IBM, he said, also offers a Sametime client for MetLife's devices.

"One of the benefits my users have said goes to being able to see a person's presence – whether that use is working and available, or in a meeting or just unavailable," he said. "SMS, MMS and email do not provide that function. Plus, SMS and MMS are in the clear, no encryption."

On a more personal note, however, Arroyo said he finds that IM can be an intrusion.

"IM throws my working rhythm off," he said. "Like anything else, you have to know when to shut it off."
Read more on IT risk management