Marks & Spencer expands RFID trial as it moves closer to decision over full roll-out
Marks & Spencer is expanding a trial of radio frequency identification tags on clothing from nine to 53 stores, in preparation for a possible roll-out across the business. The retailer said it would decide in June whether to move to a full implementation.
Marks & Spencer is expanding a trial of radio frequency identification tags on clothing from nine to 53 stores, in preparation for a possible roll-out across the business. The retailer said it would decide in June whether to move to a full implementation.

Download this free guide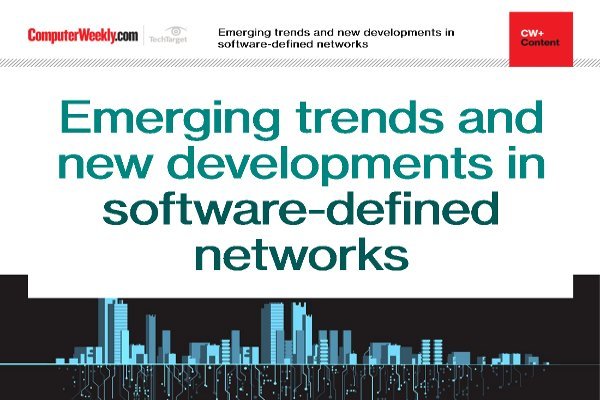 The latest developments and trends in SDN
Join us as we sit down with a number of senior IT managers from multi-national enterprises to discuss the latest trends in the world of software-defined networks.
By submitting your personal information, you agree that TechTarget and its partners may contact you regarding relevant content, products and special offers.
You also agree that your personal information may be transferred and processed in the United States, and that you have read and agree to the Terms of Use and the Privacy Policy.
James Stafford, head of clothing RFID at Marks & Spencer, said, "We are four weeks into this trial. We need to run it long enough to make sure we want it."
The retailer has more than 17 million RFID-tagged garments due to go on sale in stores this spring, after developing a programme with its manufacturers over the past three years to reach this level of garment tagging. With the tags in place, employees are starting to use handheld RFID readers to perform in-store stock checks every week.
Stafford said, "The business case [for in-store RFID] is to offer the sizes the customers want. We are using item-level RFID to improve accuracy."
Nigel Montgomery, director of European research at AMR Research, said that when Marks & Spencer began its RFID pilot there were no suppliers that could offer IT consulting services around RFID development. "Now TCS can offer end-to-end supply chain systems and IBM has a demonstration centre," he said.
Montgomery said Marks & Spencer would now be researching other uses of the technology, such as offering users of in-store kiosks accessories to match RFID-tagged garments they pick up. He said this technology was running in fashion house Prada's New York store. A similar idea is being explored by Metro in Germany for its Future Store.
Marks & Spencer was an early adopter of RFID in 2003. With RFID in its infancy at the time, it had to develop prototypes of much of the technology involved, including the world's first mobile garment reader.
How it works: the technology behind Marks & Spencer's RFID system
As reported in Computer Weekly last week, Marks & Spencer has tagged 61% of the plastic pallets it uses to transport food from its suppliers to its stores. Some 1.4 million RFID-tagged pallets pass through the six distribution centres that it uses for its food business every week.
Pallets are read at each of the distribution centres by floor-to-ceiling RFID readers in the loading bays. Marks & Spencer uses supplier Intellident's Visiongate Dynamic RFID Portals to automate stock checking for both deliveries from suppliers and new orders for stores.
The portals can read items travelling at up to 15kph. They work with tags operating at different ultra-high frequencies, including the 13.56MHz frequency that Marks & Spencer uses for its passive tags.
BT Auto-ID Services, which provides the managed service for Marks & Spencer's RFID implementation, said, "The RFID tags provide detailed information on stock and allow Marks & Spencer and its suppliers to read information six times faster, leading to reduced wastage, extended production time and faster vehicle turnaround.
"The use of recyclable plastic trays also saves around 30,000 tonnes of cardboard each year."
BT uses Generation 2 tags on the pallets, which replace the first generation of RFID tags as defined by EPC Global, the organisation that promotes RFID use around the world.
The benefit of Generation 2 tags is that they can be read at a greater distance and with a higher accuracy rate than earlier tags. They are also smaller, lighter and cheaper. The US retailer Wal-Mart, which is undergoing the world's most widespread RFID trial, expects to use only Generation 2 tags on goods from its 200 largest suppliers by the end of this summer.
Marks & Spencer's implementation of RFID technology in its clothing business to measure stock availability works using different technology. The clothing business uses tags that operate at a different frequency from those in the food business. Clothing uses the European specification of UHF tags while food uses a proprietary specification.
In-store staff use Intellident's Bluetooth Retail Handheld devices to read "intelligent labels" on garments including suits and trousers. Shop assistants pull the trigger on the device as they run it along the garments to be scanned.
The device sends each intelligent label's unique identification number to Intellident's Mobile Store Reader base station over a Bluetooth connection. This then connects over an in-store 802.11 wireless network.
BT Asset Intelligence provides the managed database, which collects all the information transmitted by the readers. The data is then passed from the BT Asset Intelligence service to Marks & Spencer's head office applications.
Read more on Wireless networking