Local government consolidates storage with IP SAN
IP SAN was cheap, simple, and a NAS gateway allows end users at the City of Isles Beach better protection and access to files than traditional servers.
Like many in a new wave of users networking storage, Derrick Arias, IT director of the City of Sunny Isles Beach, Fla., was looking for something in an IP SAN that was cheap and easy to manage.

"Looking forward, we're going to be getting into virtualization and blading our servers," Arias said. "We feel the foundation for both those things in our data center is a SAN."

Download this free guide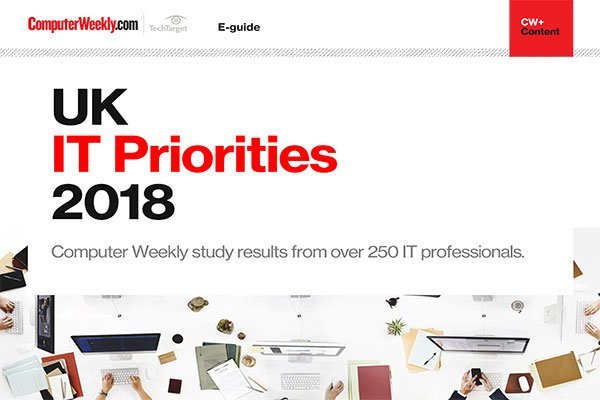 UK IT Priorities 2018 survey results
Download this e-guide to discover the results of our 2018 UK IT Priorities survey, where IT leaders shared with us what they are going to be investing in over the coming 12 months.

By submitting your personal information, you agree that TechTarget and its partners may contact you regarding relevant content, products and special offers.

You also agree that your personal information may be transferred and processed in the United States, and that you have read and agree to the Terms of Use and the Privacy Policy.

Arias evaluated 3 terabytes (TB) iSCSI boxes using SATA drives from Network Appliance Inc. (NetApp), EMC Corp. and Siafu Software LLC on recommendation from his local value-added reseller (VAR). Siafu's Swarm IP storage area network (SAN) appliance stacked up well in pricing against an offering he got from an IBM reseller offering a NetApp box priced at between $50,000 and $60,000. "That was with refurbished drives, too, at a pretty deep discount."

Arias also said he was taken with the simplicity of Siafu's management schemes. For example, if he wants to assign an iSCSI initiator from one of his servers to the SAN, Siafu requires him to add the iSCSI initiator on the server and point the server at the IP address of the Swarm appliance. Once that happens, the initiator's name appears automatically in the Swarm management interface, which allows him to create a volume and then check off the initiator's number in the GUI to point it at that volume.

"That's it," he said. "Done. The other products I looked at used a multistep process where you'd have to know the long name [for the initiator], or copy and paste it several times," as well as align the data path from server to storage and the volume setup manually.

Thus sold on the Swarm box, Arias purchased it plus a network attached storage (NAS) gateway for under $30,000. The SAN side of the Swarm has already saved time and storage space for databases and Exchange server, he said. However, the biggest benefit so far has been consolidation and protection of NAS boxes through Siafu's integration of Windows Storage Server 2003 R2.

Previously, the city had been running separate Dell Inc. servers with NAS file shares and backing them up to tape (the city also currently has no offsite disaster recovery plan, Arias said, though one is being designed). Now, the Swarm NAS gateway performs twice-daily snapshots of the fileshares automatically through Windows ShadowCopy. The gateway also allows 150 end users at city hall to access those snapshots directly on their workstations for up to 30 days and perform restores themselves.

"We've already used this hundreds of times" since acquiring the Swarm appliance last fall, Arias said. "Users can just go to 'folder properties,' select 'previous versions,' and their snapshots are all listed there -- we haven't really had to deal with restore requests [from tape] much anymore."

He's happy with that feature, but also said he has a love-hate relationship with the Windows operating system. Since the city purchased the device last September, there have been two occasions where Windows-OS level corruptions of dynamic link libraries (DLL) meant taking the gateway offline and using a utility called Script Logic to map end users temporarily back to the older NAS servers while the issue was resolved. One of these times, it took two days to determine and troubleshoot the problem.

"The support we got from Siafu was very good," Arias said. "We learned we didn't have the capability to rebuild the gateway ourselves -- we didn't have a documented process, but Siafu has since provided us with one." The crash didn't lead to any loss of data.

And two failures since September is a lower rate of failure than he'd been afraid of, Arias said. "That was my biggest concern, initially -- when I heard it was based on Windows, I had visions of rebooting it every two weeks."

Meanwhile, the snapshots he's come to rely on wouldn't be available, or more importantly, available free of charge, without R2. "Both NetApp and EMC have licensing models [for snapshots]," he said. Furthermore, restores from snapshots using R2 can be done directly in Windows Explorer, an interface the city's end users are comfortable with.

"We've had only these two minor issues in seven months, neither of which caused us any major downtime or data loss," he said. "The bottom line is, price and ease of administration have won us over."
Read more on Networking hardware