IBM-Compaq alliance: is it showing signs of strain?
As the disk storage market continues its inexorable growth, the alliance between IBM and Compaq is 'not a side-show but two...
As the disk storage market continues its inexorable growth, the alliance between IBM and Compaq is 'not a side-show but two fierce competitors putting their slings and arrows to one side to listen to users'. But Is this about to change, asks Frank Booty



Scarcely had the ink dried on the IBM-Compaq strategic open storage networking pact this summer, when two months later IBM pumps up enough iron to declare it's completed phase one of its goals. IBM revealed the first open storage product resulting from the Compaq alliance - the Modular Storage Server (MSS).

IBM had already announced the dedicated storage systems group, to be focused on the ever-important, and burgeoning, storage market. Then came the availability of 36 Gb disk drives for the Shark enterprise storage server, giving a claimed 30 per cent performance improvement. Also there was the FastT200 storage server entry level server kit for the NT market, boasting two 1 Gb/s fibre channel connections. Aimed initially at IBM's Netfinity servers, the FastT200 will also support Compaq and other Intel based servers, plus Unix, NetWare, and Linux based platforms.

Download this free guide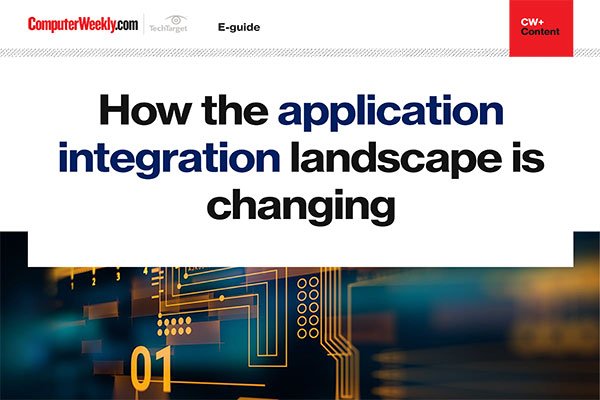 8 ways in which the application integration lanscape is evolving
We take a look at how technologies like Distributed Computing and the Common Object Model have been refined into web services, service-oriented architecture and composable applications and microservices.
'IBM and Compaq have worked tirelessly to deliver the first results of this agreement,' says Michael Harrison, director of IBM storage alliances. 'We're both committed to delivering open storage products that are interoperable - that's win-win for all customers.'
Driving the IBM/Compaq alliance has been the pledge to help solve the (expected) exploding data storage needs of e-business. IBM and Compaq had linked up to increase interoperability between high-end and NT storage systems, with Compaq reselling IBM's Shark servers and Tivoli management software. IBM is to market Compaq's storage systems and software for mid range Unix and Windows systems.
Of the alliance, IBM's vp storage solutions Dietmar Wendt says: 'Compaq's current storage offerings are not scaling up to the S/390, and we benefit from selling their disk arrays in the open space. The two companies are also to work towards establishing industry-wide open standards for technologies, such as sans, investing $1bn (£625m) between them to promote the promised interoperability and standards.'
The deal is intended to grab back market share lost to EMC, and IBM claims it has already 'penetrated over 50 per cent of EMC's top 200 accounts'.
Nigel Ghent, EMC's European marketing director, says: 'Really? Our R&D spend in the first quarter was greater than the revenue from IBM's enterprise storage division. Our top 200 customers are very large global organisations - there may be IBM kit, and Sun, HDS, etc in there too. But the analysts' feedback is that Shark is not considered an enterprise-level solution. Ask IBM to produce more than a handful of named, revenued sites.'
Of the alliance, Ghent points to the comment from EMC ceo Mike Ruettgers that 'it's like changing deckchairs on the Titanic' and says: 'It's a lot of words on interoperability. But what have customers gained for their mission-critical businesses?'
HDS concurs with Ghent's view, adding: 'The agreement is an attempt to bolster sales of a product which has not been accepted by the market. Now there will be potential channel conflicts in mixed S/390-Unix/NT arenas.'
Tony Reid, HDS storage solutions manager Europe, says: 'We deliver open Sans every day to major European enterprise customers like Carlsberg and Halifax. Shark sales have been disappointing, due to IBM's inability to deliver on functionality, scaleability, and performance.'
Sun UK's storage marketing manager Chris Atkins says: 'The storage industry is finally moving towards network standards that'll enable users to plug-and-play storage hardware and software just as they can Lan based hardware and software. Elimination of supplier lock-in is an advantage. Big players who rely on developing a suite of proprietary storage functionality will be vulnerable to smaller specialist companies capable of developing storage capabilities, such as networked storage management software that can be integrated easily into standards based storage networks. So the development of new functionality, and number of companies developing such capabilities, will increase.'
'The proven route for developing such standards is not through a marketing initiative between two large companies,' says Atkins. 'Such alliances tend to be driven by two desires: to plug gaps in each other's technology and to frame so-called 'standards' to suit the two companies concerned, rather than the industry as a whole. The proven route for industry accepted standards is through widely supported industry standards bodies.'
Donal Madden, Compaq's storage business manager, says: 'It's a side-show that people are focusing on this alliance as an oem tie-up. The real news is it's two competitors putting their slings and arrows to one side and listening to customers. Compaq's view has always been one of openness, as opposed to owning 100 per cent of a proprietary niche.
'The EMCs and Suns of this world with their fibre channel and Jiro initiatives are akin to people running clubs drawing up selective Christmas card lists,' adds Madden. 'With our alliance, and expect more over the next few months, we have two fierce competitors who have 40 per cent of the market between us, pushing for much needed san standards and interoperability. Expect something within a year.'
Compaq had followed up the IBM alliance with talks of attacking the market for networked attached storage (Nas). The launch of its TaskSmart N-Series server was seen as the last piece in its storage architecture which encompasses direct attached storage, San, and Nas.
The Nas market size for 2003 has been estimated by Gartner Group at $6.5bn (£4062.5m), a figure upwardly revised from $5.1bn (£3,187.5m) by the market analyst, as a result of intense activity in the storage markets. Compaq points to other research work from analyst Mindwave Research, indicating Nas implementations would double over the next year.
For Compaq, Madden sees today's market share split between San, Nas and Das, as high growth, nought and 65 per cent (down from 80 per cent in 1998). Five years out, Madden 'guestimates' das to be down to 20 per cent, san to be up to 45-50 per cent, the rest Nas.
Gartner Group reckons the disk storage market will be worth $21bn by 2003, of which $18bn 'will be networked'. Madden, however, thinks this is 'somewhat aggressive'.
'The killer application for Sans is beginning to look like disaster recovery,' says Madden. 'Today, users take their data, back it up and pass back-ups to remote locations. If there's a disaster, they go to this location and get up and running. Best case scenario for that is within four hours, which in today's environment is unacceptable. The direction now is to mirror live data across disaster recovery sites via Sans.'
So how did Compaq and IBM come to the alliance? Madden indicates how IBM is a very large supplier of disk drives to Compaq. On technology, Compaq had just introduced its Versastor system, which pools capacity centrally, and passes it to servers as and when it is needed. An analogy is the UK's National Grid, where dozens of power stations spread across the country pool power, and serve it to users as required.
'The alliance reminds me of the Digital/HDS initiative two years ago to add Escon connect to the Digital product portfolio,' says Atkins. 'Such marketing initiatives don't generate instant products and are more often to do with answering customer concerns about gaps in a company's product range, rather than any belief that real product will emerge as a result.
'It's more likely the wider, nimbler, storage hardware and software product community will develop standards to suit the majority, ahead of the efforts of two large and historically slow moving companies whose focus is today far more on systems integration, rather than product development.' l
What analysts and others say
'I expect the IBM/Compaq alliance to significantly accelerate seamless storage and server connectivity within Sans,' says Greg Reyes, president and ceo with Brocade Communications.
'We believe this will be warmly welcomed by our customers, because it'll give them easier access to storage solutions for the entire enterprise,' says Dexter McGinnis, md COS CONCAT GmbH.
'This alliance is the most significant in recent San history,' says Jack Scott, managing partner Evaluator Group. 'We expect the delivery of Sans that include products from different companies to be speeded up.'
'This should be a winning combination for all parties. The players are attempting to eliminate non-interoperable San islands by draining the oceans with common and interoperable storage and Sans,' says Nick Allen, vp storage research, Gartner Group.
'We eagerly look forward to the products and standards supported by the alliance,' says Lance Bell, group systems manager, Intuit.
'As storage becomes networked through San and Nas, end-users demand suppliers agree to a set of standards. This new alliance can only be a good thing,' says Claus Egge, research manager, IDC.
'The companies have hit the bulls-eye, but the real winners are the customers,' says John McArthur, vp storage research, IDC.
'The alliance rocks,' says Bob Bailey, senior vp, Pioneer-Standard Electronics. 'This radical alliance shatters the myth stated by some storage manufacturers that storage solutions must include proprietary software. Both companies are demonstrating that the sum of the parts for each of their storage products is greater than the whole for their resellers and their customers.'
Read more on Integration software and middleware