svedoliver - Fotolia
Hybrid flash array roundup 2016: The Big Six
Will 2015 be remembered as the last big year of hybrid flash storage? The Big Six offer hybrid flash, mostly based on HDD-era designs, and innovation has slowed as all-flash rises
The term "hybrid" is used to define storage systems that use hard disk drive (HDD) and flash solid-state drive (SSD) capacity. Flash is used to provide performance improvements over and above the capabilities of spinning disk-only systems.

Download this free guide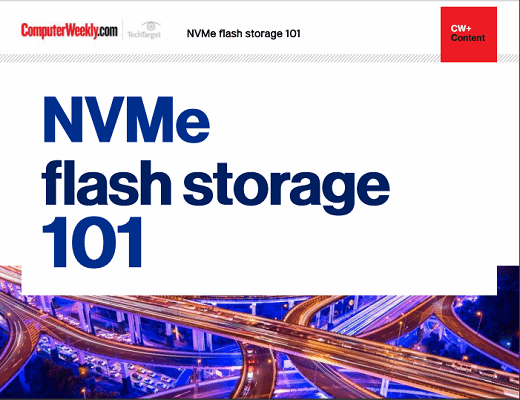 NVMe 101: The early bird catches a big advantage
Designed as a storage protocol for the performance and characteristics of flash, NVMe is much, much more. Making flash actually "flash", NVMe will replace the SAS and SATA bottleneck protocols and bring shared arrays blistering performance.
By submitting your personal information, you agree that TechTarget and its partners may contact you regarding relevant content, products and special offers.
You also agree that your personal information may be transferred and processed in the United States, and that you have read and agree to the Terms of Use and the Privacy Policy.
The past 12 months have not seen a big leap in hybrid flash array technology from the big six storage suppliers. Improvements in HDD technology have focused on large capacity drives that are more suited to archive use cases, while flash has evolved to use TLC media that offers high capacity and throughput, particularly for read use cases, but also lower endurance.
Change has occurred on the software front with the introduction of new features, most notably data compression (IBM XIV and Hitachi Data Systems G-Series) and inline data deduplication (NetApp FAS). EMC has done what can only be called development work, with software enhancements to its existing legacy storage arrays.
The lack of focus on hybrid has occurred as all-flash systems attract more attention. HDS has announced two new all-flash systems in the past 12 months (F-Series and HFS A), while NetApp has focused on the AFF8000 platform. This leads to questions about the future of hybrid appliances.
Hybrid systems formed a nice stepping stone between legacy-but-familiar HDD-based arrays and expensive all-flash systems. End-users could choose to vary the amount of flash in hybrid systems between zero and 100%, thus providing the ability to match the percentage of flash deployed to workload performance requirements.
The rapid maturing of all-flash systems puts hybrid in a tricky position because the potential savings of hybrid over all-flash have steadily decreased. HP, for example, quotes a price point of about $1.50/GB for all-flash and it is difficult to see how hybrid systems could be much cheaper than this.
There is one ray of hope for hybrid – the use of multiple tiers of flash storage in the same array. The introduction of TLC NAND (Dell, HP 3PAR) means systems can now support SLC, MLC and TLC media, with rumours of QLC (four bits per cell) on the horizon.
Hybrid may have to be redefined to include tiers of storage made up of different type of flash as well as HDD and cause even more confusion in the tracking of flash in the enterprise.
Dell
In October 2015, Dell announced its latest high-end storage array, the SC9000, based on the heritage of the Compellent architecture. The SC9000 is dual controller, runs dual eight-core 3.2GHz Intel Xeon processors per controller and scales up to 960 drives and 3PB of capacity in a single system (although more can be supported with federated configurations).
On the software side, the Storage Center operating system was upgraded to release 6.7. This introduced new features including Live Volume Auto-Failover for increased resiliency and intelligent compression, which ensures that only data that can realise savings is actually compressed.
Dell was also one of the first suppliers to support TLC NAND flash technology in its storage products, in the form of 3.84TB SSDs. As a result, Dell storage systems can now support SLC, MLC and TLC flash technology.
EMC
EMC's hybrid portfolio includes VMAX and VNX SAN-based systems. At EMC World in May 2015, EMC announced a range of new features for the VMAX3 platform that focused on software enhancements, including: FAST.X – a multi-system tiering capability to integrate VMAX3 with other storage platforms; ViPR Controller and VMAX3 integration; VMAX3 integration with EMC CloudArray; and VMAX3 Active-Active Replication.
On the VNX platform, EMC released vVNX, a software-only implementation of the VNX appliance. The software was enhanced later in the year (September 2015) to support VMware VVOLs.
These announcements show how EMC is trying to evolve its business, from being purely hardware-focused to one of software-defined storage. As well as the official feature announcements listed here, EMC has experimented with other ideas, such as running vVNX in a container on VMAX3.
Hitachi Data Systems
In 2015, HDS released a new suite of models for the HDS VSP G Series platform, complementing the G1000 with new G200, G400, G600 and G800 models. The new systems scale from just over 1PB to 5.7PB of internal capacity and use Hitachi's custom Flash Module Drives (FMDs) in 1.6TB and 3.2TB sizes.
In November 2015, HDS announced the next generation of FMDs, FMD2, which doubles the capacity of individual modules to 6.4TB and introduces inline data compression.
The expansion of the G-Series family is the culmination of a process to standardise the hybrid block-based platforms onto a single platform – the VSP. Part of the transformation has been the evolution of SVOS (Storage Virtualisation Operating System), which runs across all models and is even capable of being run as a virtual appliance, although it has not been formally released as a VSA product.
HPE
HP (now Hewlett Packard Enterprise) offers hybrid solutions across the company's four main storage platforms (MSA, StoreVirtual, 3PAR and XP7). In 2015, updates to the portfolio were focused on the 3PAR platform.
Read more on hybrid flash
The entire HPE 3PAR range was refreshed, with new models using the latest Generation 5 ASIC for which the 3PAR platform is known. The 20000 series replaced the previous 10000 series high-end arrays. The 20800 model scales from two to eight nodes and up to 1,920 HDDs and 1,024 SSDs for a maximum raw capacity of 6PB. The 8000 series replaces and upgrades previous 7000 series models, with 8200 and 8400 (two- and four-node models, respectively), plus the 8440 converged hybrid solution that offers block and file support.
Towards the end of the year, HPE announced the availability of 3D NAND solid state disks for 3PAR systems. 3D technology allows further price reductions to be achieved in hybrid and all-flash systems, signalling a potential move to tiered flash systems in the near future.
IBM
IBM continues to sell hybrid solutions across three core product lines: the enterprise DS8000 series, enterprise/midrange XIV storage system, and entry-level Storwize platform.
In October 2015, the latest DS8000 system was released in two new models. The DS8884 and DS8886 use new IBM POWER8 processors that scale up to dual 24 cores. Maximum physical capacity supported is up to 3PB, with an additional 96TB of flash cache.
In May 2015, IBM upgraded the existing XIV Gen 3 systems to version 11.5.1 of the XIV operating system. This introduced 6TB drive support and VVOL support (for VMware). Later in the year (December), real-time compression was introduced with new hardware to support the additional processing requirements demanded by the compression algorithm.
NetApp
NetApp has had a quiet year in the hybrid market, with no new products released. Instead, the company has spent time focusing on its all-flash portfolio and the pending acquisition of SolidFire announced in December 2015. NetApp's hybrid flash products remain the FAS8000 and FAS2500 series, with huge scalability up to 138PB (FAS8080EX; 46PB maximum with SAN protocols).
There are also dedicated SAN products E5600 and E2700 (scaling up to 360TB) in the E-series range.
On the software side, Data ONTAP has seen enhancements in 8.3.2 and 8.3 to fix issues with migrations between 7-mode and CDOT-mode systems (a new feature called Copy-Free Transition) and the introduction of new space management techniques (inline data deduplication and zero-block detection). Although these updates will have benefits across all systems, NetApp is clearly focusing on the all-flash part of its business.
Read more on Flash storage and solid-state drives (SSDs)