Half of UK IT professionals looking to leave current employer in the next 12 months
Due to a lack of innovation and entrepreneurial opportunities, 53% of tech professionals admit to wanting to leave their current employer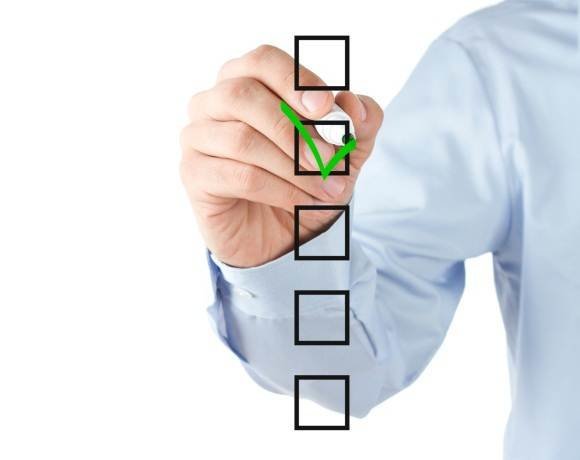 More than half (54%) of UK IT professionals that have been in their role for one year or less, plan to leave their current employer within the next 12 months, according to a survey by Mortimer Spinks and Computer Weekly.

Download this free guide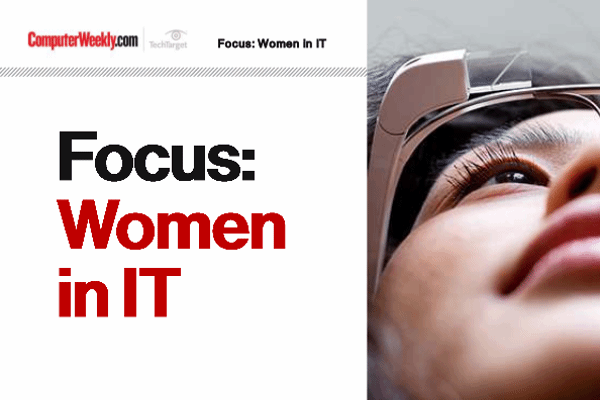 Shifting the landscape of gender and diversity
The number of women in tech in Europe is an average of 16%. This guide offers a collection of articles highlighting some of the prominent issues surrounding increasing the number of women in the IT industry.
By submitting your personal information, you agree that TechTarget and its partners may contact you regarding relevant content, products and special offers.
You also agree that your personal information may be transferred and processed in the United States, and that you have read and agree to the Terms of Use and the Privacy Policy.
Questioning 1,200 technology and digital experts, the survey found that this figure increased from 38% last year (See image 1).
Respondents of the Technology Industry Survey 2013 had an average age of 40-44, with 89% being male.
Harry Gooding, head of client engagement at Mortimer Spinks, said technology professionals are really focusing on "skilling up" and moving to jobs where they are given the opportunity to do so.
"The cynic would say that this is a case of employees just wanting to add value to their CVs," said Harry Gooding. "However, it's usually a case of people wanting to keep up with the industry and new technologies."
Staff retention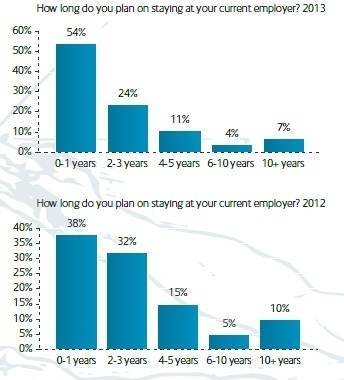 Image 1
The report came to the conclusion that allowing time for innovation can change the DNA of your business. The survey suggests that tech employees who are allocated more time for innovation are more likely to stay at a company.
Some 45% of employees that claim to have no time for innovation are planning to leave in the next 12 months (see image 2).
Of those that are allowed to spend 20-39% of their working week for innovation, only 7% say they want to leave.
Gooding gave the example of Google, which allocates 20% of each employee's time just for innovation: "Giving time for innovation and entrepreneurship is important to keeping employees happy and productive."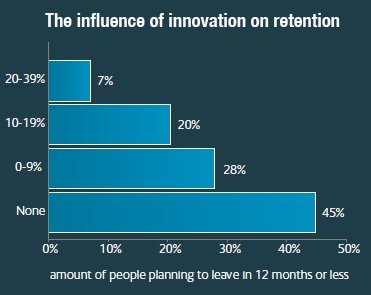 Image 2
"Employees want to feel valued and trusted, not overworked stretched and underpaid. The second example is a surefire way to get people to leave," he added.
Jason Woodford, chief executive of digital marketing agency, SiteVisibility agreed that companies like Google and 3M are admired by many businesses for giving time to employees to follow their passions, and therefore having a greater chance of retaining more motivated and inspired employees.
He explained: "Taking risks can pay off. We've adopted the "fail quickly" model to new product and service innovation and created new business growth as a result."
It's not just about increasing salaries and innovation
Meint Dijkstra, technical director at distributor Computerlinks, said staff retention is not just about salaries and dedicated innovation time: "We've found that by providing staff with challenging projects and the ability to constantly learn new skills, combined with generous secondary benefits, means that staff stay with us significantly longer than average for our industry.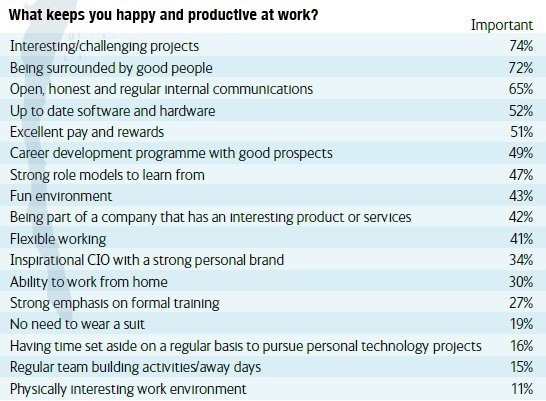 Image 3
Image 3 reveals what keeps employees happy at work, with 74% saying interesting/challenging projects keep them satisfied and productive, while 72% said it is being surrounded by good people.
"Offering high salaries alone doesn't guarantee you get the best person, or that they'll stay with you," said Dijkstra.
Dijkstra explained that rather than specifically allocating innovation time in the working day, Computerlinks encourages and rewards staff who are entrepreneurial and suggest new business ideas.
He gave the recent example of comparetheware.com, which is an IT comparison website launched by two members of the Computerlinks team: "After their plans were reviewed and approved by the board, they were duly rewarded and given time during their normal working day to work on the new project. The company invested directly in the project to get it off the ground quickly."
Peter Chadha, chief executive and founder of independent technology advisor Dr Pete said IT staff become dissatisfied and move jobs due to the ideal that is created at the bigger players in the industry.
"A combination of the truly amazing advances in technology, such as smartphones and tablets; the glamorous innovative jobs on offer at the likes of Google; and the seemingly get-rich-quick depictions of IT people in the media is driving a dissatisfaction with run-of-the-mill IT jobs," Chadha said.
"As the technology continues to heighten its awareness, this dissatisfaction rises year-on-year."
Chadha highlighted that an increase in IT staff churn can cause serious knock-on effects on businesses.
He said when non-technical staff leave a project halfway through it causes a lot of disruption, but when technical staff depart, the impact is much more profound because of the knowledge they have for the systems overall.
"This is more so than any other role in the business due to the complexity of IT environments and the knock-on effect one system can have on another," said Chadha.
One way of retaining staff, according to Chadha, is giving them the opportunity to use the latest software and hardware gadgets and see how these can be applied commercially in the business.
"Sexy new kit always helps," he said. "It may sound obvious but making them feel appreciated for what is sometimes a very demanding role is vitally important. Simply saying 'thank you' when they have done heroic work on a broken system goes a long way!"
Sanjiv Gossain, UK managing director at Cognizant said that while compensation is an important aspect of any organisation's talent strategy, focus on compensation alone to attract and retain talent is inappropriate.
"It has limited shelf-life and feasibility," he said.
He suggested that there is no one-size fits all in terms of talent strategy to boost retention, so companies must take into account different profiles, generations and genders of employees.
Stuart Silberg, vice-president of technology at online travel firm Hotels.com, said: "As technology professionals, it's in our nature to want to innovate, so it shouldn't come as a surprise that staff who are given the chance to do so enjoy the work they do that much more."
Hotels.com gives it developers one day a month for "pure innovation" and learning about new technologies, to encourage its staff to become excited about the projects they work on.
"When people leave halfway through a project, it completely changes the team dynamic and disrupts the work flow, so it is vital that companies do everything in their power to ensure staff are happy before it gets to this point," said Silberg.
The power of the software engineer
A variety of job roles took part in the survey from chief technology officers (CTOs) to software developers and enterprise architects to digital entrepreneurs. The results showed a relatively even spilt across the job categories – apart from software engineers.
Of the participants, 13% categorised themselves as software engineers, which was much higher than any other category.
According to 61% of permanent software engineers, they have seen an increase on their base salary over the last 12 months, with 25% noticing an increase of more than 10%.
The results were also similar for the contracts market with 34% of contract software engineers claiming to have had an increase in their daily rate. Of these, 14% said this was more than a 10% salary increase.
Around 35% of IT professionals claim to have seen a 35% rise in the amount of software engineers employed onsite (see image 4), while 48% said the figure had stayed the same and only 17% said they had experienced a decrease.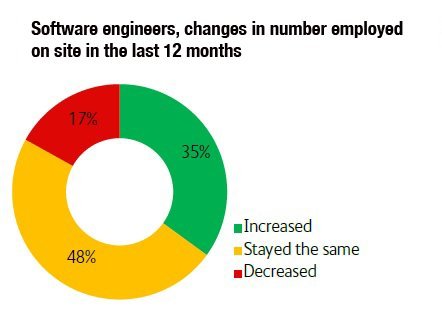 Image 4
Gooding said the results are a true reflection of the client calls he participates in: "Every call I'm on, I hear from clients that they can't find good quality software engineers.
"Clients also seemed to be looking for hands-on technical guys that have good communication skills too."
Dijkstra said that Computerlinks has seen a surge in demand for software engineers.
"In the wake of the commoditisation of hardware and the migration to software-based solutions such as SDN, SaaS and mobile application development, finding – rather than retaining – the right people for support, networking, systems and web development is the key challenge for us," he said.
According to Chadha the term software engineer sounds "edgier" than the traditional "software developer."
"This is partly due to the term mainly emanating from the Silicon Valley ecosystem, where the likes of Google and Apple use it as their preferred language. Perhaps this improves self-esteem - as the engineer feels that he or she is making things not just developing," he said.
A lack of entrepreneurship
Despite the general view that staff need time for innovation and the chance to make things, the survey surprisingly revealed that almost a quarter (23%) of tech professionals working within the technology/telecoms sector feel their employer actively discourages entrepreneurship. However, 27% said it is allowed and 50% said it is encouraged. Of this 50%, 15% said they are formally encouraged to be entrepreneurial.
Across all industry sectors, 46% believe entrepreneurship is encouraged when taking into account, while, 23% still said it is discouraged (see image 5).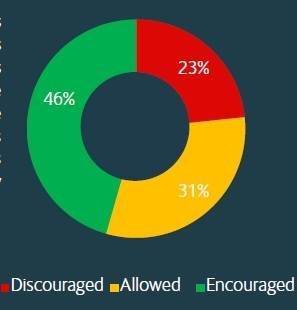 Image 5
People that classify themselves as working for the government feel least encouragement to be entrepreneurial. Within this sector, 34% said they are actively discouraged.
Gooding said these can be down to company culture. "The people that are driving entrepreneurship are not the people that make the technology decisions," he said.
"I am not that surprised at the government figures; entrepreneurs are not the sort of people public sector organisations typically hire, nor does their culture generally encourage it," said SiteVisibility's Jason Woodford.
He added that entrepreneurship and creativity is not in-built.
"We can't encourage the idea that if we network enough and hang out with the right people, we will just 'breed' creativity and innovation," he said. "It's up to us, as business leaders, to ensure this myth doesn't fool our next generation of business superstars."
Dr Pete's Peter Chadha raised the point that many businesses lack IT leadership at the highest levels and are essentially afraid of technology.
"This is why very few encourage entrepreneurship with technology, and it's an issue that the IT industry must address," he said.
Phil Smith, chief executive at Cisco UK & Ireland said the bigger companies and investors should no longer be shying away from investing in innovation or promoting entrepreneurship.
In addition, entrepreneurs and tech start-ups of today should not be afraid to push their ideas right to the top and ensure they live up to their true potential, he said.
"With one of the world's strongest digital markets and the ICT, software and digital content sectors worth £100bn combined, we can really put Britain at the forefront of technology innovation.
"By nurturing the innovators of today, we can ensure that Britain fulfils its potential as a global technology hub. Cisco believes that together with the government and other partners we can truly help inspire the minds of the entrepreneurs of today and build a brilliant future for Britain," he added.
Adam Jarvis, chief executive at Intrinsic Technology, suggested that the pace of change in the IT industry means that innovation and entrepreneurship here is more important than in perhaps any other sector.
"As trends like technology consumerisation and mobility fuel employee demand for new ways of working, the IT department can all too easily be left behind," he said.
Read more on IT education and training