Follow the W2K leader
Migrating to Windows 2000 Server should be easy if you copy others, writes Sally Whittle.

Download this free guide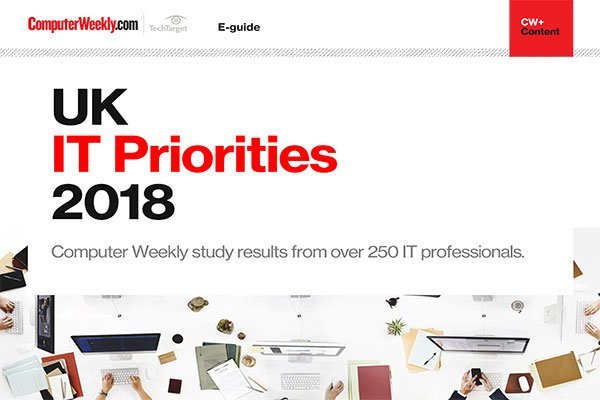 UK IT Priorities 2018 survey results
Download this e-guide to discover the results of our 2018 UK IT Priorities survey, where IT leaders shared with us what they are going to be investing in over the coming 12 months.

By submitting your personal information, you agree that TechTarget and its partners may contact you regarding relevant content, products and special offers.

You also agree that your personal information may be transferred and processed in the United States, and that you have read and agree to the Terms of Use and the Privacy Policy.

Migrating to Windows 2000 Server should be easy if you copy others, writes Sally Whittle.



Windows 2000 offers a host of feature and performance improvements over Windows NT, but adoption of the new enterprise operating system has fallen short of expectations. Although the majority of companies have started rolling out Windows 2000 on the desktop, server migration has lagged dramatically.

The reason is that too many companies don't see a bullet-proof business case for the upgrade. According to Giga Information Group, fewer than one-third of enterprises had started migrating servers to Windows 2000 Server a year after the software's release. Even fewer had migrated to Exchange 2000 - a vital step if users are to fully exploit the potential of Windows 2000's Active Directory technology.

Corporate IT departments, battered by Y2K, the dotcom boom and then the downturn, are sitting firmly on their wallets until they can guarantee return on investment (ROI) from Windows 2000 roll-outs, says Giga Information Group director Norbert Kriebel.

"The launch of Windows 2000 came hot on the heels of Y2K, and companies still face a real shortage in the skills required," says Kriebel. "This means Windows 2000 starts to look like something that is very complex and expensive, and too many companies can't see a way to justify that investment."

The problem is one of perception rather than reality, believes Peter Nilsson, an architectural consultant with Microsoft. "We haven't done enough to help customers see how to migrate effectively and quickly," he says. "The result is that we meet many customers who see the benefits of Windows 2000 but are extremely nervous and confused about migration because they haven't had enough guidance."

Microsoft's view is that migrating servers to Windows 2000 might have represented a mammoth task 18 months ago when the product was first launched, but that is no longer the case. "Today, it is possible to get 90% of what you want simply by following what other people have done, reading white papers and attending events such as TechEd," Nilsson says.

The first step in any migration should be to consult the official guidance and white papers, Nilsson says. "That is the stage where most people get stuck because they overcomplicate their domain designs. You have to be ruthless and remember that the simplest option is almost always best."

There is absolutely no point in migrating to Windows 2000 Server without a solid business case, says Kriebel. "There is no vital rush to upgrade, particularly in the case of Windows 2000 Server," he says. "Make a realistic assessment of the costs and training and put together a pilot test network, which closely matches your real-life needs before you rush to deploy anything."

Building in third-party software tools and services at an early stage can make the difference between speedy ROI and a nightmare roll-out, says Kriebel. "Tools and services make the difference between a smooth, successful roll-out and a nightmare experience fraught with pain," he says. "Using external, trusted, experienced suppliers such as IBM or EDS gives you access to expert support staff who will help you plan and test the design."

Basic software tools to automate the migration are included with Microsoft Windows 2000 Server, but these will not meet the needs of most companies, as even Microsoft admits. "We do offer some basic functionality, but if you are an enterprise we advise looking to people like Quest Software or NetIQ," says Nilsson. "The tools are all pretty good, but they have slightly different focuses, so it is worth looking at a couple before making your mind up."

NetIQ is a specialist in migration and systems management, and offers three key products for Windows 2000 roll-outs covering planning, deploying Windows 2000 Server and migrating Exchange servers. "The advantage of using migration suites and tools is that you can then approach the whole project in a 'slice and dice' fashion," says Jonathan Southam, Northern Europe sales manager with NetIQ. "You can manage a migration using scripting, which is messy, or by maintaining a parallel environment, which is complex. We say tools let you take the middle road."

Software migration tools are particularly important for organisations rolling out Active Directory with Windows 2000, says Ratmir Timashev, chief executive of systems management supplier Aelita. "Active Directory brings a whole new paradigm to the architecture, whereas NT 3.5 and NT 4.0 weren't that different," he says. "In many cases, there is limited expertise in how Active Directory works, and how to manage the political and geographical issues it raises."

However, tools cannot compensate for a lack of planning, says Kriebel. "A Windows 2000 migration is fraught with peril for the unprepared," he says. "Windows 2000 can be very unforgiving for large enterprises that don't plan for the necessary training, hardware and software resources and third-party add-ons."

Using software tools from Altiris, together with consulting from IBM, helped the Museum of London migrate to Windows 2000 in less than four weeks last year. The company was integrating three separate IT departments and upgrading all hardware and desktops at the same time, explains IT director Richard Hall. "We probably spent two-thirds of the time planning for how the different teams would work together, but we cut the deployment time by 75% using tools," he says.

The speed of migration has meant extremely fast return on investment for the museum, says Hall. "We finished the roll-out in March, and since then we have seen desktop support fall by 50% and server complexity has been massively reduced."

The improved administration and simplicity has also allowed the museum to re-deploy resources into a revamped Web site, Hall says. "In the past, we would have outsourced that kind of development but for the first time now, we're able to do it internally," he says. "We would never have been able to find the resources before Windows 2000."

Top Windows 2000 stumbling blocks

Active Directory is a big improvement over NT but critics claim that it is still too unsophisticated for many enterprises because it doesn't easily support merging or splitting of domain trees. It is a Microsoft product that doesn't deliver cross-platform support, which can cause problems for enterprise extranets or e-commerce applications


Windows 2000 lacks embedded management capabilities such as policy-based management. This means IT managers must learn to navigate the Microsoft management console, which takes time. This is where third-party tools that automate migration paths can be particularly useful


Windows 2000 Server does not offer full network and systems management. Businesses will likely need to deploy some combination of Systems Management Server (SMS) and third-party tools which can add 20%-35% to migration costs


Windows 2000 Server offers Microsoft's best ever security - but Kerberos and C-2 level security adds to the complexity and requires a separate configuration tool. If underlying tools are not compliant with Kerberos, the server support could be rendered useless.

Source: Giga Information Group

Case study: AstraZeneca strives for single platform
When AstraZeneca was created through the merger of two separate companies in 1999, it became one of the world's largest pharmaceutical companies, with annual sales in excess of $16bn. However, it also created a headache for the company's management - how to integrate two separate IT infrastructures that encompassed 50,000 desktops in 45 countries.

"We wanted to integrate business processes but could not because we did not have a single, standard architecture to share information," explains Nick Passey, global infrastructure development manager. The company decided to roll out Windows 2000 Server and Office 2000 across the company to provide the single platform, and also to improve administration and reliability.

To begin with, AstraZeneca created a dedicated team of 40 IT staff responsible for creating a global blueprint for the architecture. In addition, local teams were responsible for customising the blueprint and rolling it out locally. In the UK, AstraZeneca looked for partners which had experience of large software roll-outs. These partners included IBM Global Services, which provided many of the staff required, and Computacenter, which helped plan the migration and test the 350 applications involved in the move.

"We spent 12 months planning and three months testing the systems to make sure everything worked," explains Passey. "The key challenge for us was getting clarity on the administration of Active Directory - if a domain is a boundary, say, you have to understand what people can make what changes to the architecture."

AstraZeneca's Windows 2000 deployment went live in September 2000 and was completed in December 2001. Despite the long lead-up, Passey is happy with the benefits realised. "We have gone from 90 domains to just four, which has created enormous savings in administration and support," he says. "It has also enabled us to run global applications, such as the intranet, while maintaining control over small details like the screensavers on all the desktops."
Read more on Operating systems software