Five Australian IT leaders share their experiences
Learn how five Australian IT leaders, from industry, government and education, tackled projects for their organisations.
Want to learn how Australia's IT leaders are tackling IT challenges like cloud computing, unified communications or the iPad? We've compiled some of our best case studies – all featuring CIO-level IT leaders - to help you learn from their experiences.

Download this free guide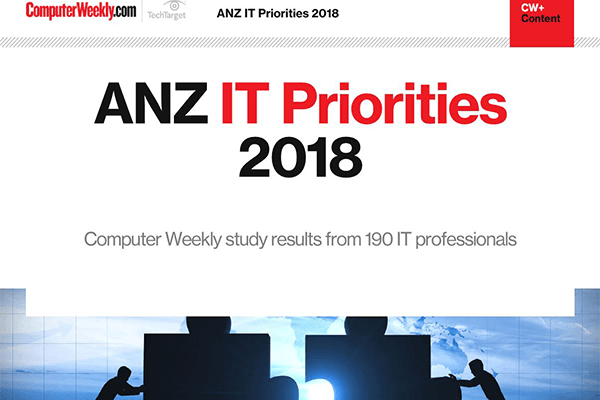 ANZ IT Priorities 2018: Benchmark your IT spending against your peers
We recently surveyed 190 IT leaders in Australia/New Zealand to find out where they are investing their budgets in 2018. Download this exclusive report to access the key findings, discover the top growth areas for this year and beyond, and see how your own plans measure up.
By submitting your personal information, you agree that TechTarget and its partners may contact you regarding relevant content, products and special offers.
You also agree that your personal information may be transferred and processed in the United States, and that you have read and agree to the Terms of Use and the Privacy Policy.
1. Why Toyota is deploying a dealer management app in the cloud
James Scott, Divisional Manager of Toyota Australia's Information Systems Division, explains why he chose to deploy a dealer management application to Fujitsu's cloud.
2. Alpine Council's iPad plans
Craig Collings, IT Manager at Victoria's Alpine Council, shares his experience of iPads in the enterprise.
3. Charles Sturt University's unified communications experience
Phillip Roy, Director of Operations at Charles Sturt University's Division of Information Technology, admits he underestimated the time required for a unified communications implementation.
4. Throwing out a failed bespoke application at Ray White
Ben White, Director of IT and Property Management at real estate company Ray White, tells us why he abandoned a failing development project and decided to use Google's AppEngine instead.
5. New storage systems at Queensland Brain Institute
Jake Carroll, IT Manager at the Queensland Brain Institute, bought new storage from a new supplier. Learn why he was happy to diversify his vendor relationships in this case study.
Read more on Information technology (IT) in Australia & New Zealand