Controlling interests
Who controls IT is moving to the top of the agenda as small and medium-sized enterprises gain a greater grasp of the importance...
Who controls IT is moving to the top of the agenda as small and medium-sized enterprises gain a greater grasp of the importance of implementing IT and communications technology to best effect. Helen Beckett offers an overview of the findings of this year's Computer Weekly/BT SME ICT Audit - exclusive research into how SMEs view and use technology

Concerns about cash flow, inadequate resources and frustration with bureaucracy are the perennial concerns for small firms. But although these business basicsremain the same, the Computer Weekly/BT SME ICT Audit has uncovered a shift in attitude towards IT and communications technology by this segment of the private sector since last year.

Download this free guide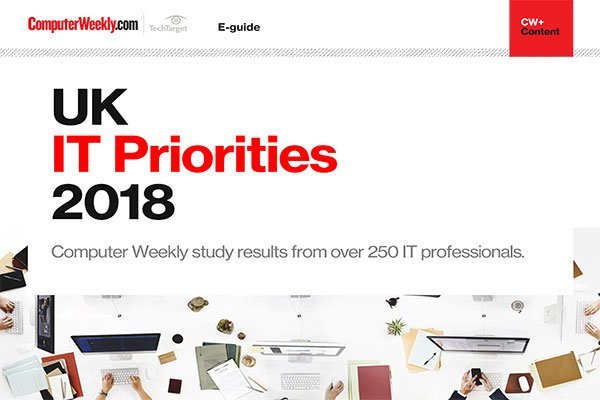 UK IT Priorities 2018 survey results
Download this e-guide to discover the results of our 2018 UK IT Priorities survey, where IT leaders shared with us what they are going to be investing in over the coming 12 months.
By submitting your personal information, you agree that TechTarget and its partners may contact you regarding relevant content, products and special offers.
You also agree that your personal information may be transferred and processed in the United States, and that you have read and agree to the Terms of Use and the Privacy Policy.
SMEs are realising that IT has to be done well in order to be effective and consequently control of IT is moving to the top of the agenda.

Proprietors, beset by ongoing technology problems and disillusioned by the lack ofreturn on IT investments, have reached out to grasp control of IT spend and decision-making.
Results drawn from 1,300 respondents representing the entire spectrum of SMEactivity show that managing directors/proprietors decide IT strategy at 40% of the businesses surveyed and dedicated IT managers are in control at 42%. This compares to last year's survey where just 27% of owners were in the driving seat with IT managers deciding strategy at 58%.

"This is entirely in line with what we have measured in surveys of our membership," says Jim Norton, senior policy adviser with theInstitute of Directors. "Among our members, we're finding that control has been vested in the proprietor or managing director."

Far from being something to worry about, he believes this is healthy for IT and will result in continued investment, rather than the brakes being applied. "The difference is, they will not buy in the first place unless they know exactly what to do and what it will accomplish for the business," he says.

One thing that commentators agree onis that it is impossible to generalise about SMEs and their attitudes towards IT. Thedemographics of SMEs range from the one-or two-man band and the micro company of10 employees and less to the medium-sizedenterprise of 250-500 employees. The IT landscape varies again according to whether it is a rural business or set in the heart of a metropolis.
"The latest Trojan or virus is unlikely to dominate conversation in a non-office based environment," says Peter Scargill, IT chairman of the Federation of Small Businesses.

But for all their differences, the shifttowards greater owner control among SMEs is confirmed by the experts consulted by Computer Weekly. "More owners now have a good understanding of IT," says Jeremy Beale, head of e-business at the Confederation of British Industry. Where this is the case, "They are more likely to take the decisions than leave this to a geek," he says.

"It is something that we have seen happening progressively over the past year," says Tony Lock, chief analyst with Bloor Research. Consequently, IT suppliers are increasingly attempting to communicate with managing directors and business managers, in addition to their core target group of IT managers.

This year's audit found that even more owners or managing directors have charge of IT within organisations with fewer than 50 staff, where up to 60% of them wear the IT hat. But the swing towards proprietor control was seen in all constituent groups surveyed.
"When things are going well managers leave IT to get on with it. But top management is gettinginvolved if there are problems," says Scargill.

Many of the problems arising during the past year have come in the shape of unmanageable volumes of e-mail and accompanying issues of spam and security threats.
"Almost everyone I know has to handle boatloads of e-mail. It is a question of having to stand back and ask what difference this is making to the business," says Scargill.

As the use of IT becomes more pervasive, legislation that small firms may in the past have ignored, such as the Data Protection Act, is now having to be reconsidered to be sure that they comply.

Another reason cited for top management seizing the reins is the oft-heard complaint that IT staff fail to communicate the impact of IT systems on business performance. "This trend reflects the fact that IT is not explaining it in the right way," says Lock.
Poor communication tends to occur in companies at the top end of the SME scale with between 50 and 500 staff, where 65% - rising to 94% in the biggest companies - have a dedicated IT department.

In these medium-sized companies, which may have the luxury of a dedicated ITdepartment, keener interest from the top manifests itself in other ways. "Evaluation is no longer left to the IT department," saysSimon Woodward, SMB territory manager at IBM UK. Whereas it used to be left to the senior accountant or financial director, theevaluation process now tends to include a board member and other business heads.

A panel-led approach to evaluation is aresult of companies having problems with IT the first time round and then again on thesecond go, says Woodward. One advantage of a broader evaluation for the business is that it can reduce the time taken to implement IT. The decision to move from using an in-housecapability to outsourcing may take no longer than 10 weeks in Woodward's experience.

The Federation of Small Businesses applauds the more vigorous interest that topmanagement is taking in IT strategy. "For far too long now, IT has operated as an independent domain, separate from the business. Once upon a time, IT was something that managing directors would have been quite horrified at getting involved with. But owners have found increasing numbers of problems that IT cannot deal with," says Scargill.

High on the list of concerns is security. In this respect the SME landscape has not changed much from last year when security was the most visible item on the IT radar. Then some 60% of respondents registered a high level of concern about the threat posed by hackers and viruses and 32% expressed moderate concern. One year on these concerns have edged up to 63% and down to 31% respectively.

Meanwhile, the renewed pragmatism of the managing director operating in the IT sphere translates into diminished expectations of what IT can deliver to the business - but adetermination that it will deliver something. "SMEs are saying that we want to use IT but that we want it to be real," says Norton.
His observation follows Computer Weekly's findings that business drivers for implementing IT, whether performing better against competitors or finding new customers, rate less highly this year than in 2003.

"Expectations of what IT can deliver have declined across the whole of industry," says Beale. There was an overselling of IT, often by the finance people in the dotcom era, he maintains, particularly of what the web and the internet could deliver in terms of generating new customers and revenue streams. While large corporations apply hard-nosed pragmatism to IT in the wake of recession and unfulfilled dotcom promises, small businesses take an even dimmer view.

Thrift is practised instinctively by small businesses that often have to rely on last month's cash flow to finance any new IT initiative. This year's audit results suggest they have no intention of repeating the hurt of spending on IT that gives no clear return.
The Federation of Small Businesses and the CBI both report that investment in websites has declined over the past year. "In the early days, companies threw caution to the wind for fear of being left out," says Scargill. "Now they have given up following the crowd."

The Business Growth Programme run by the Cranfield School of Management confirms this picture of SMEs being primarily concerned with using IT to tighten up operational efficiencies. "In smaller businesses, IT is something that is used in a supportive rather than strategic way," says programme leader Gerard Burke.
Given that course attendees come from among the most innovative SMEs in the UK, Burke has witnessed original thinking about IT, such as one language translation agency that has used communications to deliver just-in-time literature to customers.

Stories such as these of a commercially-driven approach to IT suggest that the UK's SMEs continue to make strides since last year, when we reported that many smaller companies were struggling just to keep the lights on. Recent exposure to viruses combined with disappointing returns from websites have caused top managers to sit up and take notice.
IT is now being treated like any other aspect of business, believes Norton. More encouraging still, he says, "Small businesses have learned how to do IT."
Profile of an SME and IT innovator
A company attending the Cranfield School of Management Business Growth Programme provided multilingual literature to big business. One of its contracts was to provide menus to a major airline at airports around the globe.
Although the customer was satisfied with the quality of the product, it never knew exactly how many passengers would be on a particular flight until check-in time and consequently wasted money through over-ordering of menus.
The proprietor of the company came from a marketing agency background and hired his brother, an IT professional, who came up with the idea of developing relationships with a series of digital printers based locally to airports. This meant menu orders could be placed once passenger numbers were known. Menus could then be printed locally as required and delivered without any waste.
Read more on IT for small and medium-sized enterprises (SME)