Land Rover BAR / Harry KH
Bring the cup home: mobile holds key to UK's America's Cup challenge
Computer Weekly visited the Land Rover BAR sailing team in Portsmouth to find out how mobile innovation may help bring the America's Cup back to the UK for the first time since 1851
On 22 August 1851, 16 yachts – 15 British and one American – took part in the Royal Yacht Squadron's annual race around the Isle of Wight in the south of England. Although the Americans were not much fancied, their innovative boat design beat allcomers, finishing eight minutes ahead of its closest rival.
The winner's trophy, a sterling silver ewer made in 1848 and donated to the Royal Yacht Squadron by the Marquess of Anglesey, returned to the US, where it was named the America's Cup after the winning yacht. But since that day, the world's oldest sporting trophy has never returned to the UK.
Now, 166 years on, hopes are high that the UK may finally have a realistic shot at bringing the cup home: the eponymous Land Rover Ben Ainslie Racing (BAR) team was formed by Team GB Olympian Ben Ainslie, who, after having previously raced and won the cup for the US aboard Larry Ellison's Team Oracle in 2013, decided to challenge the Americans for the title.
Land Rover BAR's factory, a newly-built BREEAM-compliant facility that towers over Portsmouth's old town, has the calm, clean air of a Formula One racing team's HQ to it, which is perhaps no surprise given that the team's CEO is former McLaren supremo Martin Whitmarsh.
But the similarities go deeper still: like an F1 car, an America's Cup yacht is a finely tuned, exquisitely balanced machine, composed of lightweight carbon fibre and advanced new composites. Land Rover BAR takes its trade secrets very seriously, and bans visitors from carrying smartphone cameras around the site.
Land Rover BAR believes the secret sauce behind its longed-for success will be its commitment to, and use of, advanced and innovative ICT technology.
More than a sailing race
Tying the tech together are a number of partner companies grouped together into an organisation called the Technology Innovation Group (TIG), which is chaired by Phil White, a partner at PA Consulting. White characterises the America's Cup as more than just a sailing race.
"It's a technology race as well – and there are areas of technology we can improve that will help the team perform better out on the water," says White.
"These races are won and lost on very small percentages, so any small improvements we can make to the platform, information or reliability can make a dramatic difference.
"Areas we are looking at include boat dynamics, analytics, sensors and systems, and human factors."
The TIG was set up from scratch two years ago and besides Land Rover BAR and PA Consulting, it includes BAE, naval architecture firm BMT Nigel Gee, BT, Jaguar Land Rover itself, and engineering firm Renishaw.
According to White, the group serves as a way to manage and coordinate the various objectives that its members want to get out of the project. Some partners wanted to showcase their technology, others wanted to use it as an internal motivation tool, and others wanted to use the America's Cup to advance the agenda around science, technology, engineering and maths (Stem) subjects. Thousands of children have now been through an eight-week design and technology course developed by Land Rover BAR and its partners, culminating in a school trip to the factory itself.
Backhaul critical
Earlier this year, BT announced its participation in the 2017 America's Cup challenge through an agreement to provide network services and big data analytics expertise to Land Rover BAR.
The telco is supplying the team with a private 4G mobile network, and a fixed connection through New York, to deliver high-speed, uncontended links between the UK and Bermuda - the location for this year's race - without being impacted by the demands expected to be placed on Bermuda's own mobile networks by spectators.
This network is already up and running on the 2043.5MHz spectrum, well removed from the 2.5GHz and 5GHz frequencies usually favoured – which are absorbed by water and therefore easily disrupted in a maritime environment. Land Rover BAR says it gets better data rates on this set-up than it does when using the standard 4G network in Portsmouth.
Currently, the tech team is pulling data from about 1,000 points of measurement from the boat every time it sails – over 2TB of data every month – back to the mission control centre in Portsmouth, which is supplied by Dell EMC and functions as a so-called virtual chase boat.
There, the data is crunched by technical teams – including two embedded BT big data experts – as well as machine learning algorithms to see how the boat and crew are performing, how they can perform better in future, and is sent back to Bermuda so that any required adjustments to the boat or the team's tactics can be made.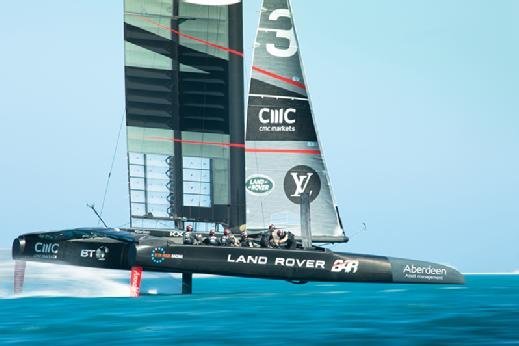 During the America's Cup races themselves, the rules dictate that the teams must use the official feed, not their own. Therefore it was vital that the network was up and running well in advance of the finals, so that Land Rover BAR can prepare down to the last detail.
The combination of an ultrafast, high-capacity network and a virtual chase boat greatly enhances Land Rover BAR's sustainable credentials, says BT director of innovation, Matt Lawson.
This is partly because rule changes for the 2017 America's Cup mean the yachts are faster than ever before and physical chase boats can't keep up.
"There aren't too many power boats that can do 50 miles an hour and those that can will measure their fuel consumption in gallons per minute," he says.
There is also an element of helping reduce Land Rover BAR's wider expenditure because fewer people now have to travel to Bermuda. "It saves on airfares and hotels," says Lawson, "which is all money that's not making the boat go faster."
Mobile app puts tactics first
Giles Scott, also a Team GB gold medallist at Rio 2016, is a tried and tested America's Cup tactician, a role that, up to now, has involved keeping a watchful eye on the course, conditions and other crews to best advise the helmsman on race strategy.
However, rule changes for the 2017 event mean Scott now has to play a role on the grinding crew – the sailors who conduct manual winches that raise and trim the sails and move the boom – as well as advising helmsman Ainslie.
This means Scott has less time to spend observing his surroundings, which is where startup Coderus comes in to supply what may be the most critical element of Land Rover BAR's IT set-up.
Incubated within BT's Martlesham startup cluster, which operates out of the telco's Adastral Park research base in Suffolk, fast-growing Coderus specialises in embedded technology and mobile app development.
Through a series of agile development sprints and testing sessions over the past year, Scott, Ainslie, technical engineers from Land Rover BAR, and Coderus and BT, have collaborated to design an app that serves as the "seventh crew member".
The brief was to develop an application that could be used on rugged mobile and wearable devices that would intuitively display information without user input throughout the race. The software would need to keep pace with dynamic events as they unfolded, and be optimised for robust network, hardware and battery performance given the long hours that the crew spend on the water during training.
Read more about IT in sport
Through a simple and easy-to-read display that resembles an early video game, the app provides Scott with at-a-glance critical data on the layout of the race course, the boat's position, information on how many legs of the race are left, and how far the boat must travel to the next boundary point. This enables him to make swift tactical decisions and give the rest of the squad plenty of time to perform critical manoeuvres (see video, below).
Crucially, it also tells him when the team needs need to power up so that they cross the starting line at the very second the race starts. On the day, this could deliver a critical advantage by putting them ahead at the first mark – statistically, about 80% of America's Cup races are won by whoever leads at that point.
"The app is just a huge time-saver," says Scott. "It gives me all the critical information I need at any time in the race to allow me to make a good decision. Both Ben and I are getting along with it really well, and for this type of racing it's very much a necessity to have."
Better decisions
Scott predicts that with the advent of such technology in the America's Cup – he fully appreciates and expects that the other teams in this year's event will be using something similar – the racing at the 2017 event will become much more precise because, to an observer, it "enables us to look like we're making better decisions", he says.
Nevertheless, although the app has changed his behaviour on board to some extent, Scott is confident that technology will not diminish the thrill he gets from racing, or minimise the skills needed to sail an America's Cup yacht.
"I certainly don't think it takes the intuition out because the app works off fact and real-time data," he says. "It can't see what's on the course, or what the competitors are doing – it's really just an aid.
"Ultimately, the crucial decisions still need to come from the sailor, and in racing that's the way it has to be and should be."
The 2017 America's Cup qualifiers will start in Bermuda on 26 May, with the final matches to be raced on 17-18 and 24-27 June. As well as Land Rover BAR, defending champions Oracle Team USA will be challenged by teams from France, Japan, New Zealand and Sweden.