Singing praises of one of computing's unsung heroes
Douglas Engelbart who invented the mouse and demonstrated its use in 1968 may scupper BT's claims to have invented hyper text.
Douglas Engelbart who invented the mouse and demonstrated its use in 1968 may scupper BT's claims to have invented hyper text.
Jack Schofield
Opinion
Douglas Engelbart is a hero. Today, he is mainly remembered as the inventor of the mouse.
To be more specific, he is remembered as the man who gave a seminal demonstration of the future of computing, with hypertext - and a mouse. But the amazing thing is that he did it in 1968, when most people were still working with slide rules and log tables.

Download this free guide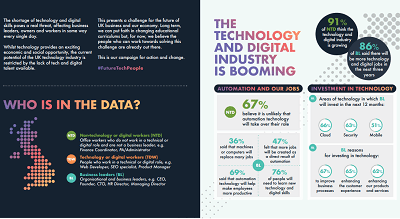 Infographic: Future-proofing UK technology
The shortage of technology and digital skills poses a real threat, affecting business leaders, owners and workers in some way every single day. Whilst technology provides an exciting economic and social opportunity, the current potential of the UK technology industry is restricted by the lack of tech and digital talent available. This presents a challenge for the future of UK business and our economy. Long term, we can put faith in changing educational curriculum but, for now, we believe the people who can work towards solving this challenge are already out there.
By submitting your personal information, you agree that TechTarget and its partners may contact you regarding relevant content, products and special offers.
You also agree that your personal information may be transferred and processed in the United States, and that you have read and agree to the Terms of Use and the Privacy Policy.
Alan Kay (another hero) said Engelbart was like Moses parting the Red Sea, and Kay and his companions at Xerox's Palo Alto research centre went on to construct Engelbart's promised land. In the 1970s, Parc begat a combination of PCs, GUIs, mice, Lans and laser printers that formed the basis for the way we work today.
Until recently, I would have said that Engelbart's demonstration had vanished forever. But not so. It was filmed in glorious black and white, and you can see it now.
No need to book a trip to a computer history society film show. No need to fill in any multi-part international loan forms or customs documents. Simply grab your mouse and head forwww.sloan.stanford.edu
And all this is not just wonderfully apposite, it may also be commercially important. The film undoubtedly establishes the provenance of a number of ideas, and lawyers may soon be arguing that one of them is clicking on a hyperlink - a process BT claimed with a patent filed in 1976.
The fact that the US Patent Office is notorious for its stupidity and incompetence in the software field does not mean that patents cannot be turned into hard cash. However, the Engelbart film may well suggest that BT will not be able to extract vast sums for the hyperlink patent it claimed.
I can only add that I hope this is just the first of many such examples.
Jack Schofield is computer editor of the Guardian