The Internet and the mobile Internet have effectively combined-driven by the improvement in networks, devices, and operating systems-meaning it's no longer necessary to consider mobility a separate strategy within the business. With this change, CIOs must start to restructure IT to be able to deliver mobility as a matter of standard application delivery. And, as an important peer of other business leaders, the CIO must drive different thinking around mobility within the business processes-to begin to make mobile "business as usual."
A recent Forrester survey shows CIOs are making mobile expansion a priority. In fact, while mobile is front and centre for 62% of CIOs and IT leaders across the globe, 16% see it as a critical priority, and a striking 46% see it as a high priority-indicating that mobility is a top priority both within the firm and in taking the products or services to the customers. For three-quarters of the CIOs we surveyed, a major driver behind deploying mobile applications is to increase worker productivity. But it's not just about internal improvements, 42% of firms referenced overall improved customer satisfaction as an important reason for mobilizing applications.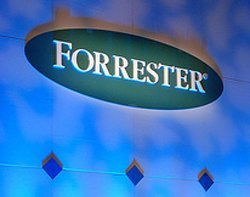 As is clear from our survey results, with many of the major hurdles behind them, CIOs are starting to look at enterprise mobility in new ways. It's not always necessary to scope out requirements to fit a device or the network. And thankfully, mobility is no longer thought of as the poor cousin to desktop or laptop computing. This means that instead of thinking about mobility as an inhibitor to the business processes as they stand today, companies should be thinking about the new ways to do business that are now possible with mobile devices.
For example, consider delivering simpler expense management using smartphones. Many travelling executives have the end-of-month challenge of having to submit their expenses. But by using travel downtime, these execs could take a photo of the receipt and send it to their expense department. And at the same time, could perhaps send a direct tweet to a specific Twitter account that is integrated with their expense system with the amount, location, business purpose, and currency. But to achieve a mobile program that incorporates goals such as an on-the-go expense system, organizations will need to change the way business processes are scoped and designed outside of the IT department, and how supporting applications are architected, designed, and delivered within the IT department.
To support the business in relation to mobility, there are several ways IT departments can retrain and restructure, including:
Embed mobility within the enterprise architecture: For many organizations, mobility adds an additional layer to the enterprise architecture. However, it should be part of the usual way of doing business, and like many IT capabilities, it should switched on or off at the role and application level. Instead of "should we mobilize this application?" the question should be "should we give mobile access to this application or to this role?"

Assume mobility within business processes: When the business considers a new capability, the actual location where this capability is delivered should be irrelevant. With the ever-increasing number of mobile and remote workers, this is generally the case. With the growing usage of tablets (such at the iPad) and smartphones that can deliver full Web experiences in a secure environment, enabling people to use these devices to deliver processes should be relatively simple.

Use the business analysts as change agents: CIOs looking to change the attitude toward mobility within the business should look to the business analysts as potential change agents who can educate business users on how to scope and design processes that factor in mobility. Scoping and designing the business processes and supporting applications in this manner will force the IT department to follow suit by bringing mobile applications professionals to the app dev team and requiring the EA team to rethink its approach to mobility.
Ultimately, once business folks realize that the location of the business process is no longer relevant, it will drive them to challenge the status quo on many levels. With location no longer a constraint, the possibilities are endless. CIOs have a great opportunity to drive this change in their organizations, and now is the time to start.
Tim Sheedy is a Senior Analyst at Forrester Research. Tim's research focuses on the key IT challenges for CIOs and IT departments in Asia Pacific, as well as providing insights into the technologies that will deliver significant business value over the next few years.
Tim Sheedy is a senior analyst at Forrester Research
Previous Forrester Articles:
The six roles that drive successful business process transformation.
Own nothing - control everything: five patterns for securing data on devices you don't own.
Email Alerts
Register now to receive ComputerWeekly.com IT-related news, guides and more, delivered to your inbox.
By submitting your personal information, you agree to receive emails regarding relevant products and special offers from TechTarget and its partners. You also agree that your personal information may be transferred and processed in the United States, and that you have read and agree to the
Terms of Use
and the
Privacy Policy
.
This was first published in October 2010