It was a year ago today when investment bank Lehman Brothers filed for bankruptcy. The collapse of the 150-year-old bank with over 26,000 employees sent a shockwave that rippled through the economy.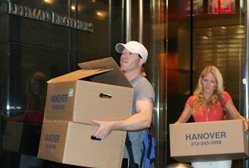 The television pictures of brokers leaving Lehman's offices, cardboard boxes in hand, made a lasting impression. But IT workers were hit just as badly.
Lehman Brothers had invested a total of £600m in communications and technology in the 12 months before the crash. And its collapse left IT suppliers, such as Tata Consultancy Services, millions of pounds out of pocket.
The US mortgage giants Fannie Mae and Freddie Mac were nationalised a few days before Lehman's collapse, signalling the start of the credit crunch. In the months that followed, Bank of America acquired Merrill Lynch, and the US government bailed out insurance giant AIG to the tune of £47bn.
The UK has not escaped. Lloyds TSB acquired troubled HBOS in a government-brokered deal, and the Royal Bank of Scotland was all but nationalised. By then Northern Rock, which ran into trouble the previous year, seemed a distant memory.
Such was the carnage that followed Lehman Brothers' failure, that a raft of new regulation for the financial services sector was inevitable. As one commentator put it, Adam Smith's invisible hand controlling the economy will soon put on the glove of intervention.
But as we report this week, IT has played a critical role in rescuing the remnant of Lehman's UK operations. Isabell Jenkins and her team at PricewaterhouseCoopers, have spent the last month disentangling the IT systems at Lehaman's UK for its new owner, Nomura.
By the time she has finished, she will have cut down the number of software applications used by the bank from 20,000 to around 50, consolidated the IT into a single datacentre, and simplified Lehman's vast electronic archive. The result should be a bank with significantly lower costs than its predecessor.
And, when the inevitable regulatory backlash arrives, IT will once again come to the fore. Banks will need to upgrade their systems and invest in new technology to satisfy the Financial Services Authority and the Securities Exchange Commission. That will be welcome news for the IT professionals hit by the downturn.
See also:
Email Alerts
Register now to receive ComputerWeekly.com IT-related news, guides and more, delivered to your inbox.
By submitting your personal information, you agree to receive emails regarding relevant products and special offers from TechTarget and its partners. You also agree that your personal information may be transferred and processed in the United States, and that you have read and agree to the
Terms of Use
and the
Privacy Policy
.
This was first published in September 2009