Inefficient transport methods in the modern supply chain contribute significantly to global warming. In fact, as much as 75% of a company's carbon footprint comes from transportation and logistics alone, according to a recent analyst report.
Today, changing consumer sentiment and the complexity of global trade are forcing companies to assess the environmental impact of their supply chains and explore areas where performance can be improved.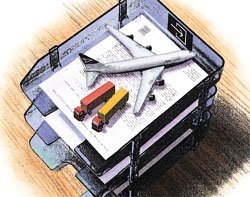 But given the complex nature of modern supply chains, how can companies ensure an efficient, reliable yet eco-friendly supply chain?
First, businesses must look at an overarching green strategy that encompasses all facets of the supply chain. Let's take organic food as an example.
The surge in demand for organic produce has changed our understanding of the true environmental cost of a product. No longer is the choice of preferred supplier based on the ethical conditions in which food is grown. Instead, businesses have to consider a multitude of variables.
It's all very well selecting a packet of organic beans because less pesticide and fertiliser is used to grow it, but if getting that packet on the shelf means air-freighting it across the globe, then the choice becomes rather more difficult to justify.
On the flip side, what if locally produced organic beans are grown in polytunnels using artificial heat and light, while imported beans are grown under natural conditions?
When you consider the hundreds of processes, relationships and decisions involved in an extended supply chain, you can see why assessing and reducing a carbon footprint presents so many challenges. But if a company is truly to limit its impact on the wider environment, it is critical for it to look across the board and assess every aspect of its supply chain.
Technology is available that sits transparently across the entire supply chain network and that of a partner, manufacturer or supplier. Since it is interoperable with disparate systems, applications and networks, all information can be pulled together and stored in a secure central repository.
Unique business rules and logic, combined with data mining tools, can be then applied in conjunction with powerful optimisation algorithms. Analysis can be provided in the form of interactive dashboards, giving management a comprehensive real-time view of the extended network. With this level of logistics insight, companies can accurately assess the impact of their global supply network.
Once that assessment is complete, benchmarking partners, suppliers and manufacturers as well as the business's own supply chain will help accurately forecast the impact of any changes. Ultimately, this will give companies the much needed forecasting capabilities to ensure their networks perform at their most efficient.
With hundreds of decisions and processes, each with discrete economic and environmental implications, remodelling a supply chain is a complex task. But it offers businesses a real opportunity to create a sophisticated supply chain that regulates its environmental impact while driving business growth through a streamlined and agile network.
Dominic Regan is MEA business development director at Oracle Transportation Management
Carbon footprints in the supply chain: the next step for business >>
Co-op rolls out new supply chain system >>
General Motors oils supply chain with Web 2.0 >>
Email Alerts
Register now to receive ComputerWeekly.com IT-related news, guides and more, delivered to your inbox.
By submitting your personal information, you agree to receive emails regarding relevant products and special offers from TechTarget and its partners. You also agree that your personal information may be transferred and processed in the United States, and that you have read and agree to the
Terms of Use
and the
Privacy Policy
.
This was first published in February 2008