Actuate boosts enterprise reporting analytics
Enterprise reporting company Actuate claims its Analytics product will offer users a self-service method of accessing information...
Enterprise reporting company Actuate claims its Analytics product will offer users a self-service method of accessing information beyond web reports and spreadsheets.

Download this free guide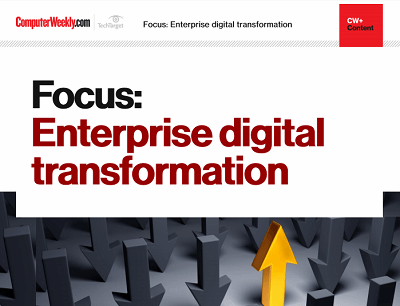 Are you digital to the transformation?
Digital transformation - the buzzword that we can't get away from. Enterprises need to accelerate their digital transformation journeys to avoid being left behind in an increasingly digital world. It's not an easy feat, but one that can be costly to get wrong. Join us as Computer Weekly takes a look at how businesses can stay on track through collaboration, innovation, and listening to user needs.
By submitting your personal information, you agree that TechTarget and its partners may contact you regarding relevant content, products and special offers.
You also agree that your personal information may be transferred and processed in the United States, and that you have read and agree to the Terms of Use and the Privacy Policy.
Actuate Analytics is an analytic reporting product with a customisable interface that can be tailored to a user's skill level, while offering personalised cubes that allow users to quickly access relevant information. The product offers offline analysis for users to analyse cubes remotely.
The product claims to improve usability and will eliminate the need for firms to purchase, manage and deploy separate analytics and enterprise reporting infrastructures.
One industry analyst said Actuate is venturing into a technology area usually occupied by the likes of Business Objects, Cognos and Microstrategy.
"[Analytic reporting] is a new territory for Actuate, and a very mature technology area," said Keith Gile, senior industry analyst with Forrester Research. "Actuate is one of the leading enterprise reporting vendors, with a significant install base, which will help them in seeding the product.
"By offering an analytic reporting solution, Actuate is positioning itself to be a one vendor alternative in all facets of reporting [analytic, enterprise, and business reporting], which is attractive to many IT organisations."
Actuate said that with the addition of Actuate Analytics, its Actuate 7 - an enterprise reporting application platform - is the first unified business intelligence platform to centrally manage and deliver ad-hoc queries, interactive spreadsheets and web reports.
Through a single-platform approach that can be deployed on a single server or a cluster of servers, organisations are able to distribute personalised information to a diverse user base which can improve corporate performance.
Actuate Analytics will be available in a limited production version at the end of this month and is scheduled for general availability at the end of January. Pricing for the Actuate Analytics Option starts at $15,000 per CPU, and $495 per developer for Actuate Cube Designers.
Allison Taylor writes for ITWorldCanada.com