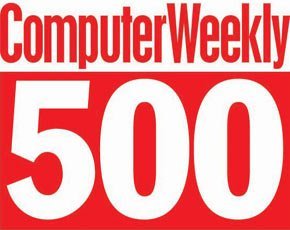 In the first CW500 session of 2013, we took our annual start-of-the-year look forward to the 12 months ahead for IT leaders and the key trends of the coming year, to discuss how the challenges may impact your strategic planning process.
Speakers:
• The business and economic environment for 2013, by Mark White & Kevin Walsh, Deloitte Consulting
• The key technology trends, by Tim Jennings, chief IT analyst, Ovum
• The major recruitment, skills and career development issues, by Sam Gordon, director, Technology & Digital Search Practice, La Fosse Associates

Download reports on this subject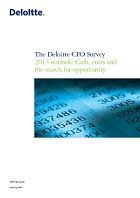 Download a copy of Deloitte's quarterly CFO Survey here.
Deloitte's CFO Survey shows that the UK's largest businesses are entering 2013 in a more optimistic mood than they entered 2012.
Find out why businesses continue to favour defensive strategies in a low growth environment.
Find out why CFOs seem less concerned about company-specific issues such as margins, cash flow and credit availability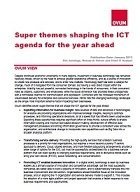 Download Ovum's report: Super themes shaping the ICT agenda.
Despite continued economic uncertainty in many regions, investment in business technology has remained relatively robust, driven by the need to achieve greater operational efficiency, and as a source of innovation to create new products and services, and to enter new markets.
Ovum identifies seven super themes that will shape the ICT agenda for the year ahead.
Latest news from Computer Weekly