UK in moves to improve special relationship in IT
Florida governor Jeb Bush's recent trade mission to the UK aimed to forge stronger technology links between the state of Florida...

Download this free guide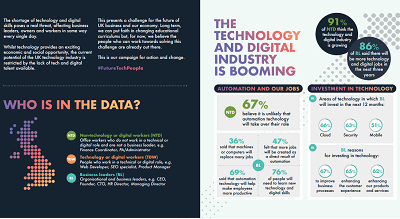 Infographic: Future-proofing UK technology
The current potential of the UK technology industry is restricted by the lack of tech and digital talent available. Read through this challenge for the future of UK business and our economy.

By submitting your personal information, you agree that TechTarget and its partners may contact you regarding relevant content, products and special offers.

You also agree that your personal information may be transferred and processed in the United States, and that you have read and agree to the Terms of Use and the Privacy Policy.

Florida governor Jeb Bush's recent trade mission to the UK aimed to forge stronger technology links between the state of Florida - America's self-styled 'Internet Coast' - and the IT industry in the UK. James Rogers looks at how the UK is trying to build on the 'special relationship' and boost its IT business



Despite the economic slowdown on both sides of the Atlantic, the UK is still working hard to attract US IT companies to its shores.

Government research suggests that more than half of all foreign investment projects in the UK during 2000/2001 were in the area of information and communications technology, with US companies providing a significant chunk of this business.

Although Whitehall officials were unable to provide a figure for the value of US IT investment, they confirmed that the overall figure for American investment in the UK for 2001 was $249.2bn (£158.8bn), which represented 38.9% of the US' total investment in the European Union.

In the past, however, US IT investment has encountered barriers that have proved to be a hindrance, and analysts have highlighted the British tendency to approach new technologies with caution as one of these.

Vicky Hawksworth, senior analyst of IT markets in Europe, the Middle East and Africa for market analyst IDC, said, "The speed of adoption of new technologies has perhaps not been as fast in the UK as it has been in the US. There is more of a tendency to adopt a 'wait and see' approach in the UK, particularly given the current economic climate."

Hawksworth, however, remains positive about the UK as a prime location for US IT investment. She said, "We remain very upbeat about the underlying prospects of the UK IT market - the UK is still a good place for US firms to do business."

Not surprisingly, British government officials are only too keen to agree with this statement, and point to beneficial tax levels and the UK's wealth of IT skills as proof of this. A spokesman for Invest.UK, the UK's national investment agency, explained why this country is still an attractive option for US IT companies. "The UK's skilled workforce, low tax base and stable economy make us an attractive location for foreign technology-driven firms."

Invest.UK has already worked with telecommunications giant Motorola and aircraft manufacturer Boeing as well as Intel and Amazon, he added.

Invest.UK, which has offices both in the UK and around the world, helps foreign companies set up businesses or expand their existing operations in the UK. It also helps to arrange site visits and advises on local, regional and national incentives for companies as well as providing information to potential investors.

So what compels US IT companies to set up operations abroad? Research conducted two years ago by parliamentary IT lobby group Eurim suggests that the main attraction for companies looking to relocate overseas is taxation. This is followed by skills, communications infrastructure and whether staff would be prepared to raise their families in the new environment.

Advantageous tax levels, a shared language and good transport links with continental Europe could all therefore work in the UK's favour as a potential base for US IT investment.

For its part, the US Government is also keen to tout the UK's research and development (R&D) skills base as a major selling point to US companies. The Invest.UK spokesman said, "The UK is one of the best places in the world to do R&D because of our reputation for research innovation and creative design development. We are also committed to promoting and developing the science base and promoting the commercial applications of research."

Biotechnology and semiconductors are just two of the areas where Britain is a world leader, he added.

Experts, however, claim that the main reason for US companies to move to the UK is the country's position as an English-speaking bridge to Europe. Philip Virgo, strategic adviser to user group the Institute for the Management of Information Systems, said, "When we are looking at why the Americans come to the UK, the main reason is that it is an English-speaking base to the European market.

"There are some R&D areas where the UK still has world-class research facilities, such as radio communications and cryptography, but we have to be aware which R&D areas are of interest to the rest of the world," he added.

There are, however, already moves afoot to forge closer technology links between British universities and their US counterparts. As part of Jeb Bush's trade mission to the UK, Cardiff University and the University of Miami's College of Engineering signed an agreement to work on joint research projects and offer student exchanges in the fields of IT and engineering.

Academics in both universities expect the agreement to lead to the creation of new IT patents.

Professor John King, pro vice-chancellor of Cardiff University, said, "It is increasingly important for universities in the 21st century to get involved in intellectual property spin-outs." The universities are also hoping to extend the agreement from IT and engineering to encompass biomedical and marine science, he added.

The Governor of Florida, who is also the brother of US president George Bush, identified the agreement between Cardiff and Miami as growing evidence of the technology links between his state and the UK.

Bush said, "This will only enhance the great relationship that we have between Florida and the UK - the wonderful thing about the IT world is that it is global and boundaryless."

Although a clumsy description of the complexities of the modern technology industry, the "boundaryless" nature of IT means that the economic problems of the US have already affected many UK companies.

The initial signs of regeneration, however, are positive. Figures from IDC suggest that US IT spending growth in 2003 will be 8.9%, compared with 3.1% in 2002. In comparison, the analyst firm expects that IT spending growth in the UK will be 6.7% in 2003, compared with 4.5% in 2002. Hawksworth said, "There are already signs of a recovery in the US economy, so things are looking more positive."

Many British IT professionals will be hoping that she is right and that the US spending will make its way across to the UK.

Why multinationals consider a move
Research conducted by parliamentary IT lobby group Eurim suggested the following key reasons for multinational companies to relocate to a particular country:

Tax benefits


Access to skills


Communications infrastructure


Employees are willing to raise their children in the new environment


Regulatory framework exists in which they feel comfortable doing business.
UK is still an attractive place to do business

More than half of all foreign investment projects in the UK during 2000/2001 were in the area of information and communications technology, with US companies providing a significant chunk of that business


UK government officials have highlighted the UK's skilled workforce, low tax base, stable economy and research and development facilities as major selling points for attracting American companies


Despite the problems with the world economy, analysts remain positive about the UK as a prime location for US IT investment. Overall US investment in the UK for 2001 was $249.2bn, which represented 38.9% of the US' total investment in the European Union.