Galleries and museums face a tough challenge to get online
Museum visitor numbers may be booming but the deadline for participation in Culture Online is looming. James Rogers examines the...
This Article Covers
RELATED TOPICS

Download this free guide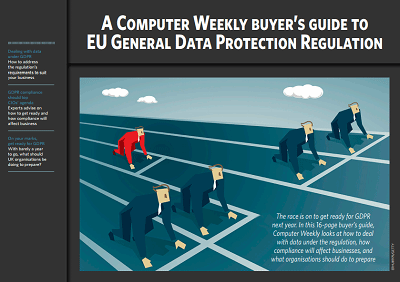 Computer Weekly's Buyer's Guide to GDPR
The race is on to get ready for GDPR next year. Computer Weekly looks at how to deal with data under the regulation, how compliance will affect businesses, and what organisations should do to prepare.

By submitting your personal information, you agree that TechTarget and its partners may contact you regarding relevant content, products and special offers.

You also agree that your personal information may be transferred and processed in the United States, and that you have read and agree to the Terms of Use and the Privacy Policy.

Museum visitor numbers may be booming but the deadline for participation in Culture Online is looming. James Rogers examines the challenges of bringing arts and culture into classrooms and homes via digital technology.



The days of school trips to the local museum could be numbered. If the Government has its way the Culture Online project will help to bring some of Britain's most valuable cultural treasures to people's PCs via online exhibitions and digital television.

With £13m of funding for up to 30 targeted digital projects available over the next two years, the Government has invited organisations from both the public and private sectors to come forward with ideas about how to deliver the scheme.

Time, however, is running out. Interested parties have until 30 August to outline how they can help to offer wider digital access to the UK's cultural heritage.

The challenge for the Government and UK cultural institutions is to place large amounts of digital data on the Internet, while ensuring that it is easy to access and to update. Officials expect that, by early next year, the Culture Online Web site will be offering people the opportunity to access a range of digital projects.

A spokesperson for the Department for Culture, Media & Sport said, "We are looking for content. We will be tendering for the Web infrastructure to support the scheme later this year."

Although in its early stages, officials expect typical projects to include the use of interactive technology and possibly digital TV to enable people to view exhibitions. They must be acutely aware, however, of the problems that befell the Public Records Office's attempts to put information from the 1901 census on a Web site.

The site, which contains detailed information about 32 million people who lived in England and Wales in 1901, was taken down earlier this year after it was overwhelmed by unprecedented numbers of visitors. It had been designed to cope with up to 1.2 million hits a day, but on the day of its launch in January was receiving more than one million hits an hour.

So analysts have warned that the digital projects offered via Culture Online must be sufficiently robust to ensure that punters get what they want.

"The possible high number of hits would have to be taken into account, they would have to ensure that they have the appropriate infrastructure in place with regard to the likes of Web servers," to deal with intense demand during peak times said Sue Clarke, senior research analyst at Butler Group.

Admittedly, peak times could be more predictable and are likely to revolve around the school day, although the problems with the census Web site prove that public interest in the UK's history should not be underestimated.

When Culture Online was launched at the Tate Modern in March 2001 the then culture secretary, Chris Smith, suggested, as an example, that children might exploit digital technology to study Victorian Britain.

According to Smith, a child might be able to download relevant sources of text, photographs and source materials, take a virtual tour through a Victorian street or factory and take part in discussion groups with other children.

At this stage, however, it is unclear who would provide the technology to develop these types of schemes, whether it would be the cultural institutions themselves, private sector suppliers or even consortia with a mixture of both.

While these ambitious schemes would undoubtedly be beneficial to students, experts have also urged the Government to ensure that the site's design is on a par with the intellectual quality of the digital content.

Clarke said, "Managing the projects and making sure that people can access the images would be important." Ease of navigation would also be a key consideration, she said.

Industry experts have generally welcomed the scheme but also took the opportunity to highlight some of the technical challenges it presents.

Neil Beagrie, secretary of the Digital Preservation Coalition, which represents cultural institutions such as the British Library on the issue of preserving digital records for the UK's cultural heritage, said, "This is an exciting initiative but the devil is in the detail.

"The two key questions are, 'What standards will be used to create the digital material?' and, 'Will the Department for Culture, Media & Sport approach the development of services for the preservation of digital material?'"

The Government appears, as yet, to have made no firm decisions about digital standards on how, for instance, digital materials should be stored. An official close to the Culture Online scheme confirmed, however, that the scheme will take other government projects into account.

"We will be looking at other government initiatives such as National Curriculum Online [the government's official teacher Web site] to ensure that we are in line with those." The interactive digital projects will also be closely monitored when they are up and running, she added.

However, the public sector, so often perceived as something of a technology backwater, does at least have examples of best practice to draw on when it comes to dealing with digital information.

The British Library, for example, is involved in a major project to digitise its most important documents. The scheme, which involves building a digital library store to help to create a national digital library, has already been identified by experts as a potential example of sound data management.

By linking directly into Curriculum Online and the National Grid for Learning, Culture Online's interactive digital projects have the potential to be even more ambitious, while they could also provide an opportunity for IT companies to demonstrate the value of their own digital technologies.

"It could give them an opportunity to see how their technology could be used to the fullest potential," in the capture and storage of digital images, said Clarke.

How many IT companies take up the Government's invitation to participate in building this complex digital project remains to be seen. IT managers at the UK's main museums and art galleries, however, will certainly have to grapple with some tricky new IT projects.

Further information:
www.cultureonline.gov.uk

Online cultural projects
Typical projects delivered through Culture Online could include:


Interactive technology allowing people to see major exhibitions at national museums. This could also involve the use of digital television, the Web and links to other events around the country


A cross-curricular project on the impact of the Second World War, incorporating a virtual tour of London during the blitz designed, perhaps, by a computer games company and using recordings of local people's wartime experiences. A digital storybook could also be created to show the region has changed as a result of the war


A child studying Victorian Britain could download copies of relevant sources of text, photographs and source materials in addition to taking a virtual tour through a Victorian street or factory and listen to dramatisations of children's experiences of the workhouse


Opportunities to take part in discussions with other students.
Read more on Data centre hardware