iStock
Flash storage set to dominate Europe's datacentres by 2020
A rapid shift among European enterprises towards all-flash storage could be a surprise positive outcome from the economic woes that have afflicted the continent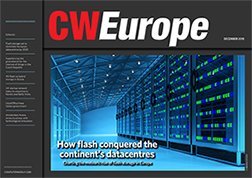 Download
Enterprise-grade all-flash arrays are the darlings of the European storage market. They are more popular than other ways of implementing solid-state storage, and are almost as popular in Europe as they are in the US, according to market researchers.

Download this free guide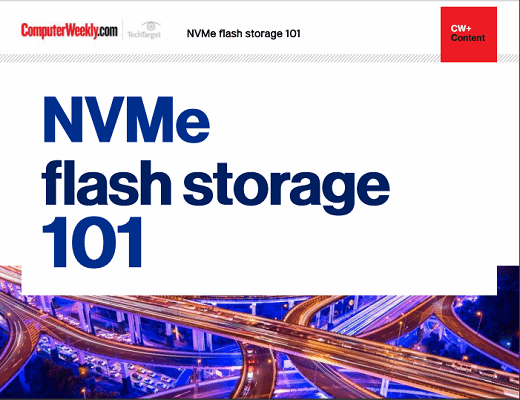 NVMe 101: The early bird catches a big advantage
Designed as a storage protocol for the performance and characteristics of flash, NVMe is much, much more. Making flash actually "flash", NVMe will replace the SAS and SATA bottleneck protocols and bring shared arrays blistering performance.
By submitting your personal information, you agree that TechTarget and its partners may contact you regarding relevant content, products and special offers.
You also agree that your personal information may be transferred and processed in the United States, and that you have read and agree to the Terms of Use and the Privacy Policy.
The all-flash array is one of three main ways of applying flash memory to enterprise workloads. At its simplest it is an external storage array populated with flash memory – but of course the reality is rather more complex.
As well as flash, all-flash arrays typically include other forms of solid-state storage, such as RAM for caching, and can include multiple tiers of different types of flash. That's because, like spinning disk, with 15,000rpm SAS for performance and SATA for capacity, different flash types are good at different things.
Similar to all-flash arrays but crossing over into the disk world are hybrid flash arrays. These include flash tiers for hot data but retain cheaper spinning disks for their capacity tiers. The result is lower overall cost while still providing applications with the low latency of flash.
At the other end of the performance spectrum is server-side flash. Normally connected over a PCIe bus and using NVMe protocols to remove most of the software latency involved in storage I/O, this can substantially accelerate a host server, but of course its physical location makes it harder to share with applications on other servers. Nevertheless, it finds favour in areas such as hyper-convergence, where the key building block is a server plus associated storage and networking resources.
According to market researcher IDC, a seismic shift is under way in European IT, with legacy high-end enterprise storage systems in decline and all-flash arrays in the ascendant.
Senior research analyst Silvia Cosso notes that, while the overall external storage systems market in Europe, the Middle East and Africa (Emea) declined 11% to $1.63bn a year in IDC's mid-2015 figures – with high-end storage system sales tumbling by 33% – the all-flash array market grew an impressive 113%.
"All-flash arrays are seeing linear growth – it's incredible. By 2019, all-flash arrays will cover the entire primary storage business, and 80% of all arrays will include some element of flash. Hybrid-flash arrays will cover cheaper high-capacity workloads and will be 50% of that market," says Cosso.
"We think all primary workloads are going to be served out of flash in the next five years," says Simon Robinson, vice-president for storage at 451 Research.
"It's just a matter of budgets, which is where much of Europe is struggling. Companies worldwide, but especially in Europe, have been sweating their assets longer. It's now five to six years, instead of three to four."
Read more about flash storage
MLC vs SLC: Which flash SSD you choose depends on the performance you need and the price you want to pay – but the differences are not as great as you may think.
Flash storage 101: Why flash writes are troublesome, why endurance is limited and what suppliers are doing to overcome these issues.
Overcoming the fear of flash
He says one upside from that is the potential to leapfrog a generation, because when those 2009 and 2010 era storage systems finally come up for refresh, their users will have the option to jump straight from spinning disk to all-flash.
"An interesting aspect is that only a handful of startups came to market with hybrid flash arrays – Nimble, Tegile and Tintri, for example – and all have now added all-flash arrays. That speaks to how quickly all-flash has become mainstream," he says.
Flash initially suffered from perceptions of it being a consumer-grade technology, with flash memory common in cameras and smartphones, as well as uncertainty about its write endurance. Although manufacturers addressed these issues by developing higher-grade flash chips and adding layers of error correction and fault tolerance, fear and doubt remained in many minds.
According to Cosso, the industry has finally overcome its fear of flash. "Flash was perceived to be a high-risk technology, but this hasn't proved to be true. Flash is probably one of the fastest innovations to take over in enterprise storage," she says.
"In our surveys we saw a huge drop in the number of people who said they'd never use flash. The number of declared failures has been very small."
Hybrid flash in the vanguard
Robinson from 451 Research agrees, while noting the interim success of the hybrid flash array.
"The reality today is that most organisations have deployed flash as a tier in a hybrid array. All the major vendors now provide the option of flash tiers, with automated movement of data," he says.
"In a world-wide study we ran of 250 enterprises, 54% had a flash tier in their SAN or NAS, a third had flash in servers somewhere and 22% had an all-flash array."
"The all-flash array has really changed that, and is one of the strongest-growing new technologies I've seen in years. It is still more expensive than pure disk, but overlay technologies such as data deduplication and compression bring the price down towards disk level."
One factor complicating the hybrid flash/all-flash array decision has been their management capabilities. It has changed now but, to start with, only hybrid flash arrays offered the sort of features expected in an enterprise storage system.
Germany and UK lead adoption
"Germany is leading in hybrid flash arrays because the German market recognised the value of flash, but it also recognised there were more data management features available on hybrid arrays," says Cosso.
"In the beginning a lot was in the UK – many US startups land in the UK first – and the UK still leads in all-flash array adoption. The Nordics and Benelux have caught up though, and are close behind the UK. France was lagging and southern Europe even more so, but they're now levelling out and flash is selling everywhere. It started with single-point solutions but is now moving towards mixed workloads – I see consolidating workloads as very important."
"Flash adoption has been strong in the UK and Germany, and especially in large and mid-size enterprises," says Robinson. "They're mostly not ripping out their SANs though. It's going in for new workloads, especially VDI, but also for databases and analytics."
He adds that, while declared buying intentions focus on all-flash arrays and not server-side flash, this reflects the fact that enterprise storage teams prefer external storage. "Where server-side flash becomes much more interesting is in hyper-convergence, and some hyper-convergence companies are doing very well in Europe," he says.
"Hyper-convergence is mainly about building scalable infrastructure. It's really interesting because all-flash arrays have emerged really strongly in the last few years, but the hyper-converged model flips that on its head – why have external storage at all if you don't need it?"
Exploiting performance and floor space
The two caveats in all this are the risks of over-investing and of focusing on the wrong metrics. At the recent Cloud Expo Europe conference in Germany, one of the discussions among delegates focused on the extent to which industry – and especially the finance industry – now finds itself with expensive storage technology that is significantly underused.
Part of the problem is that many users simply don't know their I/O profiles, so they guess and over-provision.
"A lot of enterprises say they want massive speeds but, when you look at their applications, they aren't getting anywhere near that performance level. You need to look at sub-millisecond latency, not just IOPS," says Silvia Cosso.
She adds that flash suppliers and buyers also need to look more at how all-flash arrays need less floorspace, power and cooling than equivalent disk systems.
"The cost-saving aspect of flash is not highlighted enough in the market. All the focus is on performance. Purchase decisions are increasingly taken in the boardroom – rather than in the datacentre – and the new perspective is all about value," she says.
E-Handbook

E-Handbook

E-Zine
Read more on Flash storage and solid-state drives (SSDs)