DPM's Diary: 3 October 2006
Monday
Monday
I got in about 10.30am today, still suffering from "indigestion" derived from last night's repast – that third bottle of claret was definitely tainted – to find Mavis rather flustered. It seems the CEO had called an emergency board meeting first thing this morning and it had started at 10am.

Download this free guide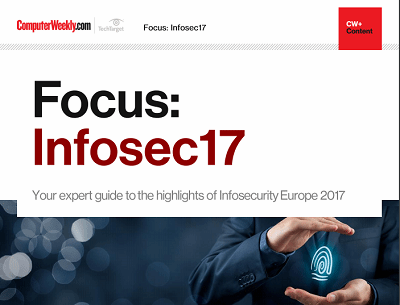 From forensic cyber to encryption: InfoSec17
Security technologist Bruce Schneier's insights and warnings around the regulation of IoT security and forensic cyber psychologist Mary Aiken's comments around the tensions between encryption and state security were the top highlights of the keynote presentations at Infosecurity Europe 2017 in London.
By submitting your personal information, you agree that TechTarget and its partners may contact you regarding relevant content, products and special offers.
You also agree that your personal information may be transferred and processed in the United States, and that you have read and agree to the Terms of Use and the Privacy Policy.
Not wishing for IT to be unrepresented in what sounded like a cuts session, Mavis had arranged for Charlie to go in my stead. "W-w-what!" I stammered. "Henpecked Charlie. The man who is incapable of saying no in case he offends. He who has had his driveway tarmacked five times in the last two years and owns time shares in three continents!"
Tuesday
Thanks to the pusillanimous Charlie, we are now committed to an immediate 20% budget cut, just so the city council can keep the museum, a few branch libraries and a couple of old age pensioner lunch clubs going – it is criminal.
Charlie is an outcast. No one speaks to him. His car has been vandalised and letters threatening his wife and family have been sent to his home address. An effigy of him swings lazily from a noose in reception. Actually, it is rather nice to find oneself in the background for once.
Wednesday
Mavis and I spent most of today running through the budgets seeing what we could do. Of course, I do have some contingency plans prepared for these unfortunate incidences. In recent years, however, the accountants have been assiduous in what they term "completely eliminating padding" so that this year my padding covers only about half of the required cuts.
Deferring upgrades and raiding the R&R fund covers half of the rest. By cancelling a few subscriptions, pruning training and the like we manage to get down to £120,000. A few redundancies look inevitable.
Thursday
In discussion with the union rep regarding redundancies. He hands me a list of acceptable posts, top of which is that held by Charlie. The other three are those occupied by our limited non-union labour section.
Looks like Charlie, who could not say no when asked to join 30 years ago and has been a loyal brother ever since, has tested solidarity to breaking point.
Friday
Up to London to have lunch with Justin Itforglory, a senior civil servant at the Department of Communities and Loyal Grovellers. I paid.
With the Commonwealth Club wine list given a thorough analysis it was expensive, but worth it. As Justin said, "£250,000 you say? Oh, I am sure we can find that in the innovations fund."
Read more on IT risk management