freshidea - Fotolia
Where next for UK government as a platform and GDS?
Amid all the debate about the direction of digital government, it's important to take a critical look at the GDS plan for government as a platform
The recent flurry of high-level resignations from the Government Digital Service (GDS) may mark a decisive turning point in the long-running story of technology-led reform in government.
The visible trigger for these exits appears to have been the new government's cautious questioning of recent proposals for substantial additional funding to develop new technology platforms for use across public services. Is the government is right to question these proposals?
There has been relatively uncritical coverage of events so far, but they need to be considered within the broader history of technology-led public reform in the UK, in which recent events are only the latest episode in an ongoing story.
GDS blew off course
This longer-term perspective leads to the suggestion that GDS blew off course from agreed government strategy, as well as helping to identify some concrete proposals for the structuring of future technology-enabled reform of UK public services.
GDS's legacy to date is twofold. First, a robust signalling to corporate government, and its (then) corporate supply base, that the cosy culture of large, long contracts is consigned to the past, and that after 25 years of lip service to "transformation", government is finally serious that the party is over. Second, it has undoubtedly reinvigorated technical capability and interest in government – both for the selective building that may be required, as well as in becoming a more discerning and powerful customer. For this GDS deserves universal, and grateful, recognition.
Building stuff actually has very little to do with digital business for large organisations

Mark Thompson
This said, my critical perspective is grounded in some simple principles that cleave back to the basics of what "digital" business actually is. This is an important question if we are to avoid confusion - for example, how "digital" is a digital watch? My definition of a "digital" business is one that is specifically configured to exploit shared internet-based infrastructure's unique ability to:
a) consolidate consumers into platforms of demand;
b) simplify supply and value chains; and
c) readily enable a much wider and plural supply base producing ecosystems of supply.
Digital platform businesses sit in the middle of all that consolidated demand and diversified supply, and broker transactions between the two sides - think Airbnb, Rightmove, Uber, Google, Amazon, Spotify, eBay, etc. As the huge success of these and similar businesses demonstrates, the advent of the internet creates a market imbalance favouring those organisations that are able to use technology to consolidate demand and broker supply; many of their analogue competitors simply go to the wall.
Government, of course, doesn't go to the wall. But it does run out of money and can seriously inconvenience citizens and businesses alike. In response, it faces exactly the same challenges of how it should restructure itself to thrive in a digital, internet-enabled world as any other large, legacy business.
Building stuff
For all such organisations, the right response to these challenges emphatically does not include building stuff per se. To explain why building stuff actually has very little to do with digital business for large organisations, consider another platform-ecosystem model based on shared infrastructure - the electricity market.
Imagine if the national grid hadn't yet been invented and you invited me to your house. I might see a generator in your garden producing electricity based on, say, 396v, and inside your house I'd see that you had built bespoke appliances - kettle, TV, radio, etc - to run on your "island" of 396v – all of which would appear perfectly rational.
However, with the appearance of a national grid, your "build" approach would suddenly be highly irrational, because the advent of utility electricity infrastructure would have created a huge imbalance in favour of standardising your power to 230v like everyone else - so you could plug in.
Having plugged in, you would obviously prefer to consume kettles, TVs, radios etc, to similar specifications like the rest of us. Just as in the Apple iOS/app store model, our ability to plug in, standardise, and consume has created a platform of demand which has triggered an ecosystem of supply - we wouldn't dream of building all this stuff ourselves anymore, because the wider market builds better, more reliable, probably cheaper stuff than we could manage ourselves.
The ecosystem also builds stuff we never even knew we wanted . A recent example would be the cluster of offerings - think of apps like Citymapper and so on - that has sprung up around Transport for London's enablement of a platform of potential demand by opening up its interfaces and data.
What web agencies do
Having won confidence in the very elegant Gov.uk website – which is web agency territory - GDS was then entrusted with reforming the operating model for government, which is distinctively not web agency territory. Its response was to do what web agencies do - build stuff; even if in theory the market would subsequently join in.
Having embarked on this path, there could really only be one way forward for a growing organisation increasingly invested in building - ask for more money to build yet more stuff. Ironically, the government's 2011 ambition to diversify supply away from a few system integrators (SIs) ended in consolidating supply progressively with one internal SI - government itself - with the same risks around building bespoke legacy systems as in the old model.
The GDS "build" approach appears a less-than-rational response to the advent of the shared infrastructure of the internet – somewhat akin to our householder plugging in to the national grid, before then proceeding to bespoke rebuild all his/her own appliances to run on it.
Unless you're a digital startup or a web agency, bespoking things to run on shared infrastructure flies in the face of everything we know about digital business. Although, therefore, GDS changed the whole perspective on IT delivery very much for the better, its recent focus on building the technology itself may have diluted its impact, resulting in it becoming not so much a "government digital" as a "government technology" service.
Instead, claims to being "digital" lie not in building "digital" tech - remember the digital watch? - but in reconfiguring the operating model of government as a rational response to the shared infrastructure of the internet. That means plugging in, standardising, consuming, and minimising bespoking activities. This operating model increasingly resembles an open, composable architecture, where the government acts as a platform entrepreneur – consolidating demand around open standards, and building an ecosystem of diverse supply attracted by all that demand.
What course was originally set?
Although more embryonic, these insights were all firmly lodged within the 2009 policy document Open Source, Open Standards: Reforming IT procurement in Government prepared for George Osborne; the Better for Less policy document of 2010 that formed the playbook for former Cabinet Office minister Francis Maude's Efficiency and Reform Group; and the Government ICT Strategy of 2011.
The clear policy direction in these documents was that government's role should be to respond to the market imbalances created by the advent of the internet by - you guessed it - plugging in, standardising, consolidating demand, commoditising, and consuming wherever appropriate. Savings could then be released to the front line for the face-to-face public services that citizens care about most.
Viewed in this light, it seems that the "build" emphasis within GDS not only blew off course, but actually constituted a largely unnoticed change in government policy, as set out in the table of opposites below: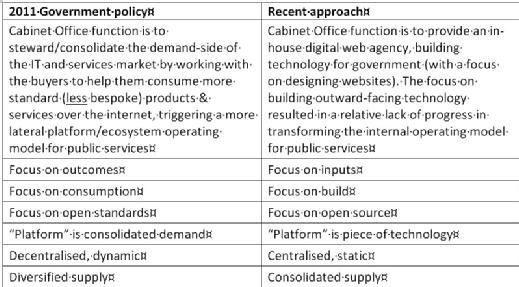 How did this happen?
For those who accept this version of events (see this interesting alternative perspective, that I believe underplays the amount of building going on), the serious question arises as to how government was able to take the course of technology-led reform from the left to the right side of the table above unchallenged, except by a few outsiders?
Self-explanatory challenges of my own in Computer Weekly include Government-as-a-platform or platform-for-government – which are we getting?; Open standards are about the business model not the technology; and Searching for the signal of open standards amid the growing noise of agile.
How was genuinely inspirational reformer Francis Maude not made aware of this significant shift in direction, which appears to have surfaced only since the election?
One plausible, if mundane, answer may lie in simple language. It's very unfortunate and certainly no-one's fault that the technology industry sees a "platform" as a piece of technology, rather than as a commercial model that exploits technology infrastructure to consolidate demand and diversify supply.
The competing visions offer radically different directions for government – and GDS has shifted between the two equally radically, with little to no public acknowledgement or explanation. It's also very unfortunate - and again no-one's fault - that the word "digital" is routinely used by web development agencies to describe what they do.
How was inspirational reformer Francis Maude not made aware of this significant shift in direction, which appears to have surfaced only since the election?

Mark Thompson
GDS is culturally a web development agency, for which a "digital" response to the need to reshape operating models – which is only partly about technology - tends instinctively towards building elegant website technology for users. Putting the two misunderstood words together, one can see how government's understanding of "digital platforms" was able to drift unchallenged from the truly disruptive vision of government as a platform (GaaP) - the digital brokerage operating model of Tim O'Reilly (see the left side of the table above) – to, well, some new, bespoke technology for sharing across government, ironically repeating yet again the web-centric model of previous attempts at technology-led central teams.
The second obvious answer may lie in political orientation. The clue lies in the notion of "government as a platform" as being a "public sector Amazon" – where government builds and controls - as opposed to selective, consolidated consumption from a "global Amazon", as in the web-enabled software and services marketplace. The question arises as to whether a "walled off" public/third-sector platform-ecosystem marketplace could ever generate enough critical mass to function effectively; and of course, nobody actually knows. In such circumstances, caution would seem to be the right approach to proposals for a "public sector Amazon".
So what should happen now?
The perspective that GDS drifted off course holds clear implications at the top of government as it considers its future direction. It's notable that part of GDS - the Office of the Chief Technology Officer (OCTO) - has been quietly progressing the pivotal elements of the original strategy, these being: focusing on user needs and challenging the status quo; implementing spend controls to break bad behaviours); applying tools such as Wardley mapping; disaggregating the monolithic SI-focused contracts of the past; fostering the application of a "cloud first" mentality; mentoring and supporting a capable cadre of expertise across government; encouraging the use of SMEs; developing the use of open standards for both data and APIs; and working on common approaches to reform of operational and service design around shared technology and infrastructure. Based on the above reading, I have three clear recommendations:
Rebaseline GDS around the last published government ICT strategy, as a centre of excellence around which to bring about the progressive fusing of operating models, open architecture, and market behaviour across government and its broad supply base, to enable a reconfiguration of public services to a genuine digital business model that exploits shared internet-based infrastructure. It should achieve this via:

Strong, continuous support/mentoring of business leaders across public services;
Refinement, stewardship and vigorous promotion of tools and methodologies to enable public sector businesses to converge their operating models by aggregating demand and simplifying supply and value chains;
Selective commissioning of some key enabler components, such as identity, to support the above;
Proactive refinement and use of the Digital Marketplace to support the above. Make the G-Cloud procurement model the de facto standard for most purchasing arrangements – simple, effective, competitive and most importantly supported by the vast majority of the supplier community

Establish a clear direction in a publicly accountable charter, maintained by an advisory/governing body accountable to the civil service CEO, to ensure GDS activities remain tightly coupled to government policy for the future
Restructure GDS into four "pillars" comprising small, high-quality, focused teams and associated metrics, as follows:

Shared standards and infrastructure team: Responsible for continued policy and standards and the associated roll-out and enablement of re-usable networks, communications, and commodity technology, acting as a smart catalyst fostering a close two-way, user-focused community between departmental initiatives and the centre on issues such as open standards (including interfaces), design, security, access to technical/digital talent, etc. This is essentially the current work of OCTO.
Platform team: Responsible for deep engagement with government businesses, helping them to talk to their "neighbours" to use shared infrastructure to consolidate demand around open standards and lengthen supply and value chains. Provision of enabling support/tools/methodologies
Ecosystem team: Responsible for stimulating market activity around the growing platform of open standards and consolidated demand, including selective commissioning (and where absolutely necessary, building) of components/registers and refinement/increased use of Digital Marketplace.
Data team: Responsible for opening up access to the myriad pots of data collected and generated by the public sector for exploitation and use by suppliers to enhance the understanding and insight for the benefit of the nation – thus making the data created a new national knowledge and information asset.
The above approach offers the benefit of being transparently aligned to the activities needed to transition to a digitally-enabled operating model - plug in (shared standards and infrastructure team); consolidate around platforms of demand (platform team); and seed/promote/shape the diversified supply side that any digital business requires (ecosystem team).
It will be obvious to all how each team is tasked and measured, and how their efforts contribute to transitioning to a digital, web-enabled platform-ecosystem operating model.
Is this the end of the 'dream'?
Pursuit of a digital operating model for public services emphatically does not mean abandoning the original ambition, to which so many of us are committed – that of an "anti-managerialist" agenda of reforming the stovepipes of government organisations and supply structures, with their widespread redundant capabilities, administrative duplication/cost, and suboptimal citizen service.
A great many of us are committed to trying to shake up Whitehall complacency, so that precious resources are spent on the right services. While this is likely to involve a broad - not walled-off - market that includes larger SIs (albeit with shorter contracts and genuinely open practices) as well as SMEs, there can be no question of any simple reversion to the bad old days of oligopoly SI dependency - which all but ignored the internet altogether, and delivered poor government and citizen outcomes.
A digital reform agenda founded on open architecture remains as radical, progressive, and ambitious as ever. GDS has been conspicuously successful in attracting some of the best and brightest public servants and those most motivated by reform. It has managed to change forever the "old boy" CIO culture that previously prevailed in government, for which they deserve all of our thanks. And long may their boldness continue - we will need them to take on the significant work that now needs to become the focus.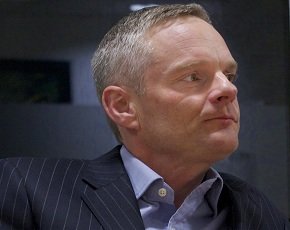 Mark Thompson is a senior lecturer in information systems at Cambridge Judge Business School, a key architect of the government's open IT strategy, co-author of the Better for Less policy document, and strategy director at Methods Group. He is also co-author of the book Digitizing Government.
Read more on IT for government and public sector