Where are NTOs' successors?
The Government's record on creating an environment attractive to e-businesses is less than perfect. Now the training...

Download this free guide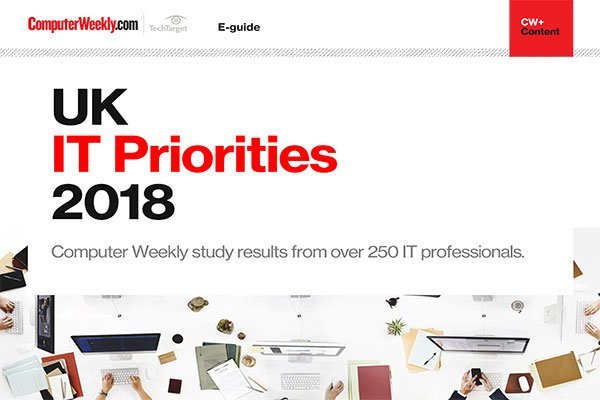 UK IT Priorities 2018 survey results
Download this e-guide to discover the results of our 2018 UK IT Priorities survey, where IT leaders shared with us what they are going to be investing in over the coming 12 months.

By submitting your personal information, you agree that TechTarget and its partners may contact you regarding relevant content, products and special offers.

You also agree that your personal information may be transferred and processed in the United States, and that you have read and agree to the Terms of Use and the Privacy Policy.

The Government's record on creating an environment attractive to e-businesses is less than perfect. Now the training infrastructure must change without ministerial assistance



Is the Government all spin and no delivery? No, for IT and communications it's worse than that. Labour's delivery of its IT modernisation agenda looks like a gardener who keeps pulling up his plants to see if the roots are growing, re-planting them upside down and then for good measure dumping weedkiller on top.

Is this an unfair comment? I don't think so. Just look at its record to date: the £24.5bn of new taxes on information and communications technology companies; IR35; the Regulation of Investigatory Powers Act; the delayed Communications Act; still no Ofcom as a single communications regulator; technology companies falling like ninepins; broadband and digital terrestrial TV roll-out stalled; and public sector IT projects in a mess.

So if the Government is failing to make the UK the best place to do e-business, is it keeping to its top priority of education and training? No. The collapse of the Individual Learning Accounts scheme, the problems with the funding of colleges, the removal of grants to students and the laboured replacement of Training and Enterprise Councils by Learning & Skills Councils have all damaged our ability to improve UK citizens' qualifications and skills base. Now we have an even bigger threat to our training base.

In the 6 September 2001 issue of Computer Weekly I wrote about the alphabet soup of training and the delays in the Government's plans to create Sector Skills Councils to replace the National Training Organisations (NTOs). I know that ministers are avid readers of Computer Weekly and I had hoped my article, together with the lobbying efforts of lots of other people, would have given the Labour administration a gentle reminder to stop spinning and start delivering.

When the Government eventually published its proposals it was obvious it had ignored the advice it had gained during consultations and its detailed plan of action would be impossible to deliver.

In theory by 1 April the NTOs like E-Skills and Engineering Manufacture Training Authority will be abolished and employers are supposed to have spontaneously created the new Sector Skills Councils to cover all the training that the UK needs. Are you an employer and did you know about your new responsibility?

This masterplan came from the Sector Skills Council implementation team of the Department for Education and Skills, based in Sheffield. Some commentators thought this was an elaborate April Fool's joke. London-based education department staff started to try to find a practical way forward. Civil servants at the Department of Trade & Industry have just kept their heads down.

The compromise plan was for the NTOs to effectively manage their own transition into fewer, better Sector Skills Councils and to deliver the Government's promise of skills improvements. But the mandarins in Sheffield have said no. They insist the Sector Skills Councils should be set up from scratch and that will take a massive amount of time. Few believe it can be done before the end of this year.

Funding for the NTOs stops next month and they have been told that they can apply for transitional grants of up to a maximum of 50% of their last year's funding.

In theory, when the Sector Skills Councils are set up, NTOs will be able to negotiate transfer of staff and on-going work. In practice the people who will persuade employers to set up Sector Skills Councils are the managers of the NTOs and they may not exist by then.

What a muddle. Almost everyone will agree with the theory that employers and employees must take more ownership of training. But anyone who has been involved will know companies have to be encouraged, cajoled and bribed to do what is best for them. Indeed that is the very reason that NTOs and their successor Sector Skills Councils need to exist.

Just when the UK's IT industry is desperate to improve its skills base the organisation of the UK's training will be in limbo. The last thing we need is revolution when the training community are fully behind an evolutionary approach to provide better delivery.

The Government needs to think again. If it carries on as it is, this time next year UK training may have been decapitated.

What are Sector Skills Councils?

New network of smaller Sector Skills Councils to replace the current network of National Training Organisations (NTOs)
Government recognition for NTOs to cease on 31 March
Sector Skills Councils to be established and funded by a new Sector Skills Development Agency.
Ian Bruce
, former Conservative MP for South Dorset, is chairman of IT consultancy IBA, immediate past chairman of Eurim and vice-chairman of Pitcom
Read more on IT for small and medium-sized enterprises (SME)