skvoor - Fotolia
Using technology to re-invent business process services
BPO providers are making increasing use of the latest technologies to offer more than just outsourced processes
The wind of change is blowing through the business process outsourcing (BPO) services industry. The days when technology simply supported a service provider's delivery as an underlying platform are numbered. Instead, the focus is on technology as a key part of service delivery, not only supporting services but also delivering far-reaching efficiencies, enhancements, modernisation and business outcomes.
We are already seeing examples of buyers doing this for themselves. For example, a financial services company that is providing its broker partners with robotically automated data interfaces to its systems to improve and enhance their interactions and, by doing, is gaining a competitive edge. The pressure is on external service providers to enable similar outcomes.
The change is also driven by buyers looking to garner bigger impact from their outsourcing decisions. New leagues of transformative solutions, such as service delivery automation and digital technologies, are fast emerging. In addition, the move to digital and automated service delivery is leading to cannibalisation of labour arbitrage and offshoring revenue.
This is forcing service providers to build capabilities to deliver higher-value services and move up or across chains of processes. The increased focus on technology on the supply side of the market is manifesting itself not just in new investments and product releases, but also in messaging which increasingly highlights technology.
Technology scope increasing
Everest Group research shows that, overall, the share of contracts with technology in scope has increased over the past four years. In most mature areas, such as finance and accounting outsourcing, contact centre outsourcing and insurance services, the share of contracts with technology inclusion is 59% or more, showing that technology is increasingly becoming a factor in buyer decision-making.
The positive trend towards technology is also evidenced with the increase in the number of new products being launched each year since 2009, at a compound annual growth rate of about 21% in the 2009-2014 period.
Exhibit 1 shows the number increasing over this period.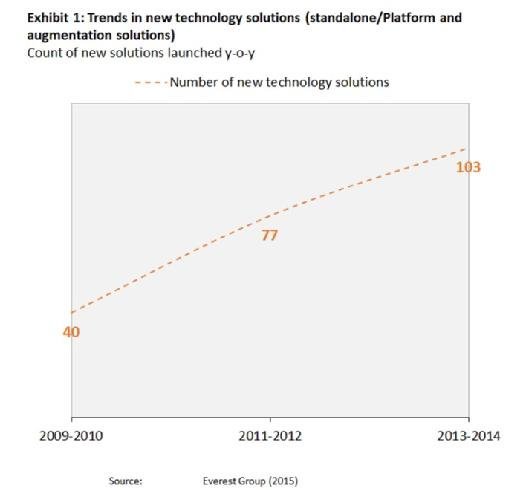 Interestingly, in 2013/14 the investments that service providers made in developing new technology declined, even though the number of solutions being launched grew. One reason for this was, and continues to be, that augmentation solutions are in demand with existing clients and mature buyers. They already have standalone/platform solutions, so they look for additional capabilities through augmentation solutions. These outnumbered new standalone/platform solutions, which tend to be more expensive.
Another reason is that service providers are increasingly partnering with technology companies to develop new solutions. This reduces the investment burden on service providers. With technology rapidly evolving, new and enhanced solutions, such as cloud technologies and advanced analytics, are being launched in the market by technology players.
Forging partnerships
This has created an ideal environment for service providers to forge partnerships with these suppliers. The niche technology players bring the core technologies and the service providers bring the process knowledge to create solutions together.
This is leading to an increasing frequency of smaller-sized investments from service providers and, as a result, lower average investment per solution.
We expect to see some change in 2015, as many major service providers have reported increasing investment in research and development. Some are investing in startups as well, with a view to tap into their technologies in the future.
The kind of investments being made include analytics and decision support, data management, automation and digital interaction. Exhibit 2 provides an overview of recent service provider investment trends for augmentation solutions.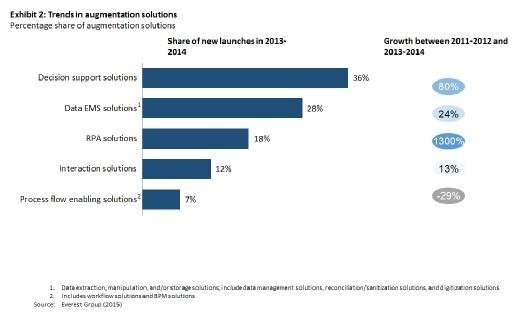 It is important to note the exponential rise in investing in robotic process automation. Starting from a small base, investment in this area is growing rapidly. This is through in-house as well as partner-based capabilities. We also expect to see merger and acquisition activity in this area in the not too distant future.
Stages of maturity
It is a given that buyers are at different stages of maturity in terms of technology adoption. Broadly, they divide into two groups – new or late technology adopters and experienced/mature organisations. Mature buyers in the market have already invested and locked in significant amounts in their core business processes. They are looking to extract maximum value from their investments in these systems through augmentation solutions that enhance existing capabilities.
Accordingly, providers are responding to these demands by launching more augmentation solutions. Exhibit 3 shows how the share of augmentation solutions has increased in service providers' new solutions.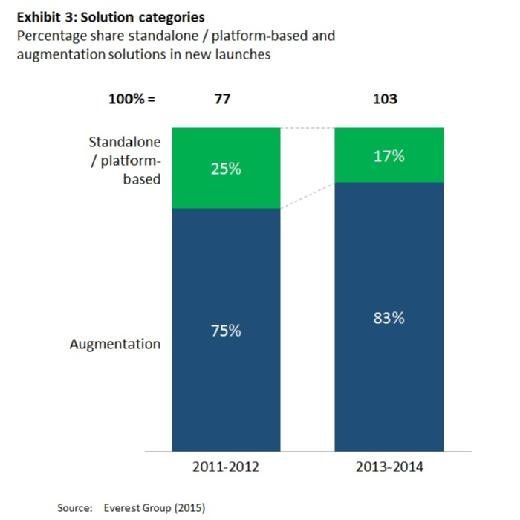 Furthermore, standalone/platform-based solutions require significantly higher investments with a longer return on investment. With some of these solutions launched in the past, providers are focusing on scaling them up rather than launching new ones.
Service providers are working hard to catch the wind of change to power growth in the BPO market. Technology is arguably the biggest driver of that change, forcing suppliers to re-invent themselves.
---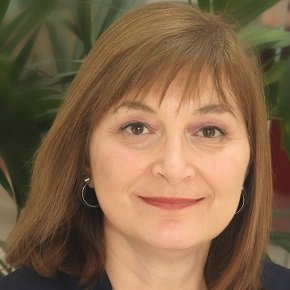 Sarah Burnett is research vice-president at Everest Group.