Thought for the day: Will the NHS cure IT?
With both the NHS and the IT industry struggling, Maldwyn Palmer wonders whether either will be that much healthier after the...

With both the NHS and the IT industry struggling, Maldwyn Palmer wonders whether either will be that much healthier after the government has pumped billions into health service IT.
The bandwagon is rolling for the new, technologically improved NHS with beleaguered companies and ITers rubbing their hands. If Gordon Brown's pronouncements come true, then untold wealth will filter down into their outstretched hands. Once the new Tsar was appointed things started rolling (wasn't there another Tsar for drugs or something?).

Download this free guide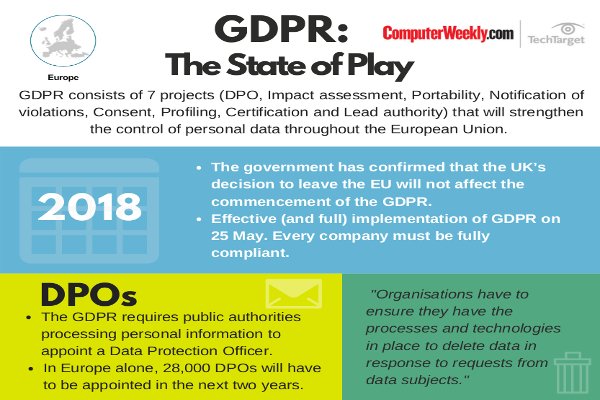 Infographic: GDPR - The State of Play
Get the latest information on how GDPR is going to affect your business and how to avoid any unwanted fines with this simple infographic.
By submitting your personal information, you agree that TechTarget and its partners may contact you regarding relevant content, products and special offers.
You also agree that your personal information may be transferred and processed in the United States, and that you have read and agree to the Terms of Use and the Privacy Policy.
Tenders are out for a company to be the backbone of this initiative. If events follow their normal course, a large US corporation should walk away with the prize and inflate its stock rating. The usual contract will be raised with a six-month negotiation period and five years haggling over who caused it to collapse.
As the company knows as much as Attila the Hun as the Health Service, a few token consultants will be taken on board. They could call it Healthway or something – I believe the name Pathway had already been taken.
There are some cynics within the NHS who would argue that the money would be better spent on pathology and nurses. Some might even say that there is already a software system called Mumps available. For embattled workers who claim they are underpaid, IT may not be their first priority.
It could be that all that needs to be done is to issue everybody with their own unique NHS number and standardise their patient portfolio.
The internet could be a cheap and viable way to post information via an agreed XML mailing system. Perhaps it would be better not to use the private sector at all and form a true public consortium staffed by medical experts and ICT staff. The health sector may have suffered from poor technical knowledge previously but watch the talent pour in when the price is right.
The other worry has been one of updating data. A harried nurse is not going to fill in a form when someone is crying for help on the ward. It is common knowledge that a busy hospital is not the ideal arena for clerical excellence, but is the primary problem is solved.
Oh, and not forgetting saving people's lives! The new Tsar has recognised that procedures are the main concern but I am positive he will fall into the old trap that the shiniest computer and the latest software will solve all his troubles.
This is a golden opportunity to improve our creaking NHS and help its overworked staff. Please do not waste it and throw money down the pit of previous failures.
What's your view?
Will the NHS bring IT back to life? Tell us in an e-mail >> CW360.com reserves the right to edit and publish answers on the Web site. Please state if your answer is not for publication.

Maldwyn Palmer was one of the first people to use the C programming language in the UK. He wrote the original mobile phone texting software for Orange and ran his own consultancy during the dotcom boom. He now writes technical articles and humorous books.
Read more on IT legislation and regulation