The carping of naysayers harms the wielding of influence
Government data-sharing Czar Sir Bonar Neville-Kingdom refutes the leaks that question his commitment to open standards.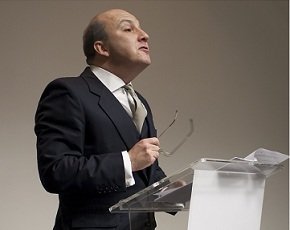 Offered the privilege, as I am, of taking up some of the valuable time and attention of the distinguished readers of a publication such as Computer Weekly, my preference of course would always be to address the great topics: national security, the future of technology, continuity and change in Whitehall, the British record industry and so forth. But I've received such a flood of petulant queries and comment since my last column that I feel obliged, if I may, to speak directly to a series of more mundane matters.
First I must address some errata in my previous piece.
On the basis of the version that appeared it has been suggested, for quite frivolous reasons, that I might somehow be ignorant of the name of our Information Commissioner and of our Interception of Communications Commissioner, and that I have no idea where Wilmslow is located.
This is absurd; I personally approved both appointments. I regularly get one of my staff to ask both men to write their own appraisals (both of which sit in my in-tray as I speak). Both Chris and Sir Paul are eminent and dedicated public servants who pursue their duties with care, discretion, dedication, humility and integrity.
The misunderstanding has arisen because of my perfectly normal practice when dictating to my secretary Patricia. She is more than capable, and so, given the volume of my communiques I often leave her to fill in specific details (names, titles, technological specifications etc). She was on leave when my last column was transmitted, Unfortunately the intern who typed the piece was not familiar with our routine. There was a regrettable lapse in our usual high standards. After a brief internal enquiry I'm happy to report the person responsible has been dismissed, we have changed operating procedures, and taken robust steps to ensure there can be no possible recurrence of this problem.
I must say I rather assumed Computer Weekly might employ a range of capable sub-editors whose job it is not to let such obvious drafting errors through the net, but perhaps I am being old-fashioned.
I need now to clear up some confusion concerning allegations about contacts made with my office.
Clearly, my own position in government is one of considerable influence. It is a burden of my office that self-important visiting American executives insist on passing by my office so they can say they have shaken my hand, and so on. It provides evidence that their trip was worthwhile, when they come to filling out their expense claims. It is also perhaps understandable that public affairs types seeking work with defence or ICT contractors wish to convey an impression of intimacy with my thinking and actions to advance their careers.
In this vein we have seen recently the publication of a series of memos and transcripts with phrases such as (and I quote) "another breakfast with Sir Bonar at the Cinnamon Club"; "Saw N-K; tell Sir Cliff it's in the bag" and "BoNK 100% on side: thinks open source sucks".
It should be self-evident that these claims do not reflect any personal involvement on my behalf in specific commercial matters. Most of these "meetings" simply never occurred. One refers to a chance encounter in the street outside the Cinnamon Club with a junior member of my staff lasting no more than 45 seconds. It is true that I did attend one ballet during the passing of the Digital Economy Act and found myself quite by chance in the close company of Miss Lily Allen, but we touched only briefly on her trenchant views on copyright.
Furthermore the suggestion that I am in any way ill-disposed towards open source software and open standards is fatally undermined by my commissioning a lengthy consultation process on this very subject.
This consultation is under way. It has included deep-dive workshops facilitated by highly expert consultants paid by Microsoft. Thus we have combined the highest levels of expertise with an eye for value for money. I might add the industry and the trade associations have responded magnificently to our request for evidence, and I take this opportunity to thank them.
I do look forward to returning to more uplifting themes in coming weeks, but these wearisome allegations, this carping of naysayers in the news media must be nipped in the bud. If readers feel impelled to "feed back" I would thank you for keeping it constructive and serious in future.
Sir Bonar Neville-Kingdom is Data-sharing Czar in Her Majesty's Government. You can follow his daily thoughts on Twitter at @sirbonar.
Photo credit: paulclarke.com