The best places to work in IT
In the spring of this year we asked IT managers to put their IT departments forward for Computer Weekly's Best Places to Work in...
In the spring of this year we asked IT managers to put their IT departments forward for Computer Weekly's Best Places to Work in IT 2003 survey. From nearly 500 responses, our panel of distinguished industry experts has come up with a list of the 49 best IT departments.

Over the coming weeks we will showcase these IT departments, reporting on the work they are doing, the technologies they are using and the opinions held by the IT professionals working in them.

But why are we putting so much time and effort into this initiative - a quest that will ultimately provide the most definitive census of IT professionals' workplaces ever conducted in the UK?

This undertaking is not a competition in the traditional sense - all the IT departments that are named today can be considered winners.

Our aim is to celebrate the UK's best employers of IT professionals and highlight employment best practice for other IT departments to follow.

A satisfied and motivated team is the bedrock of a successful IT department - a good working environment and culture, a healthy team spirit, a range of benefits that motivate employees, a high level of involvement with the business, and the job satisfaction that comes from working with new technologies and tackling fresh development work are all vital facets of that mix.

To bring all of these elements together in harmony is an enormous challenge confronting IT managers looking to get the best from their teams. The rewards for those managers who get it right are equally great: a well-managed, happy team is a motivated, productive team.

A sample of testimonies from IT professionals who contributed to the survey show that efforts in this area are appreciated by staff.

"Without doubt the company invests a lot in our departmentÉ and it is right to return that input by doing what we can to look after its interests," wrote one.

"There is a high level of interest in the day-to-day jobÉ it really is a good place to work," wrote another.

In the final analysis, the breadth and the depth of the organisations listed in Best Places to Work in IT is a testament to the strength of management and the quality of the working environment found across all UK businesses.

It is easy to see what every company can achieve with a little imagination, some effort and a great deal of listening to and working with employees.

Download this free guide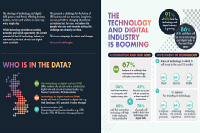 Infographic: How to future-proof UK technology
There is no doubt that the technology industry is booming right now, bringing with it exciting social and economic opportunities. However, there is a real fear that the UK industry may be stunted due to the lack of talent available. This e-guide helps to break down the future fears and expectations of dozens of business leaders and tech workers.