The Third IT in Chemicals Conference
Keeping up to date with the fast paced IT in chemicals and software markets is vital to maintain your company's competitiveness. ...
Keeping up to date with the fast paced IT in chemicals and software markets is vital to maintain your company's competitiveness. Nobody can afford to be left behind in this e-enabled age.
Why you should attend
IT in Chemicals focuses on how e-business can enhance your company's position in the global chemicals market.
This event will analyse impact and future of independent trading exchanges. What will be their impact on the supply chain? Will they undermine or enhance relationships that have existed for years? Will they alter existing pricing mechanisms, benefit buyers more than suppliers or diminish the role of distributors?

Download this free guide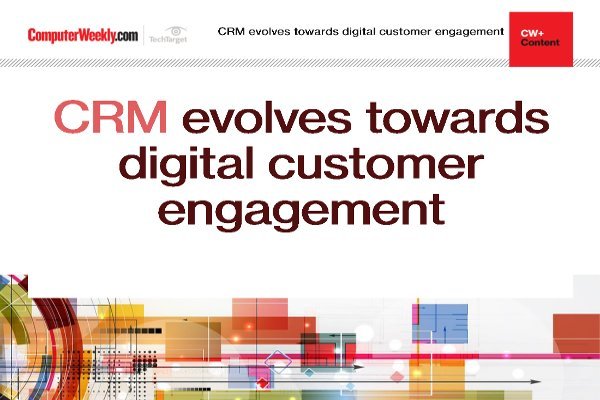 Enhancing digital customer engagement with CRM
Learn about customer relationship management has evolved towards engaging with customers through every channel, with digital at the forefront.
By submitting your personal information, you agree that TechTarget and its partners may contact you regarding relevant content, products and special offers.
You also agree that your personal information may be transferred and processed in the United States, and that you have read and agree to the Terms of Use and the Privacy Policy.
Where will neutral sites fit into the picture? Envera will explain how B2B systems are using the internet and present service providers (logistics, financial and business management).
E-business offers companies, their customers and suppliers, the possibility of a one-stop-shop. But how will this fit in with back office functions? Is one global SAP system still necessary to integrate operations? Hear how Shell Chemicls approached this issue.
Research has shown that middle management are often the first to realise the real potential of e-business. How do you gain your ceo's support in the face of high costs for the new technology? Discover how to link your company's business strategy to your IT strategy.
Learn how the leading chemical companies are integrating e-commerce into their business strategy, how they are integrating ERP and how they have achieved outstanding results in the realm of customer relationships and supply chain management. Case studies include presentations from SHELL CHEMICALS, BP, DOW CHEMICAL and EASTMAN CHEMICAL.
All in all IT in Chemicals is a great forum to learn, share ideas and meet the people who are right at the centre of making things happen in this new and exciting web-enabled world.
"Excellent coverage of e-business issues relating to the industry"
Karin Mortensen Laljani, Global E-commerce Manager, Uniqema, Member of the ICI Group
"Good networking opportunity - useful measure of what stage the industry has reached"
Stephen J Williams, Head of Sales, EMEA, Industry To Industry, Inc.
"Good insight on e-business, channel and market segmentation strategies"
Chester J Mroz, President Petroleum, chemical & Consumer Ind. Divison, ABB Automation Group Ltd
"The conference gave me a good overview of what others are doing and what future standards will look like"
Dr Achim Hofmann, Ticona GmbH
Organised by ecn
Sponsored by Anderson Consulting
The Third IT in Chemicals Conference
Transforming the chemical company and marketplace through e-business
Monday 6th & Tuesday 7th November 2000 - Hôtel Lutétia, Paris
Day One - Monday 6th November
8.15
Registration & coffee
9.00
Chairman's Opening Remarks
Richard Miller, Director of Knowledge & Sustainability, UNIQEMA
9.15
Keynote address: E-Business and its impact on the chemical industry
Seduced by e-business strategy - have you neglected your business processes?
Is e-business increasing shareholder value - if so, by how much?
The shape of things to come - new horizons - new challenges

Rachael Bartels, Partner, ANDERSEN CONSULTING

10.00
Exiting from a major outsourcing contract
Terminating a £multi-million outsourcing contract and integrating services internally
What and when to outsource and insource
People - the most important factor in sourcing
Lessons learnt - 'Insourcing' - it's just outsourcing in reverse isn't it?

Jane Kimberlin, IT Director, SCOTTISH & NEWCASTLE RETAIL

10.30

Morning Coffee

11.00
Creating a neutral transaction and services network - Envera
Review the B2B efforts of several global chemical companies from progress of EDI integration into network systems developing using XML coding and efforts
Detail of the development of Envera, a neutral member owned company focusing on the Internet transactions and service needs of chemical and petroleum industries
Demonstrate B2B systems showing the flow-through of common transactions using the Internet and present services (logistics, financial and business management) that Envera's partners' offer

Richard J Chvala, Vice President - Membership, ENVERA

11.45
Netmarkets: Why the first initiatives have disappointed users
It's not only about low prices
Real savings come from supply chain optimisations
How can this optimisation be achieved
How to achieve automatic replenishment without tying up to a single supplier

Herman Rijks, CEO, CHEMUNITY.COM B.V.

12.15
Lunch

13.15
Connecting your customer and supplier using technology that is already in place
The most cost effective and efficient methods of implementing plant data
How to extend business process level to the finite level of manufacturing plants
Taking information from the back office to the customer interface: How to facilitate this process using IT

Speaker invited

14.00
CASE STUDY: The impact of e-commerce in a global organisation
Consensus building and speed to market
Back office automation and integration issues
The role of change management

Michael Petillo, Project General Manager, BP

14.45
Afternoon Tea

15.15
The impact and future of trading exchanges
What impact, if any, will parties becoming more distanced from each other have on their customers?
Who is partnering today with trading exchanges - and who will partner with them tomorrow?
Where are trading exchanges positioned in today's chemical industry and does this match their expectations of yesterday?

Gina Fyffe, Director, INTEGRA

16.00
Marketplaces in the Chemical Industry

Juergen Jung, SAP

16.45
CASE STUDY: IT and e-business integration
E-business and industry marketplaces such as Elemica, Envera and Trade-Ranger have provided the ability for a company to have a single interface point for their customers and suppliers
But what is now necessary to integrate in the back office - is one global SAP system still necessary to integrate operations?
The approach Shell Chemicals has taken in answering this question

Susan Tholstrup, VP eBusiness and Information Strategy, SHELL CHEMICALS

17.30
Chairman's closing remarks

19.00

Gala Dinner

Day Two - Tuesday 7th November

9.00
Chairman's Opening Remarks

9.15
Chance & Hunt - Evolution from static website to fully integrated e-business
Remote inventory management
Integration with customers and suppliers ERP systems
Illustration of benefits

Peter Fields, Managing Director, CHANCE & HUNT LTD

10.00
Growth and Transformation at Dow through e-Business
How Dow is transforming itself in the New Economy
How Dow is leveraging technology to grow e-Business outside traditional boundaries

Snehal Desai, Director of e-Business Development, THE DOW CHEMICAL COMPANY

10.45
Morning Coffee

11.15
Balancing your IT with your company's business strategy
Realising the cost of IT as real added value in a highly competitive market
Winning over the company CEO when determining your IT budget
Linking your company's business strategy to your IT strategy
Determining where your business is going to determine what is driving your IT

Don Abbott, Vice President of e-Business, MILLENNIUM CHEMICALS INC.
Bill Landuyt, Chairman, MILLENNIUM CHEMICALS INC.

12.00
E-commerce: Emergence of new clicks and mortar models
Understand the impact of e-commerce on chemical distributors
Learn how distributors adapt their organisations to e-commerce
New clicks and mortar models

Marc Fermont, Senior Industry Consultant, DISTRICONSULT

12.45
Lunch

13.45
Competitive intelligence in e-commerce: Who's gaining on you?
Sources of company profiles
What to do if there is no profile
Information versus intelligence

Edward Badger, Sr. Information Specialist, ASHLAND INC.

14.30
CASE STUDY: Organising for e-business - Putting the 'e' in Eastman
Building solutions around customer needs
Customer relationship through the internet
How do you digitise processes to enable your company to do e-business?

Ralf Taube, Regional e-business Manager, EASTMAN CHEMICAL B.V.

15.15
Afternoon Tea

15.45
Point and click or point and blame?
How has investor thinking about the internet developed?
Can e-business improve chemicals industry productivity?
Or will it further increase competitive pressures?

Dr Peter Blair, Director, Equity Research, SCHRODER SALOMON SMITH BARNEY

16.30
Future technologies: What comes after the PC?
Can the current infrastructure withstand the latest technologies?
Cutting edge technologies - who is using them and how useful are they?
How will the chemical industry new technology trends move forward?
Knowing the maximum capability of your own IT structure and knowing whether it is ready to implement the latest technology
A lot of hype surrounds new technology (e.g. Application Provision) -where are the real examples?

Moni Pangali, SUN MICROSYSTEMS

17.15
Chairman's closing Remarks

Please note that the organisers reserve the right to change the programme, speakers or venue should circumstances require.
Read more on Business applications