In praise of chips
This week is National Chip Week, but forget processing power - we're talking about the hot and salty variety.
This week is National Chip Week, but forget processing power - we're talking about the hot and salty variety.



Roisin Woolnough meets the people who want to remind us of the joys of scoffing deep-fried potato from a newspaper

To celebrate National Chip Week, a bus full of chip enthusiasts has been touring the UK to promote the merits of this very British food.

Each person who boards the bus is invited to participate in a chip game, whether it be three-foot-high chip Jenga or "guess the number of chips in the cone". There are also a series of chip parties being hosted around the country and a national scratch-card promotion being run in fish and chip shops.

Download this free guide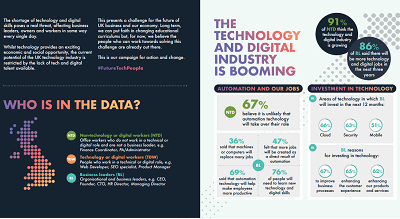 Infographic: Future-proofing UK technology
The current potential of the UK technology industry is restricted by the lack of tech and digital talent available. Read through this challenge for the future of UK business and our economy.
By submitting your personal information, you agree that TechTarget and its partners may contact you regarding relevant content, products and special offers.
You also agree that your personal information may be transferred and processed in the United States, and that you have read and agree to the Terms of Use and the Privacy Policy.
The brains behind the event are the members of the British Potato Council (BPC). National Chip Week started 12 years ago when the BPC decided that chips needed a bit of positive PR. The aim was to promote the entire chip-making industry, right from the farmers who plant the potatoes to the fish 'n' chip shops that sell the end product.
Jennifer John, consultant and home economist at the BPC, thinks the British have a love-hate relationship with the chip. "People get very hung up on chips, but think they are very bad for you. The event was started to celebrate the nation's favourite vegetable and the favourite way of eating it, and to set the record straight," she says.
The BPC wants to raise awareness of chips - how they are made, the nutritional content and how best to eat them - and Jones is quick to point out that chips are not the health hazard that people think they are.
According to the BPC, a 100g portion of oven chips contains 162kcals and 4.2g of fat, and chip eaters can get a third of the recommended daily intake of vitamin C from a portion of chips made from fresh potatoes.
However, nutritionist Natalie Savona dismisses the suggestion that chips make for a healthy diet. "Promoting chips from a nutritionist's perspective is not good news," she warns. "Potatoes are good for you and have lots of nutrients, but chips are fried and are not a good food to be eating regularly. Chips have to be fried at so high a temperature that they become unhealthy and generate oxidants. There has been a massive rise in diseases that are increasingly related to oxidant damage."
Not that Savona has never eaten chips herself or thinks people should avoid them. "There is nothing wrong with eating foods like that occasionally. In fact, I think they are very good for the soul and so, in that respect, can be good for you."
It is when chips become part of a person's daily diet that problems can arise, says Savona. Plenty of people do like to tuck into a plate of chips every day, ignoring the potential health repercussions.
"We have a lady who comes in twice a day, every day," says Elaine Woods, general manager at the Bournemouth branch of world-famous chippie Harry Ramsden's. And she is by no means the only diehard diner at Ramsden's. Four businessmen once flew 300 miles in a helicopter to have lunch at the original Harry Ramsden's in Guiseley, Leeds, while one man used to drive from London to Leeds every Sunday during the summer to have his weekly fix of fish 'n' chips.
The Guiseley Ramsden's has actually gone down in the Guinness Book of Records for its chip sales. It first made an appearance in the book in 1952 after selling a world-record 10,000 portions of fish 'n' chips in one day. And again, in 1999, the shop broke another record when it served 500 portions in 43 minutes and 20 seconds.
Even though she is surrounded by chips day in, day out, Woods has not tired of them. "I eat them about four times a week - it is very hard to wean yourself off them."
A true connoisseur, Woods knows exactly how she likes her chips and is very disappointed when she has to put up with second best. "I live in a thatched cottage so we cannot have a fat fryer. This means we have to eat oven chips and they are just not the same," she says.
Woods is not the only restaurateur to have a love affair with chips either. Brian Turner, owner of award-winning London restaurant Turner's, is a big fan. "The best way to eat chips is in the street, from a piece of newspaper with salt and vinegar," he says. "I am very much a salt and vinegar person, with brown sauce occasionally. I am trying to eat chips a little less and nowadays I eat them once a week," he says.
Like many others, Turner is keen to keep his chip consumption down for health reasons, but he sees nothing wrong with the odd bag. "They should be eaten regularly, although in moderation, and not be treated as the enemy. They are part of British heritage, along with roast beef and steak and kidney pie."
Turner has been working with the BPC to promote National Chip Week. He recently held a tasting session featuring six varieties of British potatoes and two different types of oil. A panel of expert chip eaters tasted and rated the fare. The verdict? "We crowned the King Edward the king of chips," says Turner.
Brian Turner's chip tips
Potatoes must be in good condition. King Edwards are perfect
Make sure the fat is clean
Blanche the potatoes, then drain well
When the chips have been fried, drain them well
Add a flick of salt.

Chip facts
About 350,000 tonnes of frozen chips are produced in the UK each year
One in three potatoes consumed in the UK are eaten as chips
A 100g portion of oven chips contains 162Kcals and 4.2g of fat
You can get a third of the recommended daily amount of vitamin C from a portion of chips made with fresh potatoes.

Source: BPC