Get a slice of the gaming action
When you become a man you put away childish things, so the saying goes.
Ian Mitchell
City briefing
When you become a man you put away childish things, so the saying goes. Anyone who subscribes to this theory, however, will have missed out on the recent 50% gain in the share prices of global computer games developers and publishers, which have been buoyed in the last two months by expectations surrounding the release of Sony Playstation 2. While this may be overdone, given the modest number of consoles to be rolled out in the near future, there is no doubt that the games industry merits the attention of investors.

Download this free guide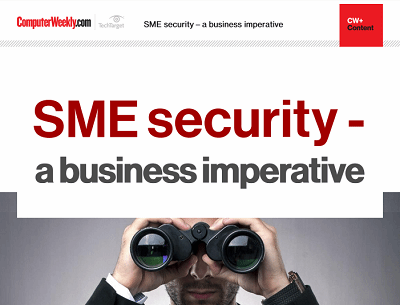 The secret to winning - SMEs and cyber security
50% of SMEs plan to spend less than £1000 on cyber defenses in the next year and only 42% of SMEs are concerned about ransomware. Anyone see a problem? Computer Weekly outlines some solutions to this growing naive trend.
By submitting your personal information, you agree that TechTarget and its partners may contact you regarding relevant content, products and special offers.
You also agree that your personal information may be transferred and processed in the United States, and that you have read and agree to the Terms of Use and the Privacy Policy.
The games sector, although often overlooked, is an important part of the industry, both in terms of hardware and software sales. There are numerous examples of technologies which were introduced by the games industry before they were included in mainstream IT: the Nintendo 64 was one of the first hardware devices to take advantage of 64-bit technology, for example, and recent stock market hot stock Arc International began life as a part of UK games developer Argonaut.
Playstation 2 will also represent one of the most sophisticated pieces of hardware available. With Internet capabilities allowing mainstream access to the Internet, it will play DVDs and it uses 128-bit technology. All for £300.
While the hardware side of the industry is dominated by corporate giants in Japan, and Sony in particular, the games development market is led by much smaller companies in the UK, France and the US. There is no doubt that when Playstation 2 is launched in the UK on 23 November this year, the industry will have a lot of attention focused upon it. This is despite the fact that the UK will be limited to just 200,000 consoles before Christmas because Sony can't make them fast enough, with further supplies not due until March.
Games development is a lucrative business when a hit game is produced, but risky due to the long development period and risks involved if the game is not successful.
Datamonitor expects PC games software sales to grow by a compound 12% between now and 2003, reaching $23bn (£13.8bn), while the penetration of games consoles will have reached 134 million homes in the US and western Europe. Online gaming will become a key ingredient with revenues of $4.9bn by 2004.
When Microsoft's X-box comes out in November 2001 (although we expect it to come out in June 2001, thus becoming one of the first Microsoft products to ship early!) the industry will receive another boost. X-box will be more technically advanced than Playstation 2 and the Microsoft machine will spend $500m on marketing alone to launch it.
The share prices of UK games development companies, such as Eidos, Argonaut and Rage, trade at a discount to their overseas counterparts, which is hard to justify given the quality of the games that are produced here and the talent of the developers. The development and growth of the industry will help concentrate on their potential. Roll on the battle of the corporate giants from Microsoft and Sony - but don't forget the companies that will do very well out of the scraps from the table.
Ian Mitchell is an IT analyst at stockbroker Beeson Gregory. His opinions should not be construed as investment advice.
Read more on IT for small and medium-sized enterprises (SME)