Future is looking up for e-business
Everyone's been talking about it for a while, but now it seems that the green shoots of recovery are giving way to a blooming of the market for IT spending - especially in e-business.
Ian Mitchell
City Briefing
Everyone's been talking about it for a while, but now it seems that the green shoots of recovery are giving way to a blooming of the market for IT spending - especially in e-business.

Download this free guide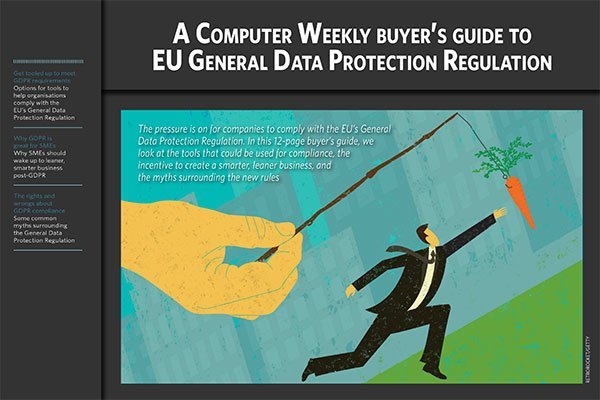 Computer Weekly's Buyer's Guide to GDPR Part 2
In this 12-page buyer's guide, we look at the tools that could be used for compliance, the incentive to create a smarter, leaner business, and the myths surrounding the new rules.
By submitting your personal information, you agree that TechTarget and its partners may contact you regarding relevant content, products and special offers.
You also agree that your personal information may be transferred and processed in the United States, and that you have read and agree to the Terms of Use and the Privacy Policy.
The fact that this is occurring during the traditionally quiet summer period gives some hope that the pace of recovery will pick up significantly in September/October.
Picking on three announcements in particular, from Computacenter and Triad, reinforces the message.
Reseller and network services company Computacenter's interim results last week provided a number of clues to the direction large IT companies are taking in their IT spend, as well as the relative fortunes of some of the major IT hardware suppliers.
Although most attention has been concentrated on a halving of profits to just under £20m, turnover is slightly up and it is margins that have taken a beating, largely as a result of under-utilisation of the professional services division. Unlike most of its competitors, Computacenter quantifies this and the figures show utilisation rates running between 50% and 60% in the second quarter, compared with 40%-50% in the first.
For the first five weeks of the third quarter, this figure has risen to above 60%, indicating that margins are likely to improve in the second half. Margins need to improve, however, given that they were a minuscule 2.3% in the first half, compared with 4.5% in the same period last year.
Delving behind the figures reveals some interesting trends. Although product sales rose by 8%, the mix altered dramatically with a rapid fall of in PC shipments and rapid increases in e-business-related projects, involving products from Sun, Oracle and Eizo, to name a few. The second half is likely to see a further shift in emphasis as major corporates begin to roll out Windows 2000.
Computacenter has won major contracts with BP (35,000 seats), Shell (13,000) and a high-street bank (initially 8,000, but rising to 28,000) which is part of a trend of large IT users backing Windows 2000.
Computacenter is likely to increase its margins in the second half, but it still has issues to deal with, including its German operation and the postponed float of its Biomni joint venture. The return of IT spending has not come a moment too soon, which also applies to other suppliers faced with high fixed costs and falling revenues.
Triad also announced last week that it was experiencing an upswing in demand with a number of e-business pilot projects receiving the green light to move to full implementation.
Many IT users have delayed projects and now have a pressing need to implement their e-business initiatives, either for strategic reasons or even because they have publicly announced they will do so and to do otherwise would make it appear they were dragging their feet. I expect the pick-up to turn quickly into a rush.
The last year or so will be seen as a critical period for IT suppliers. Those that have anticipated the change in demand for software and services in the new e-business age, and refocused their businesses to take advantage, will find that although they may not have performed as well as some during this period, their future is much more assured.
Ian Mitchell is an IT analyst with stockbroker Beeson Gregory. His opinions should not be construed as investment advice.
Read more on E-commerce technology