Develop presentation skills if you want to climb higher
We all need to put more effort in to developing our communication skills in order to progress in our careers. And nowhere is this...
We all need to put more effort in to developing our communication skills in order to progress in our careers. And nowhere is this more true than in the IT industry.

Time was when you could work in IT and be left alone to design or program brilliant things, grow you hair long and never, ever wear a tie (or tights in my case).

Download this free guide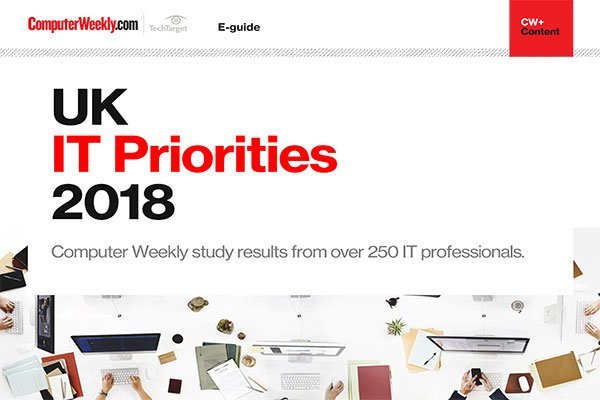 2018 UK IT Priorities survey results
IT organisations in the UK and across Europe are starting to accelerate the move to the cloud. Read more about the key areas in which senior IT managers are planning to invest in over the next 12 months.
And if you ever saw a client you would have an interpreter in the form of a sales person who would see you as both a loveable and indispensable "egg-head".

All things must change, though. Given the pressure on IT staff to better explain their projects and plans to the business, being able to give a good presentation has become an essential skill for today's IT professional.

First the bad news: the average number of new accounts won through pitching is only one in four and board directors are busy, fickle people who need convincing of even the best ideas. So making a pitch is rarely easy and neither is it natural.

A day's investment in training can save you hours of misery and anxiety.
If you find yourself getting stressed out about the idea of presenting to others, enquire about funding available within your firm for personal development and ask your human resources department to find a good presentation skills course.

From my own experience as a communications consultant, too many IT professionals, particularly at management level, say they do not have time to prepare for pitches and presentations, but you are mad if you don't.

Start your preparation by thinking about how what you have got to say will benefit the audience.
So if you are talking to the board of directors, begin by telling them that in the best and most direct way.

Think about the qualities your audience will be looking for in you, apart from your wealth of knowledge and expertise.
Your body language and the way you present yourself must suggest confidence and reliability.

If you are inclined to hide behind Powerpoint then take a fresh approach.
Clients are not impressed by Powerpoint on the whole, so only use it if it enhances your presentation. A good tip here is to tell them what you have got to tell them in conversational language, just as you would someone in your office.

Finally, wherever possible, avoid using techie jargon and industry slang.
If you need to refer to the technical aspects of your service, make sure you describe it in layman's terms and use real-life examples and anecdotes so that the client can visualise these in practical use.

Tina Coulsting is a director at the Mentor Consultancy
Read more on IT management skills