Byte Night 2011: Why size doesn't matter for CSR
Byte Night board member Mike Barrett says you don't have to be a big company to build charitable work into your business - all companies can give something back and make a difference.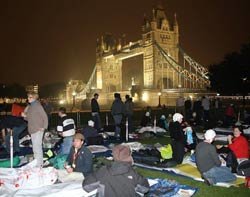 Corporate social responsibility (CSR) was, before the economic downturn, the buzz word of the moment appearing all over company websites and in articles about businesses' social responsibility. For many companies it was simply a glossy marketing term to be spewed out. For others, it was at the heart of their business and a great way of showing that they cared. However today, as the recession continues, CSR has pretty much fallen off the agenda for most businesses.
Nevertheless, I've come to realise that CSR doesn't need to come at a cost to businesses; rather it should be a benefit. The advantages CSR offers are clear - and not just for large enterprises but to smaller companies as well. As well as providing a feel-good factor, it is a great way to develop a good reputation among peers and attract new recruits. CSR provides invaluable PR and great networking opportunities for business within their industry.
This is not to say that CSR should be seen purely as a means to benefit business; ultimately, it is about philanthropy and being able to give something back.
A few years ago I found myself sleeping under the stars in the open air on a winter night in London. Far from romantic, it was cold, wet and miserable - despite our sleeping bags, umbrellas and cups of tea. My colleagues and I were pledging our support for Byte Night, the IT industry "sleep out" event which raises money for Action for Children, a charity that works with the UK's most vulnerable children. The event involves more than 700 people sleeping out across the country and this year aims to smash last year's total of £550,000.
Byte Night is an example of the way in which there is a genuine appetite for active participation in charity among the IT community - even during the economic downturn, support for the event has grown year-on-year.
However, you may ask how one person in a start-up company can have the time or the man power to get their business involved in charity? I asked myself the same thing when I launched my own company but I was determined to maintain my support for Byte Night and started to look at how others incorporated charity into their professional work. It appeared that it was easy enough to give something back once you had made your money or were part of a large well-known corporation. However, I wanted to get involved straight away.
So I set about giving myself the target of one day per month, the equivalent to 5% of my working time, to be spent on charitable projects. Byte Night provided the perfect opportunity to help fulfil this new goal that I had set myself. I contacted James Bennet, co-founder of the event, and asked if I could become a member of the Byte Night board, which he kindly accepted.
At first I was unsure of what I had to offer Byte Night but it soon became apparent that everyone can contribute. Charities are crying out for the business skills we use every day at work, from people management and supply chain management to communications. And, as a member of the technology profession, it struck me early on that as both individuals and as a professional community, we could make a real difference. Most of us who take in part in Byte Night have regular access to emerging technology and mature IT services; but there are many within the UK who don't even have access to the basic services. As a result, they are suffering academically, financially, professionally and socially.
Through Byte Night, IT is empowering people to make a difference. Byte Night allows the IT industry not only to prevent youth homelessness through fundraising and financial donation, but also to discuss how the IT industry as a whole can make long term changes to those who need it most. The reality is every company, no matter how small, can do their bit and make a significant difference; it's just a matter of making the time. If sleeping out for one night prevents one teenager from sleeping rough every night - then that's good enough for me.
Mike Barrett is a director at Compound Media and a member of the Byte Night board. For further information on Byte Night or to sign up to the sleep out please visit www.bytenight.org.uk.
Read more about Byte Night 2011:
Using technology to create a digital democracy
IT takes to the streets in the fight against youth homelessness >>
Read more on IT for small and medium-sized enterprises (SME)