Forrester: Agile development
Application development leaders are looking to adopt agile computing methods, says a Forrester survey of more than 200 IT executives.
Application development leaders are looking to adopt Agile development methods and expanding its use to help overcome the inertia of their monolithic applications and application development techniques.
How? As a recent Forrester survey of more than 200 IT executives explains, Agile speeds time-to-market and yields better quality results.
Moreover, Agile enables early detection of issues and mid-course corrections because it delivers artifacts much sooner and more often. Finally, Agile improves IT alignment with business goals and customer satisfaction.
The nature of Agile is to include business leaders in day-to-day decisions and progress meetings. That can't help but yield tighter alignment and better overall satisfaction.
IT organisations are shifting towards the business technology era, in which technology is embodied in the business – the historical dividing lines between business and technology are blurring.
Business and technology alignment
The social, political and business changes happening spell a golden age for software development over the coming years
In this new era, 52% of executives and technology budget decision-makers consider technology very important for their innovation and business models.
The social, political and business changes happening spell a golden age for software development over the coming years, with software the key engine that will enable business innovation.
To meet that challenge head-on requires a stronger relationship between business innovation and software development that allows organisations to explicitly link the value of software development with business development.
Agile has the merit to address the issue of business value by enabling organisations to:
Break problems into smaller chunks to offer more opportunity for business impact. Splitting larger problems into smaller chunks and delivering minimum viable products puts results in the hands of the business sooner.
Measure feature delivery based on business value. For example, user stories can be prioritised on value and on cost. Application delivery focused around user stories provides the opportunity to measure delivery based on the scope, quality, cost and business value of the functioning user stories.
Take advantage of the disruption Agile brings to extirpate old behaviours. Agile provides better techniques that allow organisations to get closer to the solution of measuring business value, but the real opportunity is that it offers organisations the chance to eradicate all old, non-business-value-focused behaviours as they move to take advantage of the change that Agile adoption can bring.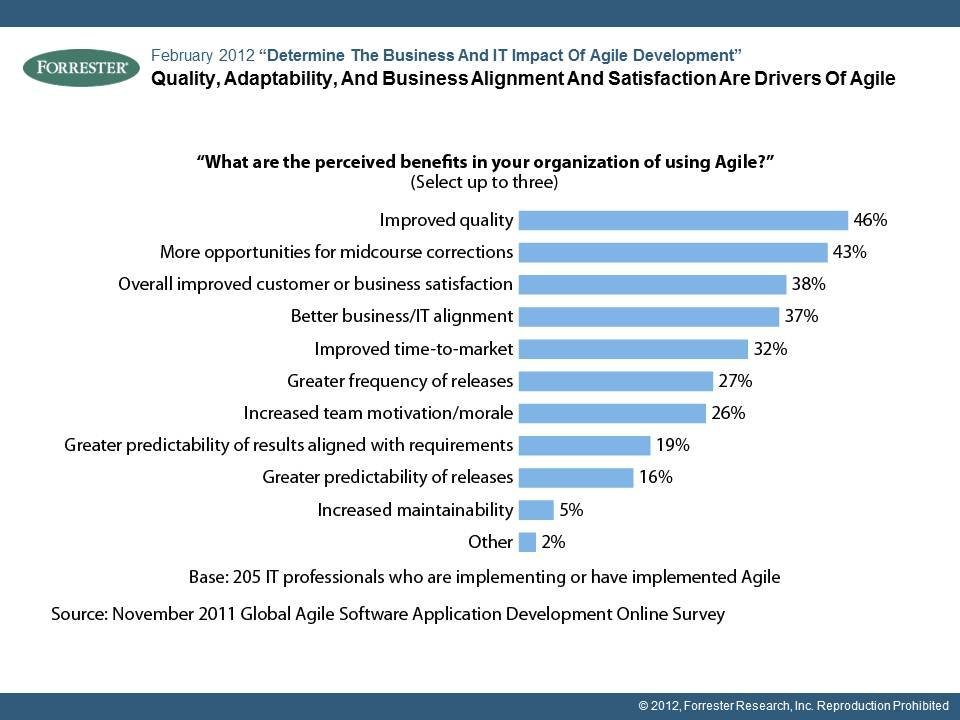 Quality, adaptability and business alignment and satisfaction are drivers of Agile
Use Agile to catch up with the pace of business change
Faster, more predictable ways of creating and changing application functionality are no longer a "nice to have" – they decide which firms will survive and which will not.
For AD&D professionals, that means it's not a question of whether your firm will adopt Lean and Agile techniques, but how soon and how broadly it will adopt them. Firms that charge into the transformation blindly will meet an untimely but fairly predictable end – they will fail to realise the benefits because they didn't properly execute.
To avoid that fate, you should understand that adoption requires behavioural change. First-time teams need education, coaching and practice to understand how Agile differs from traditional development. It is also important to realise that you can lead a team to Agile, but culture can stop it dead in its tracks. Culture can propel or kill new ideas.
So beware of technical and business factions that don't want the change that Agile brings – for example, project managers who consider working as Scrum masters on projects to be a demotion, businesspeople who don't want to participate in Scrum projects because they are too busy, or even app development teams that are not excited about Agile.
Choose Agile for innovation, not stability
Is Agile right for huge, monolithic applications that change semi-annually? Probably not. If requirements are stable, stick with what you have done for years if it's working and the business is not complaining.
Only advanced Agile organisations set up multiple Scrum within traditional teams to deal with large, monolithic apps if these can be broken into smaller chunks requiring innovative extensions. Remember, Agile techniques shine where innovation and changing requirements are part of the business model. Where stability is the norm, Agile may not be the right answer.
Agile techniques shine where innovation and changing requirements are part of the business model. Where stability is the norm, Agile may not be the right answer
Finally, use a framework to set your feet on the right path. Improvement of any kind requires that you understand where you are and where you want to be and that you muster the right human, financial and political resources to ensure success.
Make sure that you focus on value for the business first, establish how you will create value, and set proper goals. Then consider using a consolidated method such as the GQM (goal-question-metric) method to define metrics against those goals, and measure success accordingly.
Driven by business-value priorities, you will need to assess your application development teams using both qualitative and quantitative approaches, as suggested by Forrester's Application Development Assessment Methodology (ADAM). If management wants a quantitative benchmark, use methods such as QSM's Software Lifecycle Management (SLIM) for external comparative benchmarking.
---
Diego Lo Giudice is vice-president, principal analyst, at Forrester Research where he primarily contributes to and advises on Forrester's offerings for application development and delivery professionals. Diego blogs at: http://blogs.forrester.com/diego_lo_giudice.
Content Continues Below

Download this free guide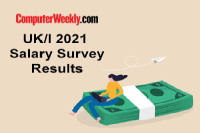 2021 UKI Salary Survey - Pandemic Infographic
We take a look at our 2021 Salary Survey results from over 300 respondents who work in the UKI IT sector. We will be breaking down which job functions get paid what, what areas of IT companies will be investing in in 2021, the current diversity landscape residing in the UK tech sector and how the pandemic has effected IT staff.