IT priorities 2015: What's driving datacentre investments in 2015?
Datacentre consolidation and infrastructure upgrades are top areas for IT investment in 2015
The datacentre will be front and centre of the minds of IT managers in 2015, with many planning infrastructure upgrades or consolidation projects this year.
That's according to the findings of the 2015 Computer Weekly/TechTarget IT priorities survey, which sought to establish the investment plans of IT managers in the UK and Europe over the coming year.
Of the 111 IT managers who took part in the UK version of the survey, 29% named datacentre consolidation as one of the top three IT initiatives to embark on in 2015 (see Chart 1).
Ahead of it were tackling compliance issues at 31% and mobility at 42%.
This result was largely repeated in the European version of the survey, where datacentre consolidation accrued votes from 33% of the 590 respondents, but came second after mobility.
Deeper into the datacentre
The report also drilled down into some specifics about the kinds of datacentre projects IT professionals plan to embark on in 2015.
In the UK and Europe, infrastructure updates emerged as a top priority, with 28% of the UK vote (see Chart 2) and 38% of the Europe-wide vote.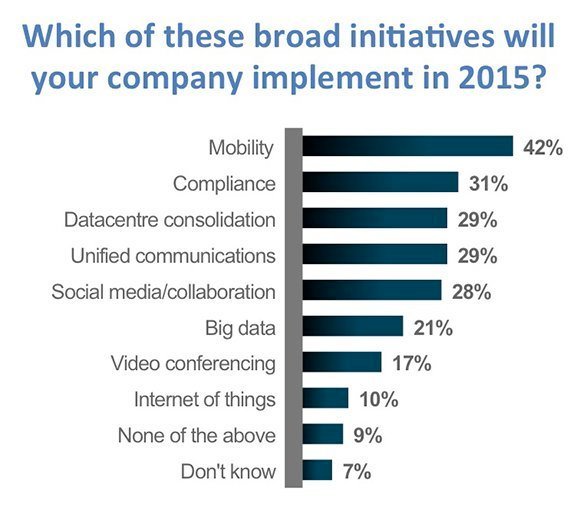 Chart 1: IT projects - UK
These results may not come as a surprise to some, given the rhetoric regularly spouted by the likes of Amazon Web Services (AWS) and Google about how increasing confidence in off-premise technologies is prompting more enterprises to deploy workloads in the cloud, rather than in their own datacentres.
It many also explain why datacentre consolidation is proving such a hot topic for IT managers in 2015, as they prepare for the day when their organisation can finally stop running a datacentre of their own.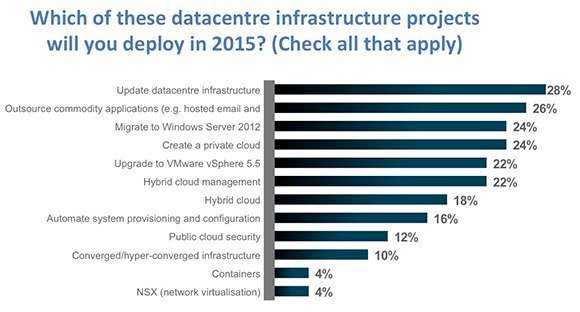 Chart 2: Datacentre infrastructure projects - UK
Another reason, put forward by Ricky Cooper, vice-president for Europe at datacentre provider Digital Realty, is that datacentre consolidation can make it easier for users to manage data spread across multiple environments.
"If users have data stored in multiple solutions, such as Hadoop or Azure, across many different locations, it's inevitable that access to these services will be slower and less effective," he said.
"However, if these environments can be found in one datacentre, you can cross-connect them, which will drastically boost productivity. It's also much more manageable from an ease-of-use perspective," he added.
Cutting costs
Datacentre consolidation projects are also often undertaken to reduce operating costs and overheads, said Andreas Olah, senior research analyst for servers and big data at market watcher IDC.
"To handle growing data volumes and workloads, datacentres need to be expanded either by scaling out, or by increasing their efficiency through denser structures, more power-efficient servers and better allocation of resources through sophisticated infrastructure management software," he said.
Read more about datacentre consolidation
"Because power and datacentre floor space are far from cheap in Europe, customers increasingly look to consolidate their datacentres or upgrade their infrastructure to cope with these challenges without having to increase their IT spending dramatically," added Olah.
This is a view backed by Cooper, who added: "Users are now all about getting as much storage out of the smallest space, or the most kilowatts per rack in a datacentre. In the past, 4-5kW per rack was common, now around 16kW per rack is more prevalent."
This isn't the only thing driving datacentre infrastructure investments, according to Jack Bedell-Pearce, managing director of UK-based co-location provider 4D Data Centres, as some organisations might be planning to upgrade their facilities so they can tap into the hybrid IT trend.
As such, they're continuing to invest in the upkeep of their in-house datacentre resources, while branching out into the public and private cloud deployments too.
"In our experience, while the cloud has officially become mainstream in the past 12 months, there are a significant number of early adopters – especially enterprise corporations with the in-house budget and skills to experiment – that have found cloud isn't the panacea they expected," he said.
"While it is very good at certain things, such as providing resources for short-term internal projects, these early adopters are finding they can achieve the best of both worlds by using a hybrid datacentre/cloud system," added Bedell-Pearce.
Olah said this is a trend the team at IDC has seen gain traction in recent times, as newer datacentre technologies have made it increasingly easy for firms to move workloads around.
"Advances in datacentre virtualisation allow for seamless movement of virtual machines across datacentres and clouds, which facilitates resources management and increases efficiency and scalability," he added.
Onward investment
Another point to note, according to Zahl Limbuwala, CEO of datacentre analytics supplier Romonet, is that datacentres require continuous investment to cope with the growing and varied IT demands put on them each day.
Benchmark your IT priorities for 2015
Therefore, it makes no sense to pare back datacentre investments, even if the organisation can foresee a time when they won't want or need to run a facility of their own.
"A datacentre is a core financial asset for the business, and needs continuous management and investment to ensure it realises its full value," said Limbuwala.
"Any organisation that tries to sweat its assets and simply leave a datacentre to run for years without investment will end up with an expensive server museum that's nowhere near meeting modern IT requirements and may end up providing little to no financial value to the business," he added.
"Against this backdrop, constant investment in and reappraisal of [the] datacentre estate is a key part of any successful datacentre strategy."
Read more on Datacentre systems management