60% of GDS staff contracts to expire within 12 months of general election
Almost 60% of employees at the Government Digital Service (GDS) could be gone within 12 months of next year's general election
Almost 60% of employees at the Government Digital Service (GDS) could be gone within 12 months of next year's general election, presenting a huge risk to the next government's digital plans.
Out of 301 employees at GDS, 176 are on fixed-term contracts, all of which are due to terminate within 12 months of a new administration taking power, according to a freedom of information request by Computer Weekly.
If a new government comes into power next May, it could decide not to renew the remaining contracts as they expire; equally, if those employees don't agree with new policies set out, they could choose to leave at their end of their contract period.
In July, GDS said a skills shortage is one of the biggest risks to its success. Its Business Plan for 2014/15 said a lack of skills is the biggest concern affecting its ability to deliver more than £1.4bn of annual savings across Whitehall.
The difficulty of recruiting and retaining staff with suitable digital skills was raised frequently as a risk to many of the team's key objectives, along with a reduced budget, making it harder to find the employees it needs.
As of 30 June 2014 there were 176 staff at GDS employed on fixed-term contracts and a further 125 staff on conventional non-fixed term employment contracts. Those on fixed-term contracts ranged from one to five years, with two being the most popular with 103 people on a two year fixed-term contracts.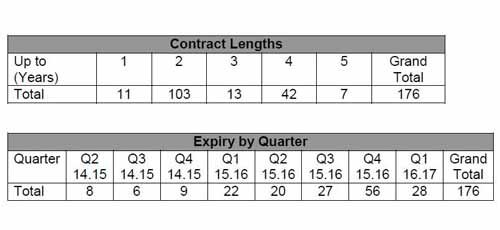 Of the 176 employees, eight contracts will come to an end in the second quarter of 2014 to 2015, which is between July and September 2014. As the quarters go on over the next couple of years, more contracts will drop off, with around 20 contracts coming to an end each quarter at the beginning of the government's financial year 2015 to 2016. This peaks in the fourth quarter of 2015 to 2016 with 56 contracts coming to an end.
Mike Bracken, the executive director of digital in the Cabinet Office said on Twitter that GDS contracts are "a rolling renewal programme based on performance, skills and needs. As it should be".
The Cabinet Office agreed, stating: "The Government Digital Service is committed to ensuring digital services meet user needs. The use of different contracts and agile methodologies gives us the flexibility to do this and delivers value for money for the taxpayer."
GDS and the rest of Whitehall
GDS is a year and a half into a two-year project to move 25 of the most used government services online. The current government has calculated that on average an online public service is 20 times cheaper than a phone transaction, 30 times cheaper than by post and 50 times cheaper than face to face.
It also claims that digitising public services will make cumulative savings of £1.2bn in this parliament, rising to an estimated £1.7bn a year after 2015.
The ambitious project kicked off in January 2013, allowing 400 working days to complete the transformation of 25 services from visa applications to benefit claims, which were identified as the first "exemplars" to be redeveloped. By the end of the 400-day period, the 25 exemplars should be live or in the last stage of public testing.
After this point, however, the work of GDS will not be finished and will still continue to encourage the rest of Whitehall to follow in the exemplar footsteps, by attempting to digitise other services that are not in the top 25 as decided by government.
Other departments have also gone at it alone in building up their digital skills to complement GDS, but the service has always been the driving force behind the digital by default agenda.
The Driver and Vehicle Licensing Agency (DVLA) is one such department that is making strides with digital services through renewing tax online, abolishing the paper tax disc and other digital services. After working closely with GDS, the DVLA began its own project to create the option to renew a tax disc online, which is now in beta testing mode.
Meanwhile the Department of Energy and Climate Change (DECC) is also adopting methods recommended by GDS, by moving away from a single IT supplier approach to a new multi-sourcing model.
*This story has been updated 13 August 2014 to include Mike Bracken's comments and the statement from the Cabinet Office
Read more on IT for government and public sector