Android takes a 14% bite out Apple's pie
Shipments of Apple iPads have declined 14% compared with Q2 2012 according to the latest market share data from analyst Canalys
Shipments of Apple iPads have declined 14% compared with Q2 2012 according to th latest market share data from analyst Canalys.
Apple's market share dropped to 43% while Samsung, Amazon, Lenovo and Acer each grew annually by over 200%, driven by increasing demand for smallscreen tablets. Canalys estimates that 68% of tablets shipped in Q2 had a screen size smaller than 9".
The analyst expected Apple would compete by bringing out cheaper tablet devices, as it did with the introduction of the iPad Mini. But the price of a smallscreen tablet is being driven down by low-cost Android devices.
Tim Coulling, Canalys senior analyst said the market for full-sized tablets has stalled.
"Microsoft's inventory issues with the Surface have been well publicised. Heavily-discounted Surface RTs will fly off the shelves. Expect prices to continue to fall though, as the starting price of $350 is still too expensive to spark an HP TouchPad-style buying frenzy."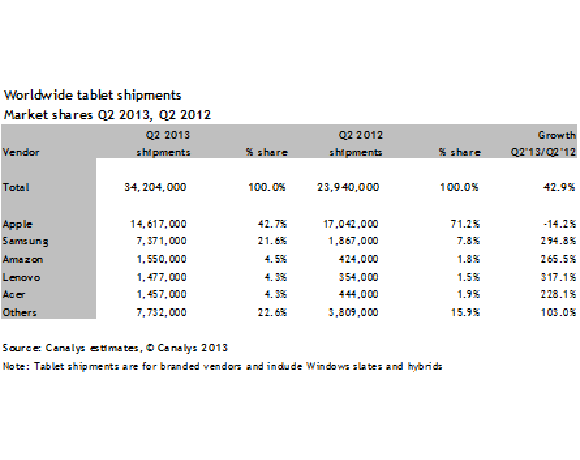 Canalys worldwide tablet shipments Q2 2013
According to Canalys Android still lags far behind iOS in the availability of fully-optimised tablet apps and tablet app downloads from the Apple App Store dwarf those from Google Play. However, the analyst expected Google to put more focus on high-quality Android apps in the Play App Store.
The analyst's Q2 2013 tablet market share data showed that over 34 million tablets shipped, a 43% year-on-year increase. Tablets now account for 31% of worldwide PC shipments.