Gartner: Tech in business will drive consulting growth
Gartner has predicted a slight increase in IT services spending for 2012, driven by businesses becoming more technology-based
Gartner has predicted a slight increase in IT services spending for 2012, driven by businesses becoming more technology-based.
According to the latest Garter global IT spending report, worldwide IT services investment is forecast to reach $864bn in 2012, a 2.3% increase from 2011.
The analyst company said demand for consulting services would remain high due to the complexity of environments for global business and technology leaders.
Gartner analysts said consulting was becoming increasingly technology-based. The rise of analytics and big data would have deep implications on the future of consulting services.
Overall, Gartner predicted worldwide IT spending would reach $3.6trn in 2012, a 3% increase from 2011 spending of $3.5trn.
Gartner said enterprise spending on public cloud services would grow from $91bn worldwide in 2011 to $109bn in 2012. By 2016, enterprise public cloud services spending will reach $207bn.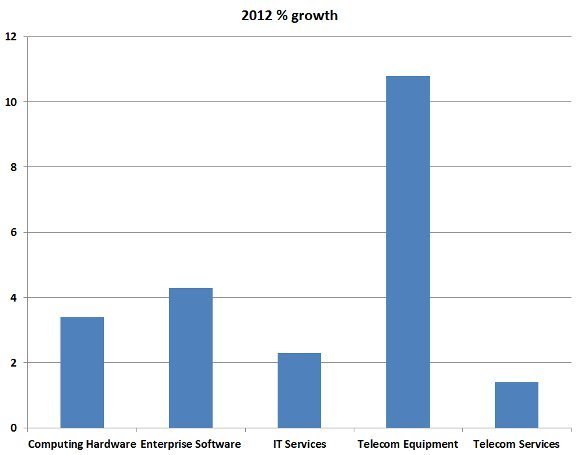 Gartner worldwide IT spending forecast
Telecommunications will be the biggest area of growth in IT spending (see graph), fuelled not only by demand on the developing nations, but also but also by uptake of multiple connected devices, according to Gartner.