IT managers struggle with virtual back-ups
IT managers find backing up virtual infrastructure too difficult, according to a study from data back-up and recovery company Quantum
IT managers find backing up virtual infrastructure too difficult, according to a study from data back-up company Quantum.
The survey found nearly 90% of IT managers admitted they struggle to backup data in virtualised environments.
Almost half said they face data growth hurdles due to server virtualisation. Despite the benefits of virtualisation, 41% reported that server virtualisation resulted in increased data growth and 24% said they were forced to re-engineer existing storage environments for interoperability after adopting virtualisation.
As a result of server virtualisation, IT managers said they are paying more in software costs to address these issues (25% versus 22% in 2010).
One in four IT managers continue to experience back-up problems at remote branches as a result of server virtualisation. The study is based on a survey conducted by Toluna of 500 IT decision-makers at businesses with at least 100 employees.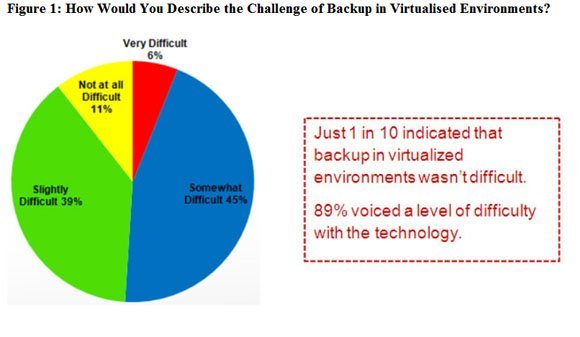 Read more on Data centre hardware