Amazon still hottest online shop - IMRG
Amazon, Argos, Play.com and Tesco again led IMRG's latest quarterly Hot Shops list of the UK's most-visited on-line retailers, but Marks & Spencer and...
Amazon, Argos, Play.com and Tesco again led IMRG's latest quarterly Hot Shops list of the UK's most-visited on-line retailers, but Marks & Spencer and John Lewis reached all-time highs, said the researcher.

Download this free guide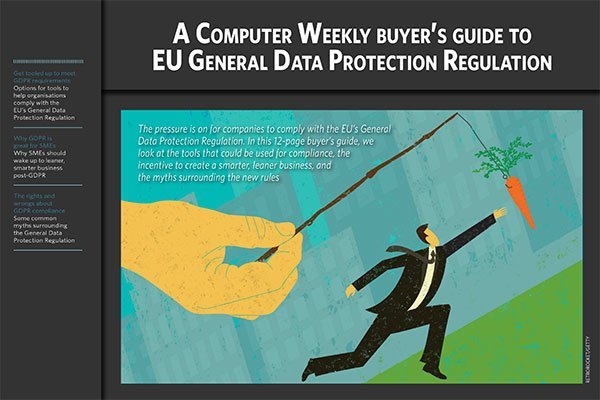 Computer Weekly's buyer's guide to GDPR compliance
This 12 page buyer's guide gives you the tools you need to get up to scratch with GDPR compliance and to understand the mythology surrounding the new rules.
IMRG and Capgemini have tracked visitors to online UK retailers for the past 11 quarters. Today's most popular shops sell event tickets, fashion, groceries and computers. Travel shops fell even further than usual at this time of year, IMRG said.
Fashion house New Look, at 46, is the only new entrant, but six shops made it back into the top 50. The number of high street stores, as opposed to online-only stores, on the list rose to 30.
The highest climbers, both jumping 18 places since August, are Ticketmaster, which joins the top 10 for the first time, and Boots, at 29, four places lower than this time last year.
Other risers were Game (21), Asda (25) and River Island (32), which each rose 11 places from August. Dell (8) and Sainsbury's (35) were both up nine spots, while Topshop (30) and HP (40) both rose eight positions.
The brands falling furthest were mainly in the travel sector. Thomas Cook (43) plummeted 22 places, Thomson Holidays (22) lost 15, and Travelodge (48) and British Airways (38) were both down eight.
IMRG CEO James Roper said, "Consumers are turning to internet to help them shop their way through tough times. With confidence in online security low and falling, it is great to see that 19 of the Hot Fifty online retailers are accredited with the ISIS trust scheme (a code of practice for online shops) and thereby going that extra mile to make the internet a great and safe place to shop."
Hitwise's director of research, Robin Goad, said, "Despite the economic slowdown, online spending is predicted to increase by 15% this Christmas. However, people are expected to spend less on going out, choosing instead to cocoon themselves in their homes.
Two sectors to benefit from this trend are house and garden retailers - both B&Q and Screwfix moved up the list - and e-retailers that sell consumer electronics, as reflected in the strong online performances of Dell, Currys, HMV and Game. Fashion continues to be the fastest-growing online retail sector, he said.
IMRG's top 50 - August-November 2008
1 = 1 Amazon UK
2 = 2 Argos
3 = 3 Play.com
4 = 4 Tesco.com
5 8 Marks & Spencer
6 = 6 Amazon.com
7 5 Next
8 17 Dell EMEA
9 = 9 Tesco Direct
10 28 Ticketmaster UK
11 18 Currys
12 10 easyJet
13 14 John Lewis
14 16 ASOS
15 13 RyanAir
16 11 Expedia.co.uk
17 20 HMV.co.uk
18 12 lastminute.com
19 22 Ebuyer
20 19 Apple Computer
21 32 GAME
22 7 Thomson Holidays
23 15 PC World
24 23 Comet UK
25 36 ASDA
26 24 Woolworths UK
27 26 B&Q
28 31 Debenhams
29 47 Boots
30 38 Topshop
31 33 Screwfix Direct
32 43 River Island
33 27 Odeon Cinemas
34 39 Littlewoods
35 44 Sainsbury's
37 35 LOVEFiLM
38 30 British Airways
39 45 QVCUK.com
40 48 HP
41 BACK Seetickets
42 37 Vue Entertainment
43 21 Thomas Cook
44 42 The Orange Shop
45 BACK IKEA
46 NEW New Look
47 34 O2 Shop
48 40 Travelodge UK
49 46 Carphone Warehse
50 BACK M and M Direct
The IMRG- Hitwise Hot Shops List of the top 50 UK e-retailers is the key indicator of online merchant
performance. The List is published quarterly and tracks popularity, as indicated by visits, of those selling goods
and services within the IMRG Capgemini Index Classification. This List is based on October 2008 data.
Read more on E-commerce technology