John Lewis uses virtualisation to cut power bill by £2,500 a week
The John Lewis Partnership is saving £2,500 a week on power by using server virtualisation at its Bracknell and London datacentres.
The John Lewis Partnership is saving £2,500 a week on power by using server virtualisation at its Bracknell and London datacentres.
The retail group started its virtualisation project in 2006 to reduce the number of servers it required because it was running out of space and power at both datacentres.

Download this free guide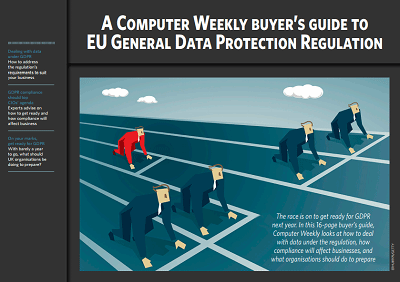 Computer Weekly's Buyer's Guide to GDPR
The race is on to get ready for GDPR next year. Computer Weekly looks at how to deal with data under the regulation, how compliance will affect businesses, and what organisations should do to prepare.
By submitting your personal information, you agree that TechTarget and its partners may contact you regarding relevant content, products and special offers.
You also agree that your personal information may be transferred and processed in the United States, and that you have read and agree to the Terms of Use and the Privacy Policy.
But Dave Barker, technical architect in the IT department for John Lewis, told Computer Weekly the project has significantly cut power consumption.
"Although the main business driver was to win time to plan a customised new datacentre to replace our London facility, the power saving fits in nicely our green IT initiative," he said.
Virtulisation allowed the firm to keep pace with business demands for server capacity without rushing into any decisions about setting up a new datacentre.
"We have reduced the overall server count across the two datacentres from 450 to 400 while at the same time provisioning 392 additional servers," said Barker.
This compression rate of around 16:1 has saved John Lewis over £700,000 that would have been spent on new servers to meet business demand.
"This means we had 18 months to decide where to site the new datacentre as well as the resources for several IT projects that otherwise would not have been possible," said Barker.
Another business benefit of virtualisation, said Barker, was that John Lewis was able to isolate all servers involved in processing credit and debit card payments in a protected enviroment.
"This meant that only a limited number of servers had to be compliant with the payment card industry data security standard instead of every server in the organisation, saving time and effort," he said.
John Lewis plans to migrate to a new datacentre within the next 18 months, with a target of 95% virtualisation.
"The default will be for any new server to be virtualised, so the business will have to show a very good reason for any application to be put on a physical machine," said Barker.
The power saving has now become an important element in the firm's green IT initiative led by Gary Hird, technical strategy manager for the John Lewis Partnership.
Read more on Server hardware