Weekly compilation of storage news:NetApp stock dives
NetApp's stock was slapped down when the company said sales were slow in March; Google to open source enterprise search appliance.
Weekly compilation of storage news:
NetApp stock dives on new guidance
Network Apppliance (NetApp) unexpectedly forecast a downturn in revenue , which it attributed to a general slowdown of technology spending in the US in March. The company, which has been showing heady growth in the 30% range over the last year, said it expects first-quarter revenue to decline 6% to 7% from the fourth quarter and took back its earlier full-year revenue forecast of 28% to 30%, saying further updates would be coming on a quarterly basis. The stock fell more than $7 in trading between 22 ansd 23 May.

Download this free guide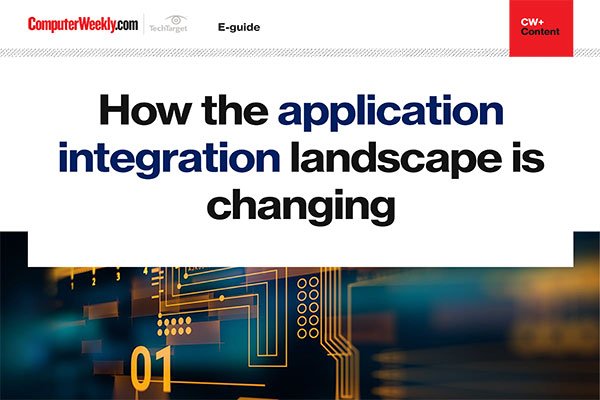 8 ways in which the application integration lanscape is evolving
We take a look at how technologies like Distributed Computing and the Common Object Model have been refined into web services, service-oriented architecture and composable applications and microservices.

By submitting your personal information, you agree that TechTarget and its partners may contact you regarding relevant content, products and special offers.

You also agree that your personal information may be transferred and processed in the United States, and that you have read and agree to the Terms of Use and the Privacy Policy.

Separately, NetApp also announced this week that managed hosting provider The Planet has picked up some of its storage systems to offer to its end-user customers.

Google to open source enterprise search appliance
Google is developing an open source framework for its OneBox Enterprise search appliance that will allow developers to port applications directly into the box rather than having to jointly develop interfaces the way existing partners have, according to reports around the industry this week. Google already offers similar open APIs for its Enterprise Applications programs. Also, the search giant announced that it has doubled the maximum attachment size in Gmail from 10 MB to 20 MB.

IBM adds NetApp data deduplication
IBM announced the N5300 array, its version of the NetApp FAS3040, which, when combined with a NearStore license, will also offer data deduplication via NetApp's A-SIS feature. IBM will also resell two new N-series gateways, the 5300 and 5600, based on the NetApp V3040 and V3070, as well as the ESN4000, a 4 Gbps FC expansion drawer. The rebranded NetApp products will be available June 8.

Separately, IBM revealed performance boosts and incremental software updates to SAN Volume Controller (SVC) in version 4.2. The company claims that new SVC model 8G4 storage engines could double throughput on the virtualisation appliance. The software will also allow FlashCopy to make up to 16 copies from one source and supports new operating environments and disk systems. IBM's TotalStorage Productivity Center, announced at the same time, will integrate storage device management, fabric management and storage resource management, and be available on July 6. Finally, the IBM System Storage DS8000 will now support two additional expansion units as of July 27.

Stratus announces 'green' array
Stratus Technologies announced the ftScalable storage array, which is configurable up to 10.8 terabytes (TB) capacity and includes hot-swappable RAID arrays, power supplies and fans, as well as environmental monitoring, rolling firmware upgrades and online RAID expansion.

Florida company offers free email disaster recovery
Email antispam service provider AppRiver, based in Gulf Breeze, Fla., announced that companies needing emergency email failover during hurricane season can sign up through the Florida Chamber of Commerce Web site to have email services taken over by AppRiver for free. Users must be able to demonstrate they're within the three-to-five day "cone of uncertainty" for a named storm making landfall on the Florida peninsula. Between 20 and 25 companies used the service during Hurricane Wilma two years ago.

Mortgage company archives email with C2C
C2C announced that Market Street Mortgage, a $3.2 billion residential mortgage loan company, has bought C2C's Archive One email archiving to replace PSTs and backup tapes. The company is now archiving more than 20,000 email messages a day.

Golf club maker picks Compellent
Compellent announced Ping, a designer and manufacturer of golf clubs, has selected Compellent's Storage Center SAN for its Automated Tiered Storage feature. The company estimates the feature cut its storage management time by 70%.

Double-Take integrates with WysDM
Double-Take announced the first product based on its OEM relationship with backup reporting software maker WysDM. The new Double-Take Reporting Center will allow reporting and analysis, including predictive capacity forecasting. Also announced this week were incremental updates to Double-Take Application Manager 4.5 (DTAM), including enhancements for SQL, Exchange and file system environments.

IDC: InfiniBand to near $1B market by 2011
IDC released a report this week sponsored by the InfiniBand Trade Association (IBTA) that predicts that InfiniBand will grow as the line between high-performance computing and enterprise IT continue to blur. More demanding applications will push worldwide InfiniBand host channel adaptor (HCA) factory revenues from $62.3 million in 2006 to $224.7 million in 2011. Factory revenue from InfiniBand switch port sales is expected to grow from $94.9 million in 2006 to $612.2 million in 2011, according to the report.

Asempra targets SMBs
Asempra, a continuous data protection (CDP) company that has recently reinvented itself with a small and midsized business (SMB) focus, announced Business Continuity Server (BCS) version 2.5. Updates include support for Windows applications running on VMware, integration with tape backup software, Microsoft clustering protection, and enhanced scalability and performance improvements.

Panasas donates PFS code to open source project
Panasas announced it is sending the code for its proprietary parallel file system (PFS) to the Internet Engineering Task Force (IETF), which has plans to complete a new specification for parallel NFS (pNFS) this fall.

Brewing company taps MessageOne for email archiving
Boulevard Brewing, the largest specialty brewer in the Midwest, has deployed MessageOne's Email Management Services (EMS), MessageOne announced.

O&O ships filesystem monitoring software
O&O Software GmbH of Berlin, Germany, announced O&O DiskStat, software that scans file systems, sorting by file type, by date last modified and by user in the server, and includes a "Top 10" function for identifying the largest space wasters.

Zmanda announces funding
Open source backup software startup Zmanda announced that it has secured $8 million in its Series B round of funding led by Helion Venture Partners, current investors BlueRun Ventures and Canaan Partners. Zmanda will use the funds for research and development.

Adaptec updates operating system
Adaptec announced version 4.4 of its GuardianOS for use with its SnapServer appliances. Updates include a new data migration utility, print server and tape drive support, iSCSI support for up to 255 LUNs and specification-compliant IQN names, backup for Snap Enterprise Data Replicator (Snap EDR) management console settings and support for command-line interface.
Read more on Integration software and middleware