Encrypted laptop hard drives arrive from Seagate
Seagate Technology has started shipping 2.5in encrypted hard drives for laptops.
Seagate Technology has started shipping 2.5in encrypted hard drives for laptops.
The Momentus 5400 FDE.2 is already shipping to ASI Computer Technologies, and will feature Wave Systems' security management software to simplify enterprise deployments.

Download this free guide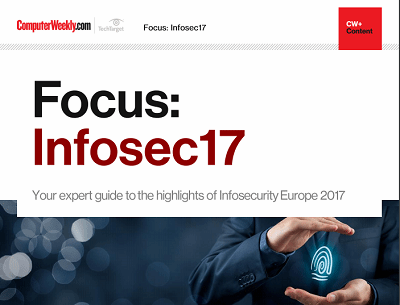 From forensic cyber to encryption: InfoSec17
Security technologist Bruce Schneier's insights and warnings around the regulation of IoT security and forensic cyber psychologist Mary Aiken's comments around the tensions between encryption and state security were the top highlights of the keynote presentations at Infosecurity Europe 2017 in London.
By submitting your personal information, you agree that TechTarget and its partners may contact you regarding relevant content, products and special offers.
You also agree that your personal information may be transferred and processed in the United States, and that you have read and agree to the Terms of Use and the Privacy Policy.
Other laptop manufacturers are expected to bundle the Seagate drive in response to user demand for sensitive data encryption to meet their compliance needs.
Seagate's Momentus 5400 FDE.2 hard drive comes with perpendicular recording technology to deliver up to 160GBytes of capacity, a fast Serial ATA interface, and hardware-based AES encryption.
AES encryption is a government-grade security protocol used to encrypt all hard-drive information transparently and automatically, preventing unauthorised access to data on lost or stolen laptops.
The encrypting hard drive also gives organisations an easy way to repurpose or retire laptops without compromising sensitive information, and to comply with the growing number of data privacy laws calling for the protection of consumer information using government-grade encryption.
ASI Computer Technologies, a leading channel provider of laptop PCs, will offer the drive in its ASI C8015 whitebook system. For additional security, the ASI C8015, which is expected to be available in April, will contain a biometric fingerprint reader.
The laptop will target healthcare, legal, finance, government and other industries requiring strong protection of information stored on laptops.
The ASI C8015 will come with Wave Systems' Embassy Security Center's Trusted Drive Manager to simplify setup and configuration of Momentus 5400 FDE.2 drives.
Trusted Drive Manager helps administrators and users to create and back up passwords, and makes it easier to control hard-drive policies and security settings.
The software also uses Seagate's DriveTrust technology, which allows administrators to instantly and easily erase all data cryptographically so the drive can be safely redeployed or discarded.
Comment on this article: computer.weekly@rbi.co.uk
Related article:
Seagate solves mobile phone storage problem
Toshiba delivers unconditionally secure network data encryption
David Lacey's security blog:
The latest ideas, best practices, and business issues associated with managing security

Read more on IT risk management