Trend Micro takes Hotmail scanning contract from McAfee
Trend Micro has been awarded a contract by Microsoft's MSN Hotmail service to take over from McAfee to scan 187 million e-mail...
Trend Micro has been awarded a contract by Microsoft's MSN Hotmail service to take over from McAfee to scan 187 million
e-mail accounts for viruses.

Download this free guide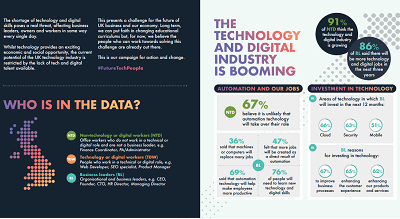 Infographic: Future-proofing UK technology
The current potential of the UK technology industry is restricted by the lack of tech and digital talent available. Read through this challenge for the future of UK business and our economy.
Under the agreement, Trend's antivirus technology will scan inbound and outbound e-mail attachments for viruses, worms and Trojan horse programs.
McAfee has provided antivirus scanning for MSN customers since 2000, when the company announced a two-year agreement with Microsoft to protect Hotmail e-mail accounts.
Tokyo-based Trend makes the PC-cillin desktop antivirus and content security products, including PC-cillin Internet Security, a suite of antivirus, firewall, antispam and content filtering products.
The company could not comment on the criteria MSN used to select its product for Hotmail, or on the size of the deal, citing instructions from Microsoft.
The speed of the antivirus product, its ability to scale up and service big deployments such as MSN, and the speed with which antivirus updates are issued, are typically factors for large operations like MSN, and were strengths the company stressed to Microsoft, said Punit Minocha, senior director of business development at Trend.
Ease of integration between Trend's systems and back-end servers used by MSN for Hotmail was also an issue.
"Our engineers were in early discussions with Microsoft, and helped them resolve the issue. I think that had some bearing on the decision," Minocha said.
Trend's antivirus scanning engine will run on MSN's Hotmail servers, which will be tightly linked to Trend's virus definition update servers, to make sure new virus definitions are dispatched quickly to Hotmail e-mail users, he said.
Trend has long been the number-three antivirus software provider, behind Symantec and McAfee. The company's products accounted for 14.2% of the worldwide revenue generated by antivirus software sales in 2003, said research firm IDC.
Sales to corporations have always been Trend's strong suit. The company's products accounted for 16.9% of the revenue generated by antivirus software sales to corporations in 2003. Symantec had 28.5% of that market, and McAfee 23.9%, in the same year.
In comparison, Trend accounted for just 8.1% of revenue generated by antivirus software sales to consumers, compared with 12.8% for McAfee and a whopping 67.6% for Symantec in 2003, said IDC.
The deal with MSN could boost Trend's share of the consumer antivirus market.
The deal will help expose millions of consumers to Trend's products and technology, said Steve Chang, chairman and founder of Trend.
"We will have our name posted [on MSN]. Part of the benefit to us is that we can show off our technology in the antivirus space to consumers," Sweeny said.
Trend is already the top consumer antivirus product in Japan, but in the past the company has resisted going head-to-head with Symantec and McAfee in North America, Minocha said.
"Hopefully, the deal with MSN is a sign of more things to come in the US," he said.
The announcement is also more bad news for McAfee, which lost ground in both the home and corporate antivirus market in 2003, mostly to Symantec and Trend.
McAfee's worldwide antivirus software revenue declined 7.1% between 2002 and 2003, according to IDC. During the same period, Symantec's antivirus revenue jumped by 36% and Trend's by 22%, IDC said.
Paul Roberts writes for IDG News Service